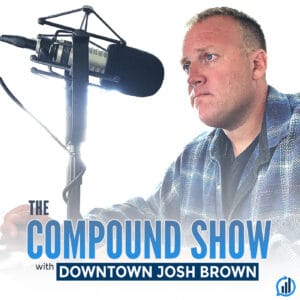 Josh here – Every Friday morning the new episode of my podcast, The Compound Show, goes live!
Use it to catch up on the biggest events of the week, some stories that I think are important, interviews with the movers and shakers of finance and fintech, and a lot more. You can subscribe and listen on Apple, Google, Spotify or whatever podcast player you love.
Newest episode:
Subscribe here: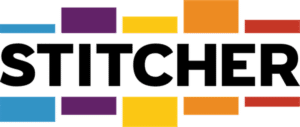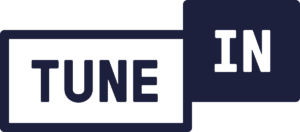 If you enjoy the show, please leave a review on iTunes to help others discover the podcast.
Previous Episodes:
Ep. 40 – Wall Street legend Joe Moglia's next act & RWM's Bill Sweet on President Biden's tax proposals
Ep. 39 – The Telhealth Revolution feat. Andrew Dudum and Frankie Stella
Ep. 38 – "The Next Big Thing" and NFTs, Rising Rates feat. Mark Fisher & Joe Terranova
Ep. 37 – The Burning of Black Wall Street feat. Tim Madigan
Ep. 36 – My New Crypto Investment & The money revolution is here feat. Greg King & Tyrone Ross
Ep. 35 – The Options Market is a Circus & The History You've Never Been Taught feat. Dan Nathan
Ep. 34 – Wall Street's First Black Millionaire & the Case for Buying Silver feat. Shane White & Peter Boockvar
Ep. 33 – Pigs Get Slaughtered & Doing the Work feat. Rachel Robasciotti
Ep. 32 – How America Invests feat. Barry Ritholtz & Vanguard's Ryan Barrows
Ep. 31 – Good at the Cyber feat. Crowdstrike CEO George Kurtz & EMJ Capital's Eric Jackson
Ep. 30 – The Stock Market is Heartless feat. Allison Schrager
Ep. 29 – Have Some Fun in '21 feat. Douglas Boneparth & Eddy Elfenbein
Ep. 28 – Custom Indexing is a Tidal Wave Coming at the Investment Business feat. Patrick O'Shaughnessy
Ep. 27 – Brian Wesbury's Dow 35,000 call feat. Brian Wesbury & Ben Carlson
Ep. 26 – Scaramucci returns to Wall Street feat. Anthony Scaramucci & Rob Arnott
Ep. 25 – Here Comes the Digital Dollar feat. Representative Patrick McHenry (R-NC) & Marc Rubinstein
Ep. 24 – The Portfolio Puzzle of Our Lifetimes feat. Bob Haber & Meb Faber
Ep. 23 – The Year-End Melt-Up feat. John Roque & Joe Terranova
Ep. 22 – "I'll Invest After The Dust Settles" feat. Nick Colas & Brian Portnoy
Ep. 21 – The Most Powerful Man in Washington Stays Put feat. Tony Dwyer
Ep. 20 – A history lesson for 2020's new traders feat. Hadi Yousef
Ep. 19 – My Election Bet with Barry Ritholtz feat. Phil Haslett
Ep. 18 – Losing money is the coolest! feat. Ben Carlson & Dasarte Yarnway
Ep. 17 – Too much money, nowhere to put it feat. Professor Tim Duy & Joe Terranova
Ep. 16 – This is what IPO Nirvana actually looks like feat. Kathleen Smith & Jay Heller
Ep. 15 – The Suburban Housing Boom is Just Getting Started feat. Logan Mohtashami
Ep. 14 – What if he doesn't leave? feat. Linette Lopez & Bill Sweet
Ep. 13 – Why Markets Crash in the Fall feat. Morgan Housel
Ep. 12 – The Biggest Threat to Your Favorite Tech Stock feat. Byrne Hobart
Ep. 11 – Six Lessons from Pandemic Summer feat. Michael Batnick WAYT
Ep. 10 – The Comeback on Main Street feat. Chris Volk
Ep. 9 – The Roaring 2020's feat. Dr. Ed Yardeni & Michael Batnick WAYT
Ep. 8 – Why stock splits disappeared from our lives feat. Peter Boockvar
Ep. 7 – How to invest in TikTok feat. Brendan Ahern
Ep. 6 – This is the best word I could come up with to describe investors today feat. Larry McDonald
Ep. 5 – Universal Basic Income is inevitable feat. Michael Batnick WAYT
Ep. 4 – Whats Poppin feat. Vitaliy Katsenelson & Noah Kerner
Ep. 3 – Technology is taking over the Real Estate sector too feat. Michael Batnick WAYT
Ep. 2 – Closest to the customer vs. suppliers feat. Jannick Malling