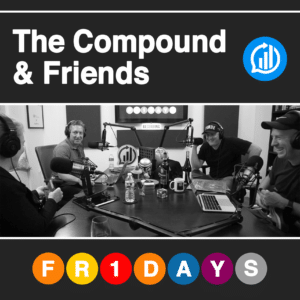 Welcome to the latest episode of The Compound & Friends, a new podcast from your favorite financial and investing commentators. This week, Michael Batnick, Jenny Harrington, Caleb Silver and Downtown Josh Brown discuss:
►The return of volatility
►The Fed whispers "taper"
►Search trends on Investopedia
►Build Back Better investor tax impact
►Jenny's Portfolio
►Got Junk?
►Young Men are Opting Out of College (Galloway)
►Google's $2.1 billion Manhattan real estate purchase
You can listen to the whole thing below, or find it wherever you like to listen to your favorite pods!
Listen here:
Follow Michael's blog at theirrelevantinvestor.com
Follow Jenny on Twitter @GilmanHill
Follow Caleb on Twitter @CalebSilver , on Instagram @Investopedia or at his podcast The Investopedia Express
Sponsored by Rocket Dollar, use referral code COMPOUND to get $50 off at sign up https://www.rocketdollar.com/compound