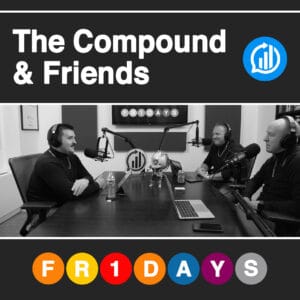 Welcome to the fifth episode of The Compound & Friends, a new podcast from your favorite financial and investing commentators. This week, Michael Batnick, Dan McMurtrie and Downtown Josh Brown discuss:
►Trillion dollar companies and adaptation
►The Bull Case
►Value and interest rates
►Liquidity and fragility
►Is there anything left to learn from Buffett & Munger?
►Wedding boom is ON
You can listen to the whole thing below, or find it wherever you like to listen to your favorite pods!
Listen here:
Follow Michael's blog at theirrelevantinvestor.com
Follow Dan on his soon to launch Substack, Philosophizer Now, or on Twitter @SuperMugatu
Sponsored by Masterworks, visit masterworks.io/compound to jump the line