I wrote about last week's breadth thrust over the weekend – a development that's gotten all of the finest technicians in the land bullish about the coming months for stocks. Breadth thrusts at new highs rarely signal the immediate top for a bull market. I like to think of them as confirmation that things are good and can still get better for the major averages.
If you're going to get a breadth thrust, you're going to need some help from the smaller stocks in the Russell 3000 index. According to Jon Krinsky at Baycrest, 83% of the Russell 3k names got back above their 200-day moving averages last week, a record going back seven years to 2013. It wasn't bearish then and it's not likely to be bearish now.
Especially given what's happening under the surface, in the Russell 2000 small cap names.
Here's Krinsky:
If one was worried about a false breakout for small-caps, last week's second consecutive close above the 2018 highs should alleviate that somewhat. Furthermore, one could argue that a new bull market for small-caps is just beginning after over two-years of drawdowns.
And his chart: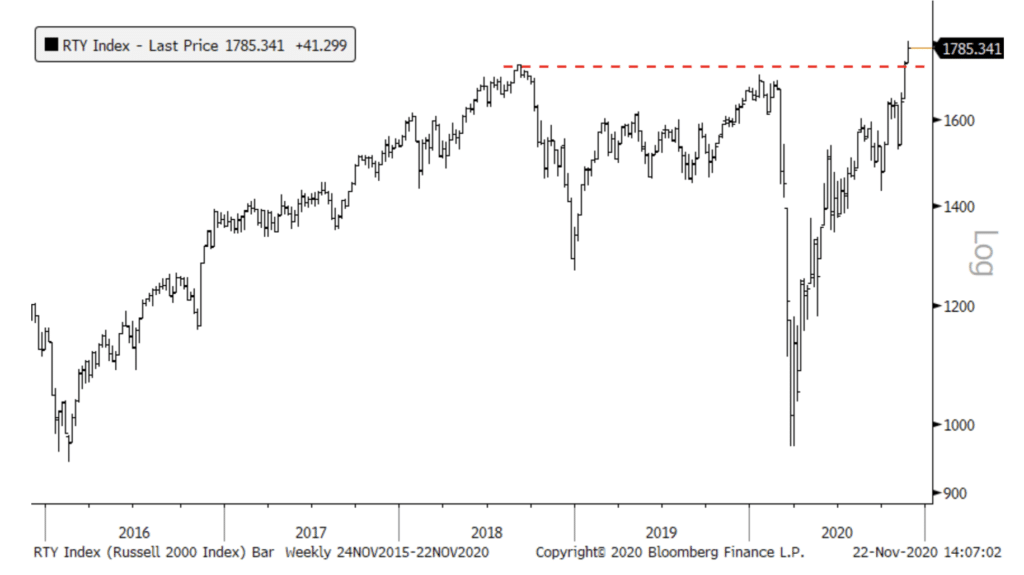 Source:
A Breadth 'Booster Shot'
Baycrest Partners – November 22nd, 2020