Jon Krinsky made a big call this fall – in late October he titled his weekly technical research note Prestige Worldwide and informed us about some big moves happening in overseas markets. The whole world was likely on the verge of breaking out and Jon stuck his neck out just before it happened. I wrote about it here.
It turned out to have been prescient, with stocks all over planet earth taking out 52 week highs and accelerating their advances.
This week, Jon took a look at European equities, via the STOXX 600 index and noted that this asset class, which almost no one is excited about, may be on the verge of breaking out of a twenty year base…
Europe – The Lost Two Decades

While the S&P 500 has doubled from its March 2000 peak, Europe has largely been a dud. Even over the last four-and-a-half years, the Euro Stoxx 600 (SXXP) is essentially flat. Will the next decade be better than the last two? Our bet is yes as it's just now beginning to emerge from a 20-year base.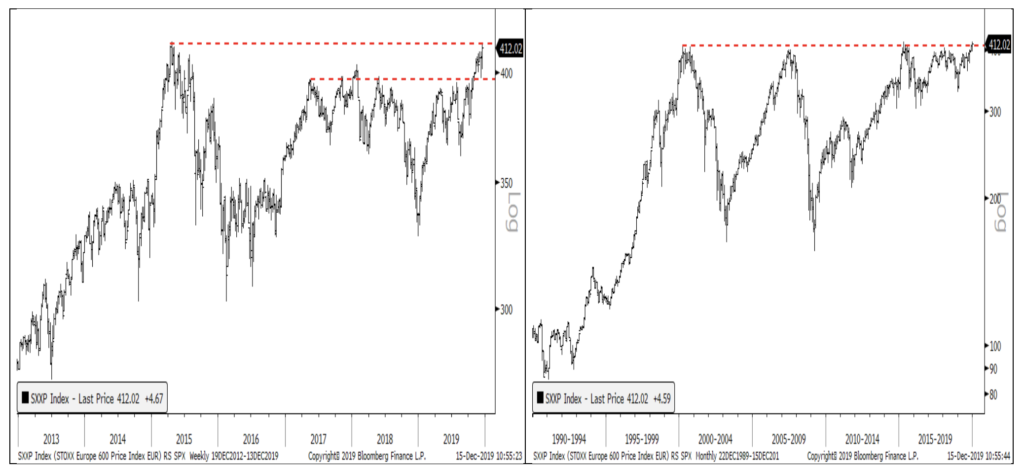 Josh here – I would note that this index is price only, so including dividends investors would have done slightly better, but price indices are what matter to traders when assessing price action.
One of the biggest anchors holding down European stocks over the last decade or more would be the financial services industry. European banks have just been absolutely atrocious. But if that were to turn, sentiment would turn with it. Here's Jon's peek at the Euro banks' recent attempt at bottoming…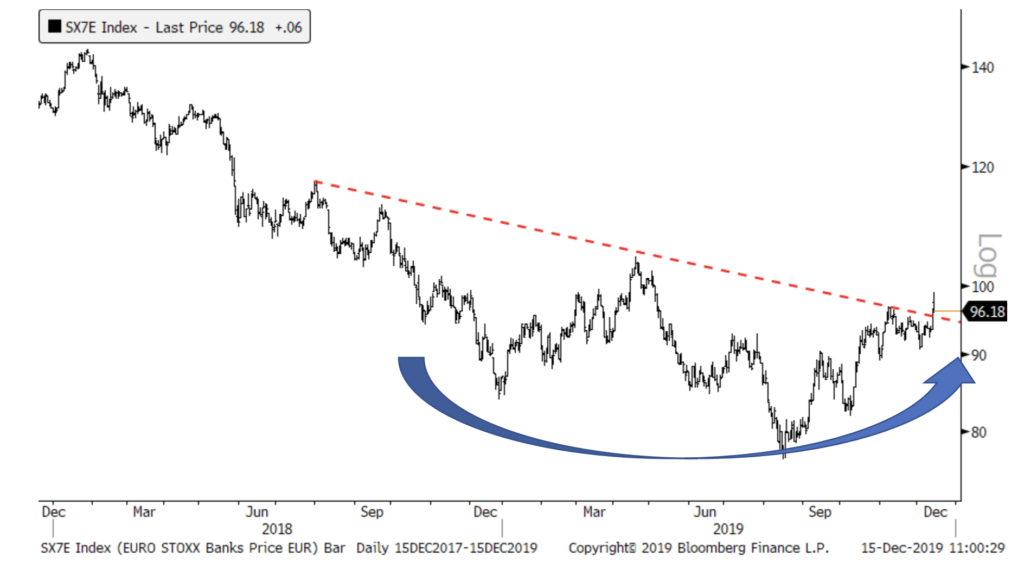 So what could support this price action fundamentally? Well, who knows, but my best guess is they have to stop with the negative interest rates bullshit, which does absolutely no good, has not produced the desired "inflation target" and has done severe harm to bank balance sheets, lending operations and confidence. Recent remarks from several EU officials have revealed a newfound skepticism for negative rates, so let's see if they've had enough of that nonsense at some point in 2020.
European stocks currently sell for 15x forward earnings, while US stocks are more like 19x. We are all aware of the fact that Europe has less technology companies and the US economy is growing faster, so don't worry about emailing me that.
Source:
The Next Breakout Candidate: Consumer Discretionary
Baycrest Partners – December 15th, 2019
See also: