My whole life is a second chance. I spent the first half of my career on Wall Street working on a succession of pirate ships, went through hell to escape and find a higher purpose in the industry, and then the next ten years very publicly atoning with the blog, the books, a million frank interviews and tweets and contributed columns.
People need (and usually deserve) second chances because often the first version of themselves they put out into the world is not even close to the finished product they'll want everyone to see them as. It takes time to get there and the latitude to make a lot of "teachable moment" mistakes. Additionally, some people simply mature into adults later than others – it's hard to pinpoint the exact moment that a child becomes a woman or a man emotionally. Thirteen? Eighteen? Twenty five? How much of this depends on biology and how much on environment and how much on personality? Anyone want to step up and be the official judge of everyone else? Didn't think so.
James Gunn is a brilliant director who has created one of the most high-energy, action-packed, character-driven, hilarious super hero franchises of all time. Nothing can touch the Guardians of the Galaxy films in so many ways. And the second one actually improved upon the first one, which is rare in any genre.
James Gunn also sent some stupid ass tweets a long time ago. Someone dug those tweets up, in which he made some hacky, amateur jokes about pedophiles and stuff, and made sure to resurface them. It's our new National Pastime – casually destroying people's lives and ability to earn a living from the comfort of our phones – by joining online social justice mobs and shame squads, demanding punishment of people both public and private, while waiting in the Wendy's drive-thru.
Disney, which owns Marvel Studios, the producer of the Guardians films, wasted no time in covering their own mouse ears. They removed Gunn from his work on Guardians Volume 3 and fired him. The mob was satiated and moved on to its next target. Gunn was roadkill on the Twitter highway. Who is next to feel the wrath?!?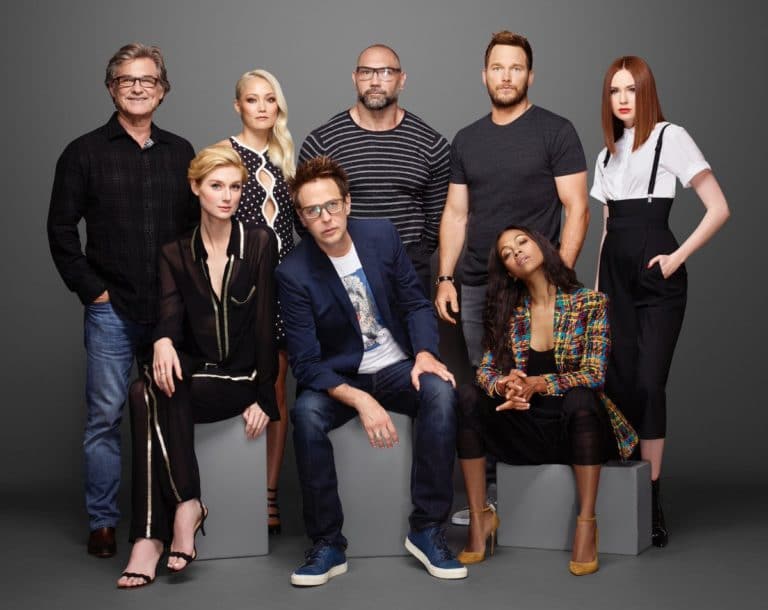 (Gunn with the cast of Guardians Volume 2)
But then a funny thing happened. Some rational people, people with power and a big voice, said to themselves "enough is enough." The entire core cast of the franchise waited a few days and then very loudly issued a statement of support for their director. These are big time celebrities – the actress Zoe Saldana, the actor/ wrestler Dave Bautista and Chris Pratt, who is one of the hottest box office stars on earth right now.
Here's Zoe's tweet from last summer in the wake of Gunn's firing:
If you please, read the statement written and signed by The Guardians of the Galaxy cast in support of James Gunn's reinstatement as director of GOTG Volume 3. pic.twitter.com/TjNA9RF6M8

— Zoe Saldana (@zoesaldana) July 30, 2018
You'll note that no one was defending what he said. They were defending the person they knew. We are not, as people, merely the sum total of the worst thing we've ever had the foolishness to have typed into a phone. Once we start reducing people down to their worst remark, or their most embarrassing moment, or their stupidest decision, a lot of humanity is lost in the process. It's cruelty. I wasn't making Bob Kraft jokes when his worst decision ever surfaced at the end of February. It's not everything that he is or all he's ever done.
The cast's statement in support of James Gunn was very public and visible. Behind the scenes, who knows what kind of other conversations had taken place? Things simmered down a bit. New scandals arose to take its place. The calendar turned over from 2018 into 2019. As most of these things play out, a whole lot of time had to elapse and people needed the space to forget all about Mr. Gunn and what he did that had made them so angry.
And then this week, the good news – Disney reverses itself and brings the director back to his project.
— James Gunn (@JamesGunn) March 15, 2019
This is as it should be.
The jokes people tell or put on social media in 2011 do not represent who they are as people in 2019. The things one has said or done in high school or college ought not cast a shadow so far into adulthood that they become inescapable. Obviously within reason, and maybe that's where the real crux of the issue is.
The "within reason" part requires people to think for a moment before joining the mob. What was said. When was it said. What was the context. Did the sayer of the thing really mean it. Does it really matter. What am I getting out of throwing tomatoes at this person, even if I hated what they said / joked / tweeted / posted. 
We're in an era where the transgressions of lots of people are surfacing, and thanks to the work of some intrepid investigative journalists, there are very scary monsters who are being stopped in their tracks, and, in some cases, criminally prosecuted for crimes they had otherwise gotten away with for too long. This is unequivocally good.
But that's not what happened with Gunn. He sent some really offensive jokes onto his Twitter timeline. The only victims were the people who had originally come across them and were momentarily offended, which isn't against the law. Is this really the thing we all have so much time to get worked up about? Probably not, which is why almost no one was really mad, they were just playing mad for their own little micro-audiences online. But it's so easy and cost-free to retweet someone else who is angry – or to throw a little kick of your own at someone who is already lying on the ground – that the mob looks a lot bigger and more consequential than it really is.
You think he learned something from the experience (other than delete your Twitter account)? Damn right he did. The whole episode almost cost him his life's work.
But this time, the absolute worst instincts of online mobs and corporate culture didn't win out. Sanity did. Suitable apologies were made, lines were drawn and reasonable executives at the world's largest entertainment conglomerate made the right decision to give him a second chance.
It will likely turn out to have been a good business decision too.
***
John Oliver used his Sunday night show this past weekend to discuss public shaming.
He had Monica Lewinsky on discuss what it's been like to spend the last twenty years as a living, walking, talking punchline – to have the worst mistake you've ever made become synonymous with your last name. Everyone should watch this. And it's the thing we should all be thinking about before hopping on the next Twitter bandwagon the next time someone else screws up.
How would you like it if this was you? Or if one of your family members had found themselves in this situation?
As John dares the audience: Picture the worst thing you've ever done – not the worst thing you've ever been caught doing … becoming a national conversation.