How did Travis Scott notch the number one single in America this week, despite the fact that it's been on the radio since August? How does he keep the album it's on at the top of the Billboard 200 all these weeks later, in the age of streaming and infinite new music drops?
He found a way. Here's Kiana Fitzgerald writing at Complex:
Back in August, ASTROWORLD debuted at No. 1 on the Billboard 200, where it stayed for two weeks. Travis' launch back up to No. 1 can be attributed to a new way of gaming the system—or, to put it more delicately, playing along with the industry in a way that nets more wins than losses. One way of doing that was by selling highly coveted merch, which came bundled with copies of the album. Travis did so with his initial album release in August, and then again last week. According to Billboard, ASTROWORLD, which has been in the Top 10 for the entirety of its 17 weeks on the chart, shot back up to the top spot because of a Cyber Monday merch deal made available through Travis' website: "Each of the items—including a keychain, hats, T-shirts, hoodies and so forth—came bundled with a digital copy of the ASTROWORLDalbum."

This method of selling albums with merch had been called into question by Nicki Minaj, who complained live on Queen Radio in late August that Travis wasn't playing fair. "What we not gon' do is have this Auto-Tune man coming up here selling fucking sweaters and telling y'all he sold a half-a-million fucking albums, 'cause he didn't," she said. Instead of countering Minaj, though, Travis kept his head down and kept it pushing, right into the biggest year of his career (despite the fact that he's only been actively selling and promoting material related to ASTROWORLD for a little over four months).
from How Travis Scott Played the Long Game—And Won (Complex)
Josh here – The music is the message. The store helps him get his message out, and none of the fans are being forced to buy his merchandise at gunpoint. And if Nicki thinks it's cheating, then definitely don't tell her about the Beatles and their Apple Corps side hustle 50 years ago.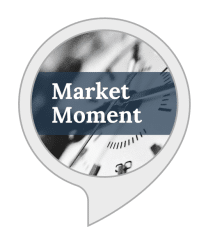 How you get your message out is less important than the fact that it's getting out, period. The medium you use to communicate that message will vary, it will change over time. You'll use multiple "channels" to talk to people "where they live."
We've built the firm's messaging so that it could translate across all mediums and platforms. What we're saying about the right way to invest and plan for the future doesn't change, even if the method of transmission does.
Our new Alexa skill, Market Moment, is generating some feedback for us. You can enable it in the Alexa store here and it will play every morning when you ask your Alexa device for the news or invoke "Play flash briefing."
This morning's Market Moment briefing was hosted by Tadas Viskanta, our director of investor education. Tomorrow you'll hear from me. Thursday you'll hear my colleague Blair duQuesnay, who writes the Belle Curve blog and sits on my firm's investment committee. We're not giving individualized advice, we're talking markets, context, trends, events, investor behavior, the present, the past, etc. It's our message. We're getting it out there. I asked people around the firm to leave a review of the skill. I want you to leave a review also – tell us what you think, tell us what else it could include or how it could be better.
Make us a part of your morning routine. Check it out here: