2018 turned out to be pretty terrible for investors in the US and around the world…
from the Wall Street Journal (emphasis mine):
By one measure, global stocks and bonds are both on track to finish the year in the red for the first time in at least a quarter-century, said Belinda Boa, head of active investments for Asia Pacific at BlackRock in Hong Kong. Major stock benchmarks in the U.S., Europe, China and South Korea have all slid 10% or more from recent highs. Crude oil's tumble has dragged it well into bear market territory, emerging-market currencies have broadly fallen against the U.S. dollar, and bitcoin's price—which had a meteoric rally last year—crashed below $5,000 this past week for the first time since October 2017.

Havens such as U.S. Treasury bonds and gold rallied this fall as U.S. stocks and industrial commodities staged their fourth-quarter swoon. But both are still down on a price basis for the year, reflecting solid economic growth and tighter Federal Reserve policy that have begun to push interest rates out of their post-financial crisis doldrums.

All told, 90% of the 70 asset classes tracked by Deutsche Bank are posting negative total returns in dollar terms for the year through mid-November, the highest share since 1901. 
This is quite a chart. This year vs last year is incredible: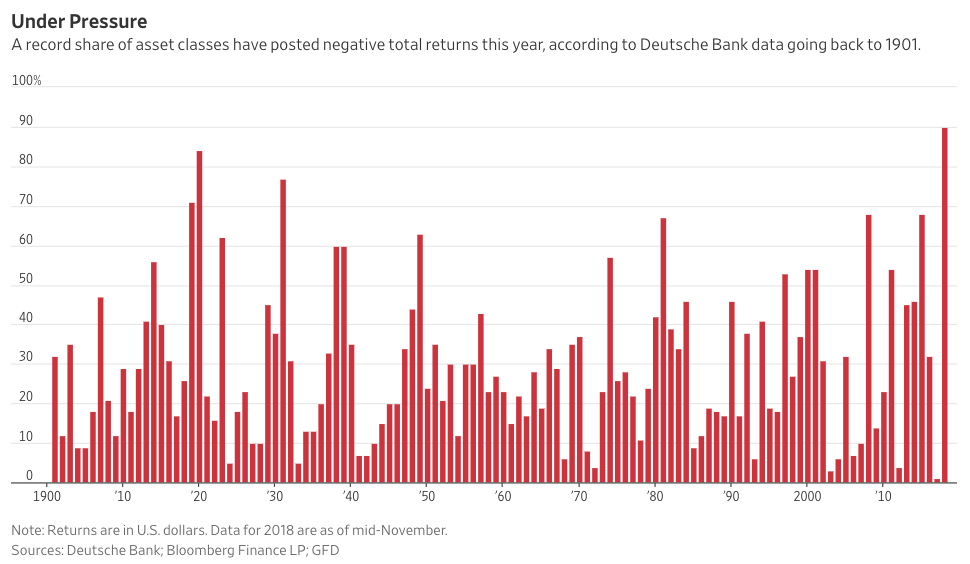 One more year like this and all those buy-and-hold index portfolios are going out on the curb for trash pickup. Maybe everyone will fall back in love with trading?
Source:
No Refuge for Investors as 2018 Rout Sends Stocks, Bonds, Oil Lower (WSJ)