This chart comes from the Wall Street Journal's Daily Shot blast this morning. I find it funny that all the deficit hawks are celebrating budget-busting tax cuts and all the inflation hawks are finding ways to act cool about decades of "strong dollar" rhetoric being thrown out the window.
They're like "Forget everything I ever said, I'm down with this new thing now."
Okay.
Here's how the dollar celebrated yesterday's comments from the first Treasury Secretary in modern history to openly say IDGAF about the strength of our currency:
Traders have been given "permission" from the Treasury to sell the dollar.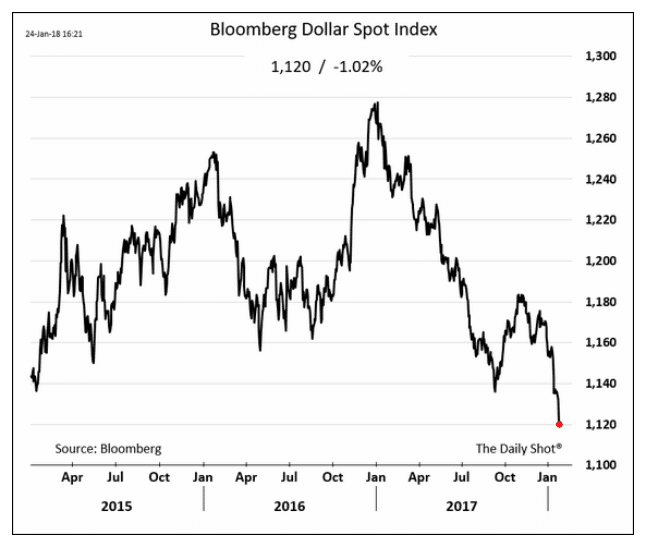 On January 10th I talked about inflation and showed you a potential breakout coming in the Bloomberg Commodities Index. She just broke out yesterday.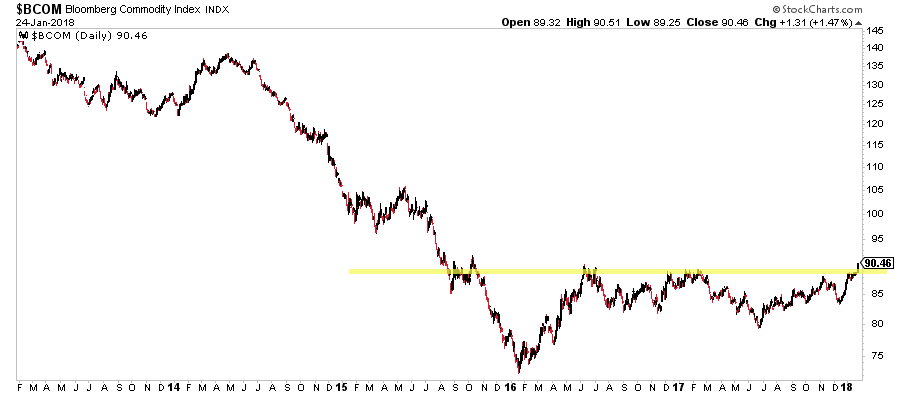 The CEO of Ford is already complaining about rising raw costs and we've only just begun…
The outlook for 2018, however, indicates that Mr. Hackett needs to manage several factors outside of his direct control. Rising commodity costs, unfavorable currency movements and higher interest rates will pressure margins at both the company's automotive division and the lucrative Ford Credit finance arm.
Meanwhile, Caterpillar, which sells tools to commodity producers just smashed their earnings this morning, coming in at $2.16 a share vs $1.79 expected. Bang!
New year, new game. Economically sensitive cyclicals up, "bond proxy" dividend names are out. Commodity-related is what the people want, consumer staples are what they don't. And get used to hearing CEOs talk about higher costs – cause that's what's poppin.
Soundtrack: 
Links: