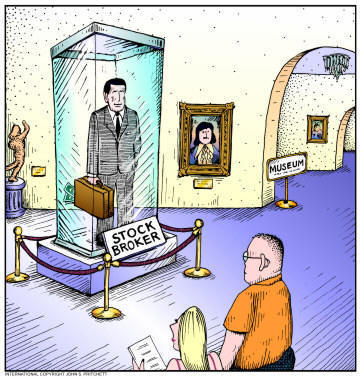 I meet brokers all the time from the wires. The first thing they tell me – almost before they even say their names – is what percentage of their assets are in fee-based accounts. "I'm like 90% fee-based at this point. Oh, by the way, I'm Dave." It's like a preemptive, defensive answer to a question that I didn't even ask. As though they're ashamed of the portion of their biz that is still transactional.
A friend of mine is the head of a multi-billion team at a wirehouse firm. He's an awesome advisor and could do anything he wants. If he were to roll his team and his practice out into an RIA, it's big enough that he would immediately be one of the largest in the country.
But he can't.
His clients are high-flyers in venture cap and private equity and they rely heavily on his firm's banking capabilities. They're moving money and credit into different accounts around the world, around the clock. The RIA custodians can't facilitate that kind of stuff. And you're certainly not supposed to paid on the lending as a fiduciary advisor. He also has the inside track on corporate executives' personal accounts when they do investment banking deals with firm. Why would he ever bounce out of a situation like that? He knows that the asset management work he's doing is largely incidental in this day and age.
Anyway, the Wall Street Journal has a story today about the continuing exodus of talent from the wires to the independent channel.
A growing number of brokers, disillusioned with pay hurdles and strict corporate cultures at the so-called wirehouses, are taking their billions of dollars under management and going independent. In doing so, many also say they are pursuing more control over their practices and a higher standard of care for clients that focuses more on service and less on pitching proprietary products…

Mr. Celenza, like scores of other brokers who have ditched their wirehouse roots in recent years, says he grew tired of the limits brokerages like Merrill place on its brokers, keeping them from truly acting as unbiased professionals who can advise investors on their financial health. Brokerages typically restrict their brokers from offering rival banking services, such as sourcing a mortgage from a competitor even if interest rates are lower and would be in the best interest of clients, or from offering family-office-type services like paying bills and providing advice on bespoke investments. Besides that, Mr. Celenza and others say they prefer to own equity in their own business.
My friend Shirl Penney at Dynasty Financial Partners, who is mentioned in the piece, is the architect behind a lot of these breakaway situations. He's built a platform for billion-dollar teams to launch their own firms but have an element of the support they're accustomed to. Shirl's platform covers everything from technology needs to compliance. He'll even lend the fledgling firms working capital and find them real estate. He's doing huge deals on a monthly basis in this space.
One day, Shirl and the custodian brokers like Schwab and TD (more on them here) are going to crack the code and figure out how to replicate everything the wires can do for large, complex practices. They're improving and becoming more robust every day. It's hard to figure out why they won't take even more teams out of these places as that happens. Why would you stay?
Read the whole piece below:
Brokers' Call on Wall Street: Bye (Wall Street Journal)
Read also:
The Ballad of the Breakaway Broker (TRB)
Wealth Advisers Set Up Shop With a Shared Back Office (New York Times)