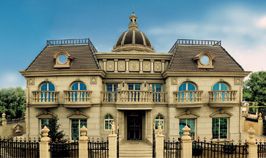 "While the über -wealthy are splashing the cash and taking advantage of low interest rates, a recent report by the Chinese Academy of Social Sciences showed more than 80 per cent of urban Chinese cannot afford to buy homes."
The newly-wealthy plutocrats of Beijing are now embarking on that traditional mainstay of nouveau riche everywhere: the construction of McMansions.  Our favorite communist billionaires have decided on a decidedly European mode of housing, the French Chateau, as their display of wealth.
These neighborhoods full of mini-Versailles have been around since at least 2007.  What is new though is the fact that they are now being built everywhere, even next to the airport.  It should also be noted that the homes are selling out before construction begins.
Where have I heard things like that before?
From The Independent:
As the rest of the world reels from the lingering effects of the credit crunch, China is undergoing a property boom. All over the country they are building slightly alarming neo-Gothic, neo-Tudor, neo-classical piles as the communist nation's super-rich hunger for the look of a European pad combined with the luxury of an Asian high-end villa.

At the Palais de Fortune development, houses cost up to £5.5m each. They are generally sold long before they are built to Chinese buyers, either from the mainland or from Hong Kong. Inside, the compound feels like another planet, as you pass golden golf carts with badges on the bonnet reminiscent of Rolls-Royce's Silver Lady. The villas are an incongruous vision of European elegance amid the more typical Beijing suburban features of flat-bed tricycles and barely paved dirt roads.

"The first two phases are all sold out, and we have started working on phase three," said Tang Ming, deputy marketing director for the development.
Just for fun, take out the references to Asia or China from the article and substitute Miami or Malibu.
Source:
French luxury tells a tale of China's haves and have-nots (The Independent)
Read Also: