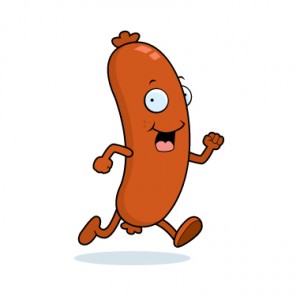 What I'm reading this morning:
Hot Links for Weekend Reading
On The Big Picture this week, Barry Ritholtz explained the definition of a Zombie Bank, complete with a table of companies that currently qualify as zombies.
TheStreet.com's James "Rev Shark" DePorre has certainly been busy this week with the launch of his petition to combat the "Trader's Tax".  It seems that Congressman Peter DeFazio introduced some horrifically absurd piece of nonsense called H.R. 1068: "Let Wall Street Pay for Wall Street's Bailout Act of 2009".
The bottom line is that he'd like to add a transfer tax to every single purchase or sale of any stock or option of 25 basis points…Seriously.  Can someone please crack a window in the Congressman's office?  He's either not getting enough oxygen or he actually wants to destroy capitalism and our free and liquid markets once and for all.  Anyway, check out the Rev's Petition and then visit his American Coalition of Individual Investors blog.
Lastly, Doug Kass posted a 2009 Hot or Not piece that represented everything from Investing to Real Estate to Entertainment.  Very cool of TheStreet.com to post it on an open page.  Normally, you'd need a paid subscription to the site for Kass's stuff (RealMoney Silver, which is worth every penny).  Here are a few tidbits:
Investing
| | |
| --- | --- |
| Hot | Not |
| Alpha | Beta |
| Analysts | Strategists |
| Trading | Investing |
| Block and tackling | Conceptualizing |
| Yield | Growth |
| Municipal bonds | Growth stocks |
| Index funds | Hedge funds |
| Vanguard mutual fund fees | 2% and 20% hedge fund fees |
| Vanguard's John Vogel | Berkshire Hathaway's (BRK.A) Warren Buffett |
Food
| | |
| --- | --- |
| Hot | Not |
| Home cooking | Dining out |
| McDonald's (MCD) | 21 Club |
| Dunkin' Donuts | Starbucks (SBUX) |
| Dairy Queen | NYC's Serendipity |
| Pizza | Steak tartare |
| Mexican food | French food |
| Fried clams | Lobster tails |
| Beer | Champagne |
| Tap water | Bottled water |
And here's a link to the rest: What's Hot and What's Not in 2009