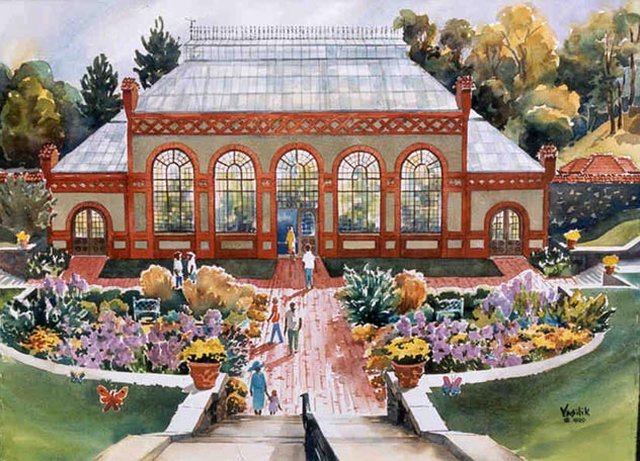 Conservatory at Biltmore, by Ann Vasilik via Our State
There are four million households in North Carolina. Approximately half of those households (1.922 million) are comprised of a married male and female with children. Another half million are a female head of household with kids. There's 180,000 or so male-led homes with children and then 1.4 million non-family households.
There are ten million people living in the state, with a median household income of $60,000 and a median property value just below $200,000. The median age in the state of North Carolina is 39. The median for women is 40.3 years old and the median for men is younger, 37.6.
About 225,000 of these North Carolina households have a net worth of above $1 million. And North Carolina has the very lowest threshold across all 50 states to be part of the top 1%, with a required income of just $560,000 to be at the highest end of the spectrum by earnings.
There are about 250,000 homes that are appraised at $500,000 and up. Of these, 38,000 or so are worth more than a million dollars. Home prices surged in 2022 but the state's homebuilders came rushing into the void to build more. North Carolina has one of the highest housing starts numbers in the nation.
According to CNBC's annual competitiveness study, for the second year in a row, North Carolina is America's Top State for Business. It's economy is booming and companies are flocking to take part in it. With $560 billion in GDP growing at a 3.2% clip, there's investment pouring in. It's not just the financial companies like BofA, Ally, Truist and Wells Fargo growing in Charlotte. Apple recently filed an application to make the Research Triangle its first ever East Coast hub. They're planning a $1 billion facility including 700,000 square feet of office space in the first phase of development.
Learn more about Ritholtz Wealth Management here.
I have three Certified Financial Planners in the state of North Carolina, working with families there and overseeing approximately $300 million in assets. That number is going to go much higher. Carolina is one of our fastest growing regions. This summer we decided to turn it into our southern headquarters. We've got physical office space in downtown Charlotte and some of our very best people on location. The city of Charlotte and the state of North Carolina are going to be a much bigger part of our firm's story going forward.
And that's why we're coming down to celebrate and say hello to our local clients, fans and followers next month. We're doing a live podcast taping from the Nascar Hall of Fame with 100% of the proceeds going to No Kid Hungry, our favorite charity. That show will feature special guest Duke University Professor (and Godfather of the Yield Curve Indicator) Mr. Campbell Harvey (of Research Affiliates). It's completely sold out, like, the fire department won't let us sell another ticket. I hope you grabbed your seat while they were available. If not, we'll see you another time.
If you're among the four million households of North Carolina and you'd like to discuss your future with us, this is your opportunity. Barry, Michael, Kris, Blair, Taylor and the rest of our experts and all stars are coming down to take these meetings with people just like you. We want to talk about current portfolio, your financial plan, your hopes and dreams for the decades to come and how we can help you figure out the most important things. We do this for thousands of families all over America, and now we're coming to you.
If you'd like to get on the calendar to come by and see us while we're in town (Nov 6-8th), send us an email to info@ritholtzwealth.com with the subject line "Charlotte". I'm looking forward to seeing you there and introducing you to the team. See you soon!
There are four million households in North Carolina. We can't and do not wish to work with all of them. There are plenty of ordinary, plain vanilla banks and brokerage firms and insurance salespeople to cover the majority of these folks. If you're looking for something out of the ordinary – something extraordinary – that's us. Let's talk.