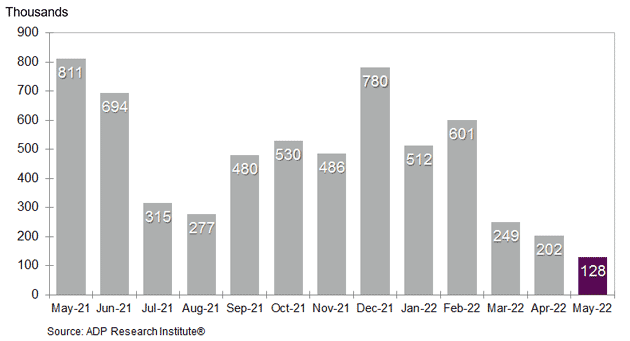 ADP is out and it is confirming what I said last week: The peak in labor-related cost inflation is probably already in the rearview.
The highlights from this morning's report:
Private payrolls increased by just 128,000 in May, the lowest gain of the pandemic-era recovery, according to ADP.

Small business took the biggest hit during the month, as companies employing fewer than 50 workers reduced payrolls by 91,000.

Leisure and hospitality, the sector most hit most by restrictions and which has been a leader throughout the recovery, saw new hires of just 17,000.
In "information technology" there was a net job loss of 2,000 this month – that makes three months in a row. If you're running or investing in tech firms, you've already gotten the hint from the cascading Nasdaq selloff in terms of what you want to be focusing on right now – defense, not offense.
Here's a summation from Peter Boockvar:
Bottom line, the last three months has seen a marked slowdown in the pace of fresh job creation. The 3 month average is 193k vs the 6 month average of 412k and the 12 month average of 438k. The full yr 2021 monthly average was 573k. ADP's bottom line was this: "Under a backdrop of a tight labor market and elevated inflation, monthly job gains are closer to pre-pandemic levels. The job growth rate of hiring has tempered across all industries, while small businesses remain a source of concern as they struggle to keep up with larger firms that have been booming as of late."
Food and energy prices are noisy and driven as much by weather and geopolitics as they are by the economy – if not more. Labor costs and rent are different. They are more meaningful and stickier. Labor-related cost pressures are easing even as the job market remains strong. That's the good news.
We'll get May Non-Farm Payrolls and BLS Unemployment Rate tomorrow morning. Maybe even more confirmation that things are calming down.
Read also: