On November 8th I asked you for your help…
I am so thankful for the millions of people who read / watch / download / listen to and respond to our stuff. I don't want anything in return for myself. But I am going to call in a favor here. It's a small ask but it could have a major impact in the lives of people who really just need a break this time of year.

I'll keep this quick – there are approximately 259,000 people on my island who are considered "food insecure" and cannot get enough to eat without assistance. 79,000 of them are children under the age of 18. The idea of 79,000 children within a few miles from me going to bed without dinner, or showing up to school too hungry to learn really pisses me off. But I don't stay mad when something cannot and should not stand. I take action. I hope you're that way too.
My son and his middle school friends put together over 150 Thanksgiving dinners for the local food bank to distribute to families in need. I wanted to top this off with a financial donation inspired by the kids' efforts so I asked you guys to make a small donation, only if I have made you money – or made you smile – at some point this year. You really came through big time.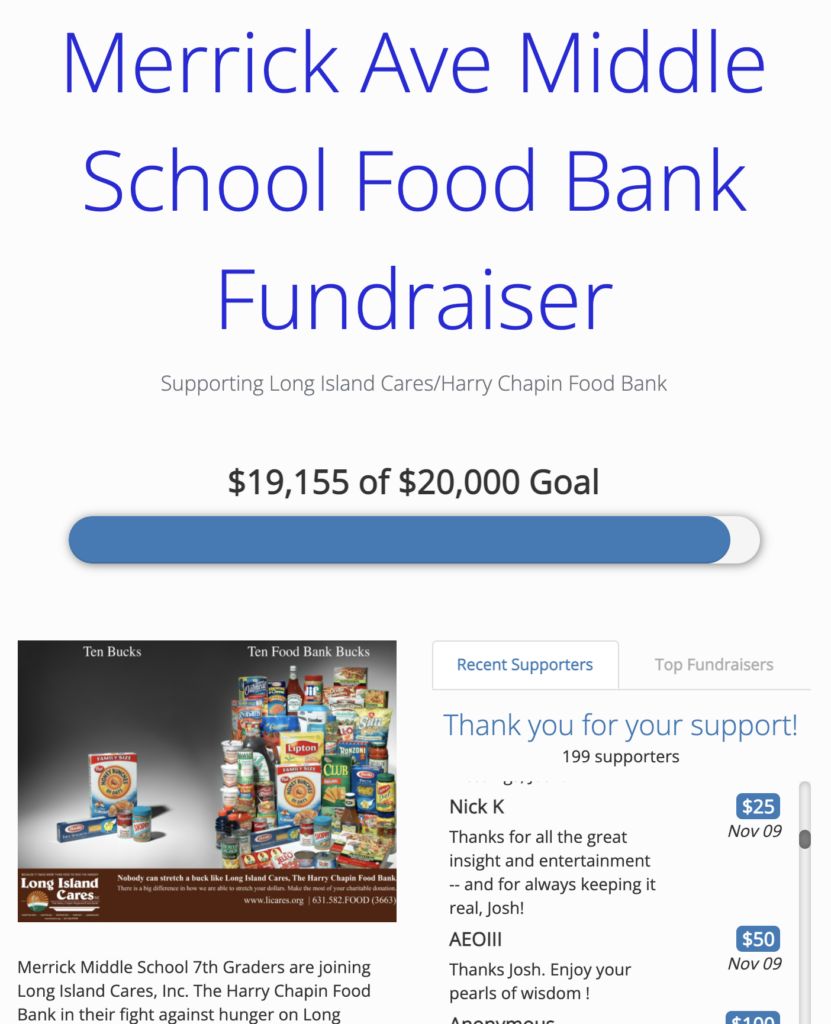 As of this morning, we've smashed our original goal of raising $10,000. LI Cares / The Harry Chapin Food Bank is now going to receive more like $20,000, all of which will be used to distribute meals to the food insecure on Long Island. This money will be helping to feed tens of thousands of people in need. It's truly extraordinary what we've been able to do together this month.
So tomorrow, during the Thanksgiving meal, in a quiet moment where I contemplate all of the things I have in my life to be thankful for…very high on the list will be all of you. I appreciate you guys very much. You've done a wonderful thing. We've doubled the goal and we're making a big impact on people's lives.
If you haven't donated yet, the form is here. Even five bucks goes a long way.
Thanks again and have a wonderful holiday 🙂