Apple is the largest corporation on earth and, in the last quarter, their profits doubled versus the same quarter during the prior year. As my partner Barry likes to say, "Stop and think about it!"
Indeed, that's f***ing bananas. Apples. Whatever.
Here's what else Apple told us last night:
EPS: $1.30 vs. $1.01 estimated
Revenue: $81.41 billion vs. $73.30 billion estimated, up 36% year-over-year
iPhone revenue: $39.57 billion vs. $34.01 billion estimated, up 49.78% year-over-year
Services revenue: $17.48 billion vs. $16.33 billion estimated, up 33% year-over-year
Other Products revenue: $8.76 billion vs. $7.80 billion estimated, up 40% year-over-year
Mac revenue:$8.24 billion vs. $8.07 billion estimated, up 16% year-over-year
iPad revenue: $7.37 billion vs. $7.15 billion estimated, up 12% year-over-year
Gross margin: 43.3% vs. 41.9% estimated
All of these numbers are absolutely absurd. The sheer size of this business ought to preclude it from being able to post growth rates like these. And to continue exceeding Wall Street's already bullish projections, quarter over quarter – it defies everything we've ever seen in the history of modern capitalism. And in terms of its sheer size, influence, market power and utter dominance over its categories, there are no comps. Not the Vatican, not the Dutch East India Company, not the South Sea Company, nothing even comes close.
And they continue to raise the bar, continue to grow in profitability, power and possibility for shareholders. They do buybacks. They pay dividends. They spend on CapEx. They make acquisitions. They hire and create jobs. They innovate. They execute. There's very little anyone could offer in the way of criticism in terms of how this business has gotten to this point. There are no tricks. There's no subterfuge.
So maybe – it's just possible – that the rally we've seen in shares of Apple and the other technology, consumer and communications giants has been justified. I know this premise is infuriating to the people who've sat it out.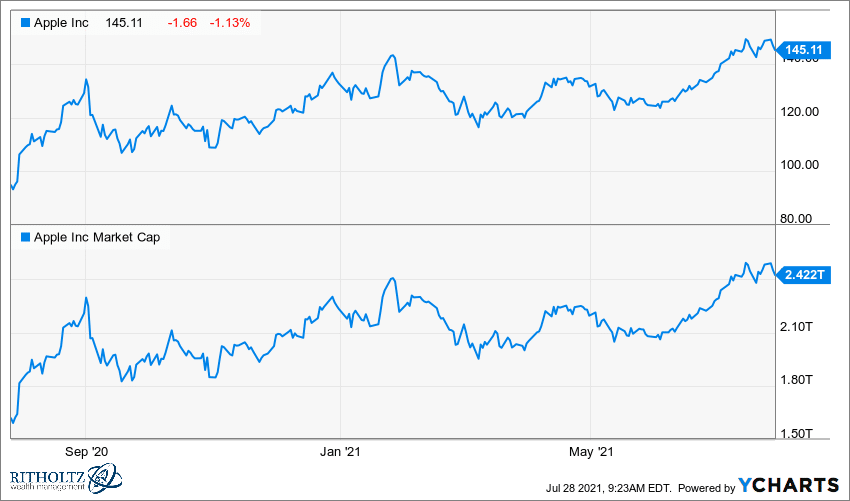 One year ago, Apple had a market capitalization of $1.6 trillion. Today it's just under $2.43 trillion. The stock is up 50% since last summer. It wasn't random. It didn't happen because of index funds or ETFs (not all stocks in the SPY are up 50%) and it's not because of Fed manipulation.
It's up because more people want to own the stock than not. And with numbers like these, why the hell wouldn't that be the case?