What's wrong with you, LMAO. My neighbor's doing some stuff to his house, talking about plywood and 2×4 prices versus last time he had work done. I'm like, "Listen, this isn't microchips or surgical equipment. It's f***ing wood. It literally grows on trees, chill." He wasn't laughing but his wife giggled (maybe?).
Anyway, if you're worried about inflation, this is the part that IS transitory. Unlike wage growth, which I think will stick – especially at the lowest end of the income distribution (where it should stick).
WSJ this morning:
Lumber prices are falling back to earth.

Futures for July delivery ended Monday at $996.20 per thousand board feet, down 42% from the record of $1,711.20 reached in early May. Futures have declined 14 of the past 15 trading days, the last two by the most allowed by exchange rules.
Cash lumber prices are also crashing. Pricing service Random Lengths said Friday that its framing composite index, which tracks on-the-spot sales, dropped $122 to $1,324, its biggest ever weekly decline. The pullback came just six weeks after the index rose $124 during the first week of May, its most on record. Random Lengths described a chaotic rout in which sawmill managers struggled to provide customers with price quotes.
And here's Bloomberg, from Friday:
Lumber futures posted their biggest-ever weekly loss, extending a tumble from all-time highs reached last month as sawmills ramp up output and buyers hold off on purchases.

Prices in Chicago fell 18% this week, the biggest decline for most-active futures in records going back to 1986. Lumber has has now dropped almost 40% from the record high reached on May 10.

Sawmills appear to be catching up with the rampant homebuilding demand in North America that fueled a months-long rally, bringing some relief to a market beset by supply shortages and price surges. Buyers are balking at still historically elevated prices and awaiting additional supplies, setting off a cascading sell-off, analysts said.
Used cars will be next. Then plane fares. Then hotel rooms. Then new cars and trucks. Etc. Calm down, like the bond market already has.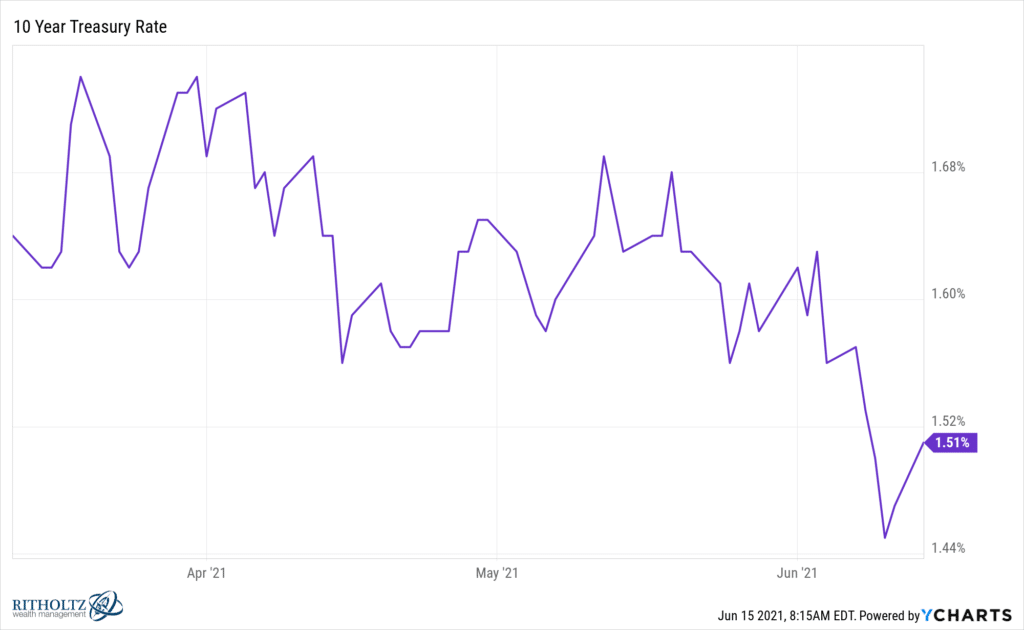 Sources:
Lumber Prices Are Falling Fast, Turning Hoarders Into Sellers (WSJ)