By the time the writers room at Saturday Night Live gets around to coming up with a skit about something from the investing game or the economy, it's not exactly green fields ahead.
SNL tries to capture the current cultural zeitgeist each week. When social media becomes completely saturated by a trend, that's when the sketch ideas start percolating. In most cases, the easy money has already been made by the early adopters by the time these sketches air.
This week there's a lot of excitement about Elon Musk coming on and promoting his love affair with crypto in general and Dogecoin in particular. Dogecoin is up 26,000% in six months as of this weekend. That's not a typo. There's almost $100 billion sloshing around in the Dogecoin "market" at the moment, which is an obscenity and an insult to the intelligence of pretty much anyone who's ever learned anything about finance. And that's part of the fun. The dumbest, craziest people you know are getting insanely, obnoxiously rich by emptying their minds of any sort of logic or reason (assuming any existed there in the first place) and simply pressing BUY. This phenomenon has been explained with the idea of supply and demand triumphing over everything else, gravity included. It's worth what the people who are involved say it's worth. And please don't try to speak pedantically about Intrinsic Value to an audience who cannot even spell the word Intrinsic in the first place. Why would anyone waste time on a concept like that when the slot machines are paying out hourly?
Imagine turning five thousand dollars into $1.2 million in three months. Now imagine you did it as a joke.
I didn't invent that return figure. That's reality. Don't take my word for it, use the Dogecoin Profit Calculator to really thrust yourself into a massive depression this weekend. You know, if you don't have any other plans.
Anyway, back to SNL…
Everyone's favorite trillionaire scofflaw prankster-in-chief Elon Musk is scheduled to host the show tonight. I'm pretty sure he's the first business celebrity to take hosting duties since Donald J. Trump was normalized by the show back in December of 2015. A year later he had become President of the United States, presiding over one of the darkest, angriest, most impossibly chaotic half-decades in American history. Fortunately, Elon only seems to be running for Viceroy of Mars at the moment.
Speculation is rampant that Elon will either be discussing Dogecoin and Bitcoin or participating in sketches about these things, thus further mainstreaming the awareness of them (and de facto promoting widespread speculation in their prices). Dogecoin has rallied furiously in the last two weeks since the announcement came out. A few other members of the extremely-online celebrity attention thirst club have been gleefully playing along on Twitter and television, aiding and abetting what will eventually become a disaster for late adopters who aren't in on the joke. "But from what price, Josh?" I won't be earning any cool points if Dogecoin crashes from $10 back down to a buck and I was blogging skeptically at 70 cents.
Elon's lawyers probably begged him to post this tweet as the show draws near:
Cryptocurrency is promising, but please invest with caution! https://t.co/A4kplcP8Vq

— Elon Musk (@elonmusk) May 7, 2021
This will be paid as much attention to as the tags on a mattress promising federal fines for tearing them off.
I think it's worth pointing out that Saturday Night Live has done lots of stuff about financial markets and the economy recently and the sketches have actually been pretty funny. Unfortunately, they've also marked the top in price or enthusiasm for the underlying subject matter.
Here's What Still Works from the January 31st episode, in which Pete Davidson plays a near perfect archetype of the kid who has recently learned to trade via Reddit and TikTok, and subsequently became an overnight millionaire by speculating in the GameStop bubble…
Here's how GameStop has fared since that episode: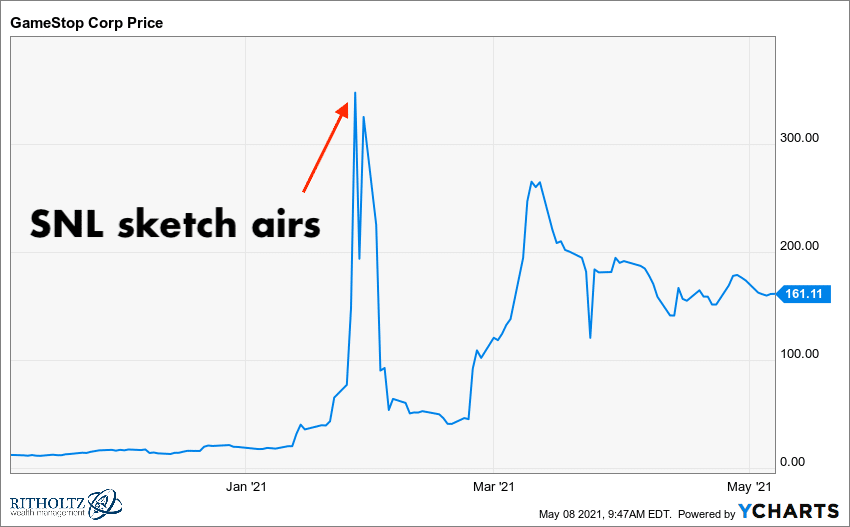 I really enjoyed this sketch about how researching houses on Zillow has become the national pastime as millions of Americans sit ensconced within the four walls of their apartments dreaming of extra bedrooms and half-bathrooms and porches and backyards.
This aired on February 7th:
And here's how Zillow's stock price has done ever since: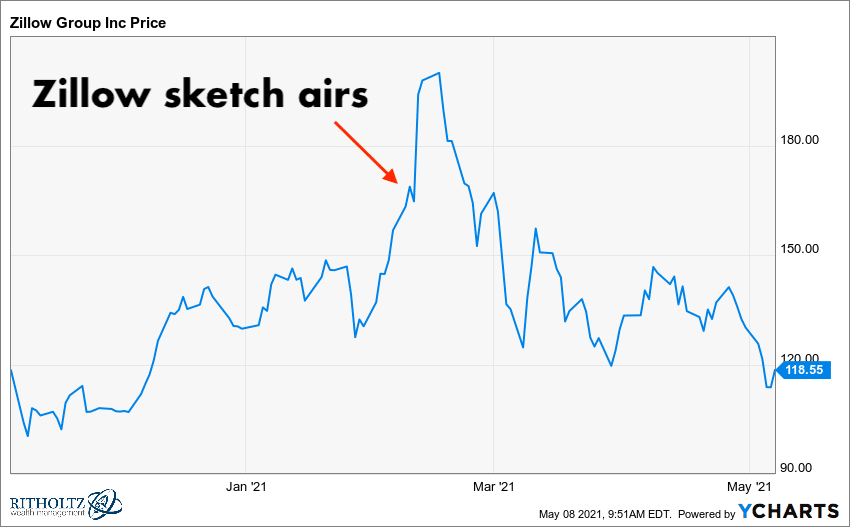 SNL is not creating the booms in these ideas, markets and securities. They're just piling on at the moment of maximum buzz. But it's absolutely plausible that they are creating the tops – their cast members serving as the proverbial shoeshine boy live from Studio 8H at 30 Rockefeller Plaza. The irony is almost too delicious considering that it is from none other than John D. Rockefeller himself that the shoeshine boy story came about. According to Wall Street lore, "In 1928, John D. Rockefeller was having his shoes shined. The shoe shine boy started giving him stock tips. J.D. decided that if a shoe shine boy was giving stock tips it was time to get out of the market. He did & his fortune continues to be one of the richest in our history."  
Boys don't shine shoes these days because men don't wear them. We're in socks and slippers, sitting at home pretending to work while perusing the message boards and social media apps for our daily dose of action. But someone has to serve as the indefatigable signal of mass hysteria. Might as well be the Not Ready for Primetime Players.
One more example…
Yet again, Pete Davidson – America's DudeBro – featured prominently in a song parody about NFTs, just as the wave was ready to crash over the enthusiasts, hypebeasts and FOMO Dads who became enamored by these online versions of the sports cards and internet memes that served as a national distraction during the pandemic shut-in. Between NBA TopShot video tokens and the artist Beeple's series of jpegs, an explosion of Me Too digital "scarce items" arrived on the scene to suck up an enormous amount of the spoils from Bitcoin. It also sucked up our attention, which led to this on March 28th:
Needless to say, soon after the prices of NFTs across all online marketplaces began crashing to earth. An endless amount of supply would viciously overwhelm demand virtually overnight. CNN was reporting on the NFT Crash within a week or two of Davidson's romp.
"…according to recent figures published by Nonfungible.com, which show that the average price of NFTs plummeted almost 70% from a peak of around $4,000 in mid-February to around $1,400 last week. Since Bloomberg first reported the price crash on April 3, sales remain low."
You cannot have a scarcity of items that can be created in unlimited abundance without even the slightest amount of cost or effort on the part of the issuers. NFT's will likely conform to Sturgeon's Law in the end, a law which states that 90% of everything is shit (I'm paraphrasing). You're welcome to bet on what might be the other 10%. If you've made thousands of dollars on Dogecoin, then why not? It's all fake money anyway in a fake digital lifestyle we're gradually being sucked into. People who win money from little effort spend it (invest it?) differently from people who earn it standing behind a counter or sitting at a desk. So, of course, the lottery-like winnings from crypto are going to continue to find their way into speculative markets that have been spun up overnight and other Greater Fool competitions across the web. Let the games continue!
Part of me feels like this could be the end but part of me feels like it may be just a warm-up for even bigger, more ludicrous action coming down the pike. There are no regulators, no consequences, no precedents and there certainly isn't any shame. We're carrying on from the safety of a glowing iPhone screen. Nobody's mom is watching as we enthusiastically fling money at whatever "asset" seems to be moving the fastest. By the way, I'm not sitting in judgment of anyone – I'm playing all the same games you are, on all the same apps. I'm just doing it with a smirk on my face, telling myself it's for "educational purposes" LOL. That's how I get to have my cake and eat it to.
And with that, I present to you the three year chart of Elon Musk's favorite crypto currency on the eve of his Saturday Night Live appearance…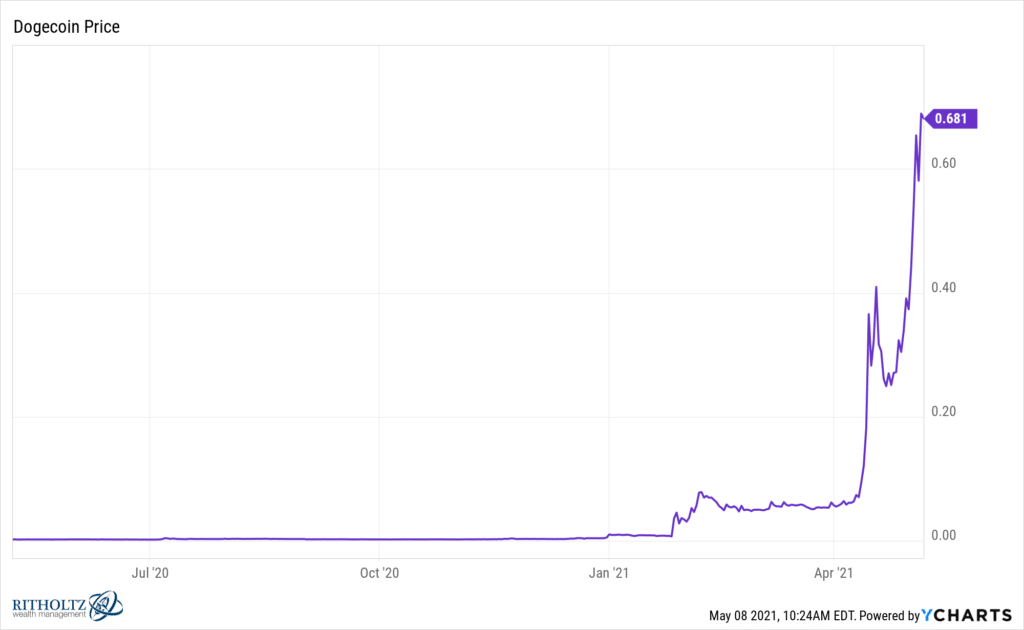 Will he mention it? Will he make a hard left turn and completely leave it out? Will there be a crypto sketch (or two)? Dogecoin is a 24-hour market, so we won't be kept in suspense until Monday to see what happens. Is $1 per Doge "inevitable" as all of the fourteen year old experts I consult with believe?
Let's watch and find out. I'm on the edge of my seat.