I have good news and I have not so bad news…
Let's start with the good news – your enthusiasm for How I Invest My Money has been so thunderous and overwhelming that the book broke into the Top Ten on Amazon, worldwide, for all categories, this week.
A friend of mine grabbed a snapshot of the moment, where it was just behind Barack Obama's book and Matthew McConaughey's book (alright, alright):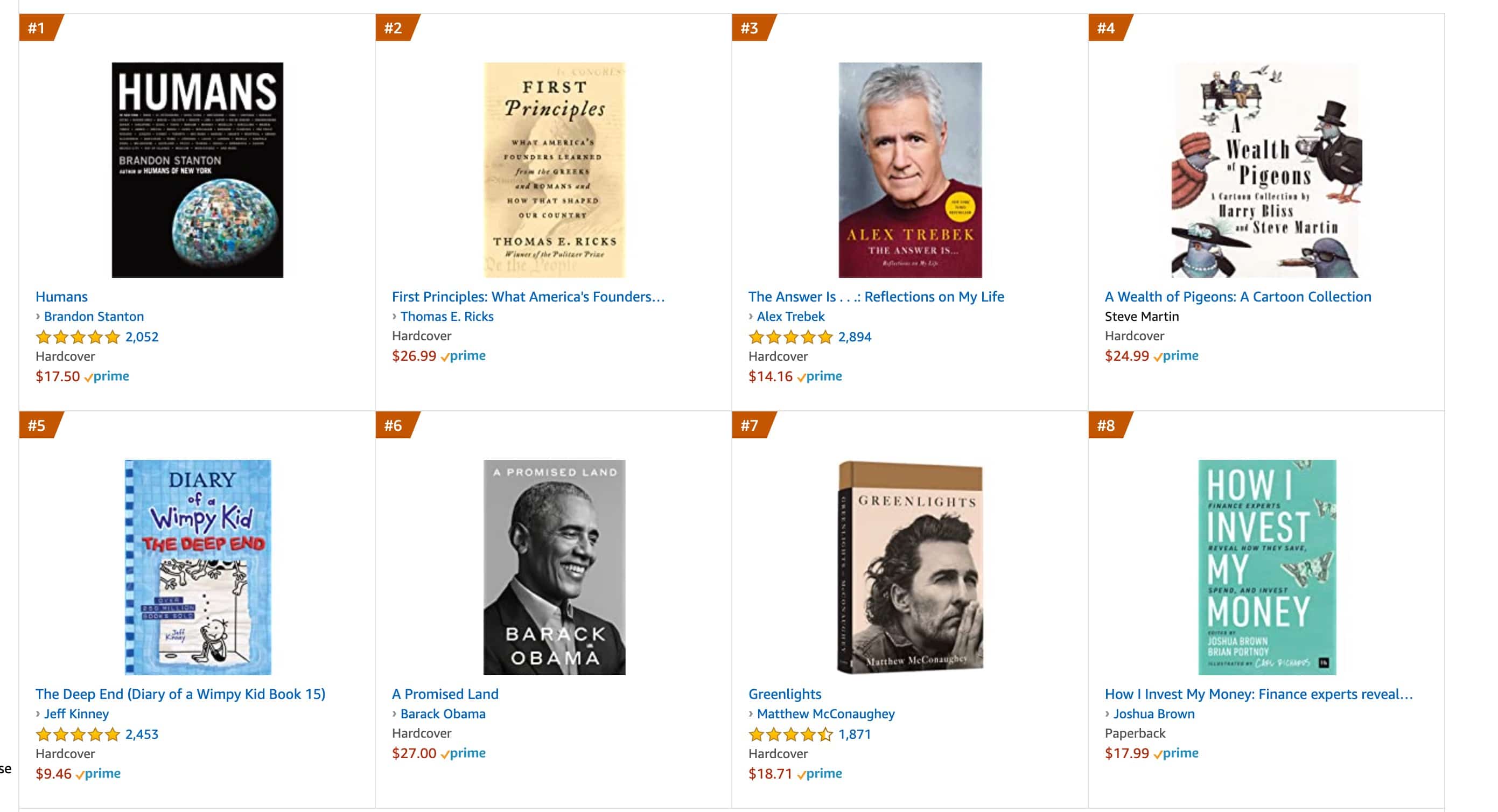 One of my contributors told us it had actually hit as high as number 6 for a little bit, which is insanity. Having one of the top ten bestselling books in the world on Amazon is something I never would have expected, but that's 2020 for ya. All unexpected, all the time.
We're the number one book in all three of our categories right now, which is also insanity: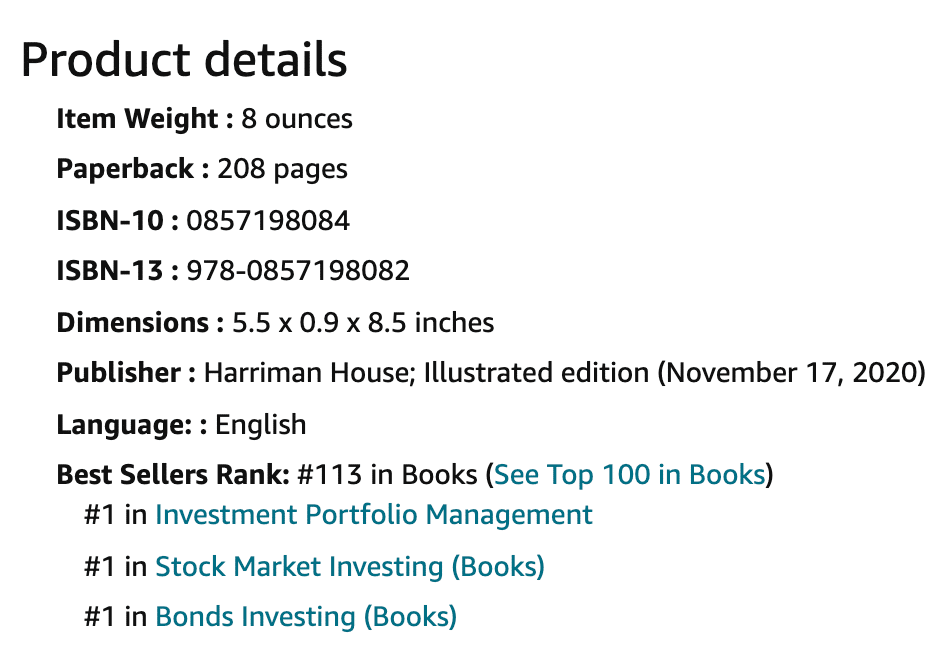 I called Portnoy Monday night and I was like "Are you freaking out?" and he was like "Hell yeah I'm freaking out!" It was an awesome moment. Even my kids were excited, they actually looked up from their phones to ask what was going on.
Anyway, here's the not so great news – there's going to be a shortage of books available which may delay the time it takes for you to get one. I think if you preorder now you'll be fine, but eventually there's going to be a gap between when the first printing is gone and Amazon sends out for the next printing to hold in inventory.
The below comes from our publishing house, and we're hoping for a best case scenario so you can get this thing ASAP…
We have printed 10,000 copies of the book to date, in one initial run of 2000 copies and then a secondary run of 8000 copies. We have also requested a new print run of 10,000 copies and this will be printing soon.

The first batch of 2000 copies I just referred to was almost entirely taken by Amazon. The second batch of 8000 copies has arrived with the distributor and is available for distribution to Amazon and other retailers.
Josh here – let me just say that Harriman House is an awesome publisher, it should come as no surprise that they are rolling up the entire financial advisory influencer space, having published Meb and Morgan and Portnoy and many others in recent years. They're a pleasure to work with. We had our contract and book deal within seventy-something hours of pitching them, Brian says. Back to HH:
For your information: We do not have the ability to send books to Amazon. Amazon dictates to our warehouse when they will come to collect the books. Amazon does this on its own schedule and we cannot influence that schedule.
They tell me that Amazon still might have enough inventory to cover all the preorders that have come in, and there's a new batch on the way, so fingers crossed:
In the coming days, Amazon will visit our warehouse again to collect inventory from the batch of 8000 that is currently sitting there.

In 2020, due to the challenges of the pandemic, Amazon has not been operating at full capacity. We have seen some availability issues with other Harriman House titles where Amazon shows the customer messages such as "Book in stock in a few weeks" or similar. For example, with Morgan Housel's book The Psychology of Money we had a battle lasting several weeks with Amazon to get them to show the book as in stock and available. This is now resolved.

This occurs when we are waiting for Amazon to come and collect inventory from our warehouse, or when Amazon is moving inventory from one of their warehouses in North America to another of their warehouses. This didn't happen much before 2020, but the pandemic means that Amazon just like other businesses is stretched and not operating at full capacity.
I spoke to Morgan about this a few weeks ago. It may have cost him some potential sales but I doubt it. His book is amazing and word of mouth probably made it worth the wait for people who had heard about it. We put Morgan's contributed chapter to our book right up front, he's such a gem. Here's me and Morgan talking about The Psychology of Money btw. A big time Hollywood producer just bought the rights to develop it as a TV show or a movie, so stay tuned.
Everything may be completely fine next week on HIIMM launch day. That is what we hope for. However, if we do see some unusual messaging on Amazon then it may be for the reasons I have just outlined. I prefer to let you know about this in advance rather than wait to see what happens next week.
It's going to be fine, but, just in case, if you're planning on ordering a copy for yourself or buying a bunch for your friends, clients or coworkers, do it now during the preorder and hopefully you'll be ahead of the delay between now and the next printing.
Okay, last thing – I've had a few hundred emails and DMs and text messages come in asking me for a signed copy. I am so thrilled to be signing them, it's an honor to do this for everyone who asks. Especially when I get emails like this: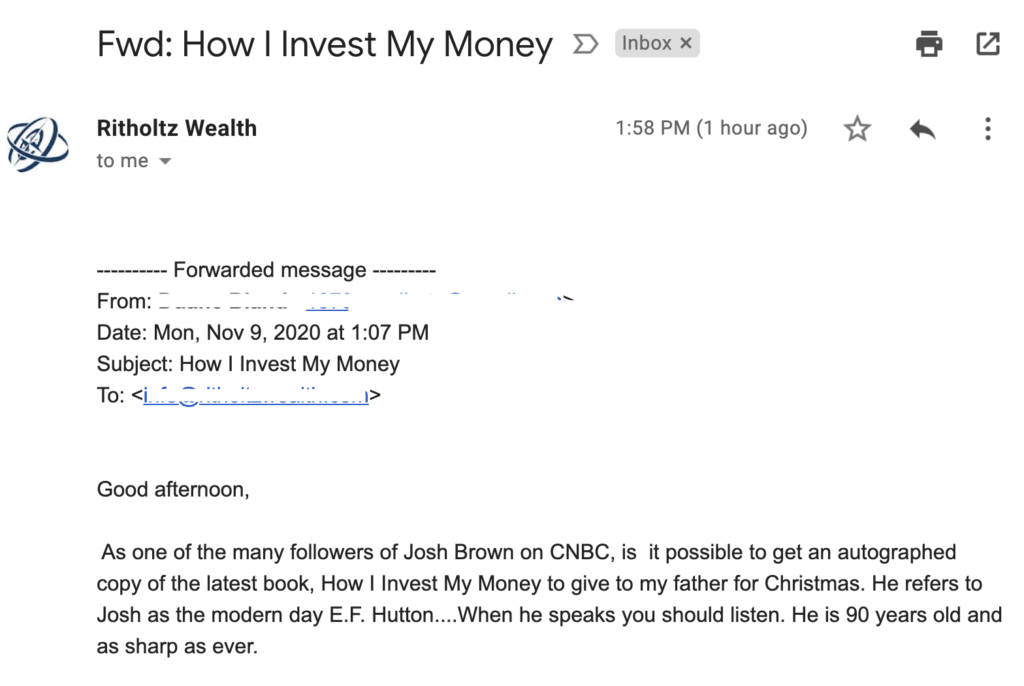 If you know me, then you know that one went out right away.
But here's the deal – I didn't plan for these requests in advance, so I am working on a way to do this logistically speaking that I think will be great.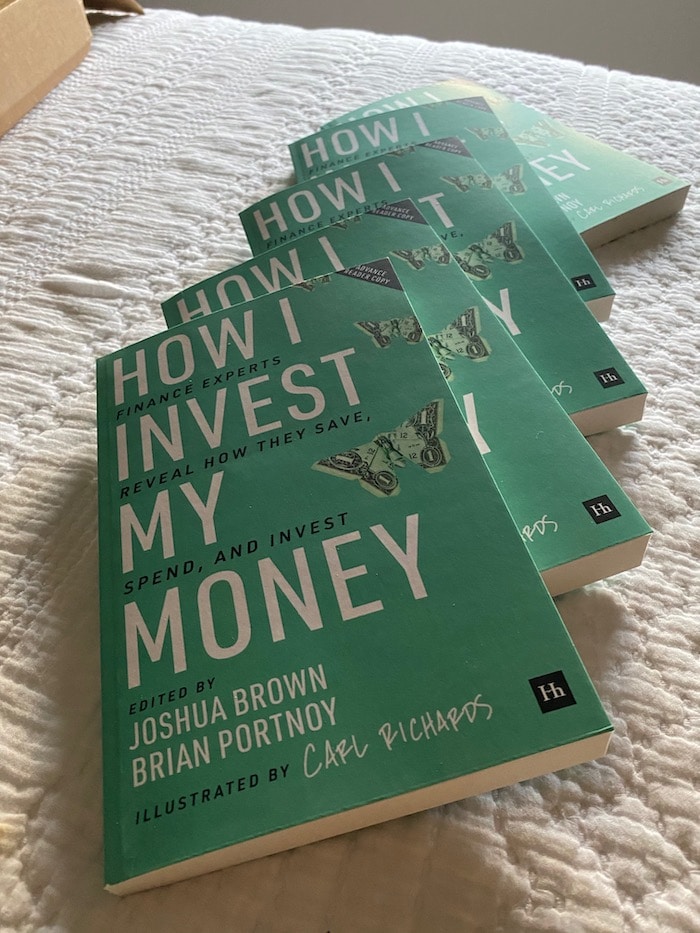 I'm working with a couple of charitable foundations to set something up where you guys send me the book with a predetermined donation amount to one of those foundations, and then I ship it back to you and pay for the return out of my own pocket. It's win / win / win, that way. So I would say sign up here for my email thing, so as soon as I have the signed copy process worked out, you'll be notified.
I'll be doing signed copies for clients of the firm as well, whether you work with us as wealth management households or if we invest for you via Liftoff, so if that's you, contact your advisor ASAP!
And if you've already preordered the book and help us get to number one, I just want to say thank you on behalf of Brian Portnoy, our illustrator Carl Richards and all of the wonderful contributors who made this thing so special. We really appreciate it 🙂