The sublease offers are flooding into my inbox. 12,000 square feet on Lex in the 50's. Tenant probably just handed the landlord the keys. No thanks. I'm already lighting thirty grand a month on fire for my own midtown lease. Every day more cold emails from brokers repping buildings.
Hi Josh,

You've heard it here and everywhere else – the NYC commercial real estate market is down. One silver lining of this market flux is the opportunity to sublease a brand new, beautiful space for far below its value.

We're representing this gorgeous 12,487sf sublease…
Yeah, I'm good brother. Thx.
This has to be happening on a massive scale. None of these spaces are worth what anyone thought they were – and they won't recapture prior highs for a generation in my opinion.
Office space usage and demand will not be returning to the prior peak even after the vaccines have become widely available. We're creating a new working paradigm now that features self-reliance, independence, portability, remote accountability and employee flexibility. It's going to become the norm, not a novelty.
I should know. We built the firm this way starting seven years ago, with remote employees joining from all over the country within our first two years of operation. Thank god I'm only in 5,000 square feet and not 50.
Here are some of the largest publicly traded commercial /office real estate stocks in the Russell 1000.
Want to be a tough guy? Buy 'em now. Not me.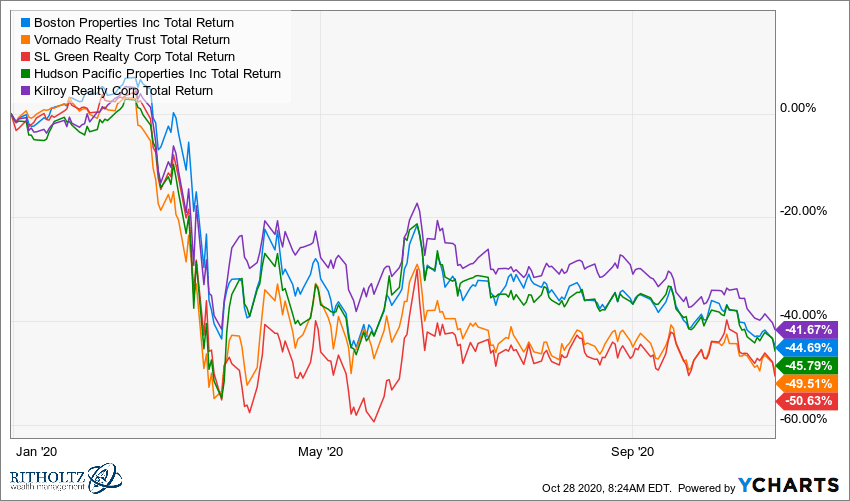 Welcome to Hell. Lenders are going to busy making adjustments for years to come. Manhattan office lease prices have to be rationalized given this new reality. What about in your city?