If this is even close to being true, I would consider it to be one silverest of silver linings of the pandemic-driven trading boom. I love it.
This is from a Bloomberg Opinion piece citing data from a Yahoo / Harris poll. And a chart that blew my mind: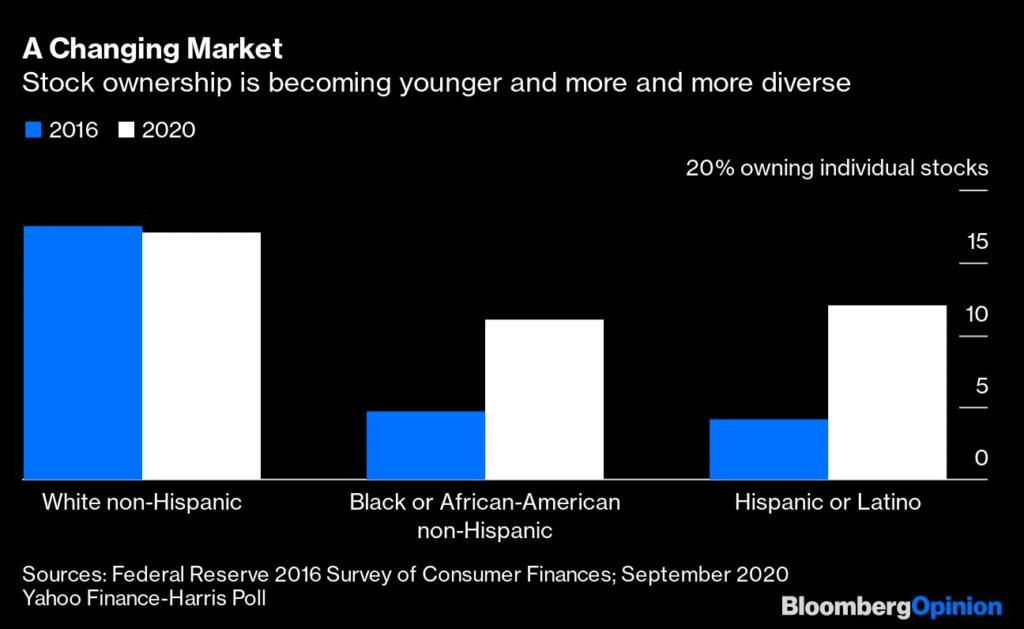 Some takeaways:
1. Does traditional financial media or the asset management industry even know how to talk to this audience yet? Barstool does. Reddit does.
2. How long will it take for investment management firms to look more like the population of investors they're now serving? This is something many RIAs are struggling to do, mine included. We better get our s*** together.
3. Remember when we thought young people would never have an interest in investing? That it was something they would always see as their parents' folly? Not anymore. Although they're definitely acting more like traders than investors at this stage of the game, it's a good enough start, we'll take it.
4. Will an upcoming, prolonged bear market grind some of this enthusiasm for stocks out, or is this fledgling interest in investing going to stick?
I'm very encouraged and excited about this. I hope it's the start of a renaissance. More young people of all different racial and cultural backgrounds learning the game, contributing to the market's pricing function and joining the investor class – it's wonderful!
Keep it movin.