Energy stocks have been locked in an unbelievable downtrend for so long, we almost take it as a given that they'll continue to shrink as a percentage of the S&P 500 (and, eventually, as a force within our economy). In the meanwhile, gasoline demand is back to almost pre-Covid levels already. We're driving again. I guess not enough to save this industry or get investors to bet on the oil stocks.
I was blown away when Exxon Mobil lost its membership in the Dow Jones Industrial Average recently.
And as badly as I wanted to fade the pessimism and take the other side, I remembered that the year I first began to get interested in stocks – 1997 – Bethlehem Steel was still a component of the DJIA. US Steel had only been booted in 1991. Alcoa was still in the average until 2013! You would not have done well fading the end of steel, aluminum, rubber, coal as a big part of the US economy (and Dow Jones). You can probably make the case that oil won't suffer the same fate, but how convincing can you be?
So, who has been buying these stocks? Certainly not anyone who focuses on intermediate- to long-term trend. 96 weeks ago, the XLE ETF's 50-day moving average broke below the 200-day moving average and has never (NEVER!) gotten back above it since. That's unbelievable, but it's true.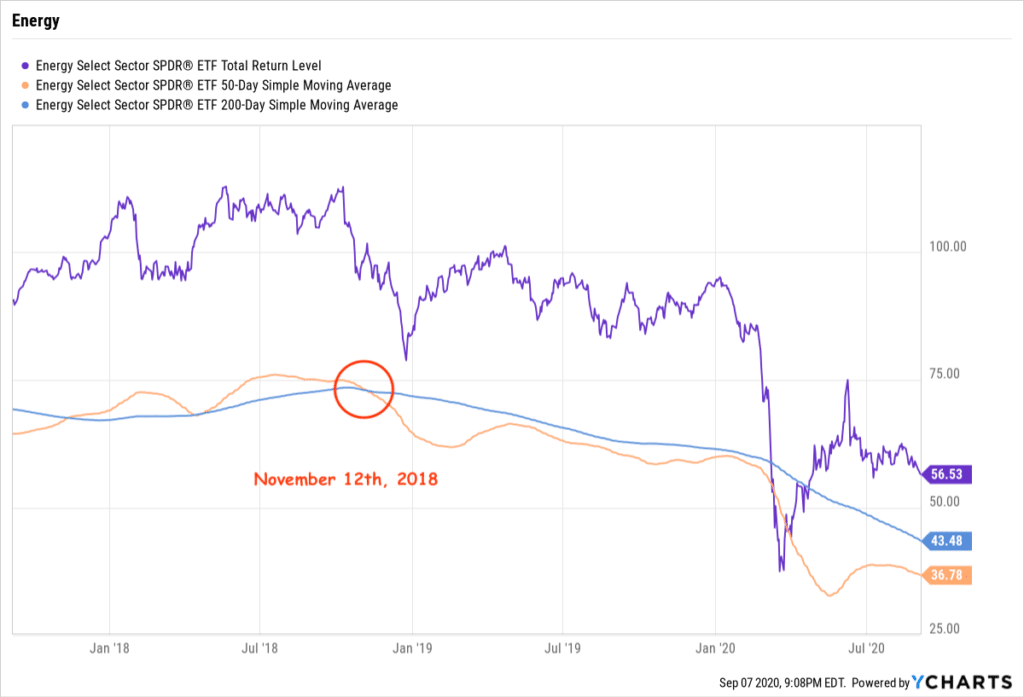 So, energy stocks as a group have been untouchable for technicians except as perhaps oversold-bounce candidates and this has gone on for almost two full years now.
One of these weeks, this streak's going to end. The 50-day will cross back above the 200. That's where the bottom calls will begin to get interesting.