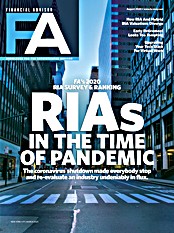 This week we were included in Financial Advisor Magazine's list of the 50 fastest growing Registered Investment Advisors in the industry. The data they used is based on our growth in assets under management through the end of 2019. I'm extremely proud of the fact that we've been able to accomplish this with no mergers and acquisition, and no private equity or outside capital of any kind. We built this business with our own blood, sweat and tears, and run it completely independently, with no input from anyone else. Client-centric.
Congratulations to the other 49 firms on this list. We were in 32nd place, with a 56% year-over-year growth rate from 2018 to 2019. I'm still trying to catch my breath 🙂
You can see the entire list and read the accompanying article, RIAs in the Time of Pandemic, here.
Read also: