Three things you can't do in this world…
There are more than three things but these are the three things that occurred to me over the last few weeks.
One: Teach children via distance learning. I know many teachers who are trying to do this and are extremely frustrated. It goes beyond the technological limitations, it's a feel thing. Something happens in the context of a classroom that cannot be replicated on a screen. It's not that you can't teach the curriculum and assign homework. It's that you can't provide the most essential element of childhood development – encouragement – in a satisfactory way. Kids like to be with other kids. They like to learn things together. They like to share what they're feeling, experiencing or becoming aware of. They learn better in groups, in an organized setting, than they do on their own, in front of a computer. The younger they are, the more true this is. And teachers who work with younger students teach better when they can respond to the emotions their students are going through in real-time, in person, in a physically connected setting.
Distance learning will probably radically remake the college and university experience, but it will never replace elementary school.
Now, I shouldn't give you the impression that the web isn't a useful teaching tool at all. I managed to successfully instruct my baby nephew, who lives in Southern California, all the way from Long Island, NY in the art of opening a high quality bottle of añejo tequila…
And look what a quick learner he is:
View this post on Instagram
I was supposed to go visit my brother and that adorable little boy in April, a trip planned over the course of six months that was wiped out in an instant. But at least we have this going on (Uncle Josh's distance uncle-ing) which is nice.
Two: Fold a fitted sheet. Good f***ing luck. I've been helping out with the housework for the last 80 days. I normally help out, but now it's like…a lot. My wife is a neat freak almost to the point of compulsive cleaning and I, well, let's just say my head is in the clouds and I'm happy to get to that stuff later. Much later.
But we have a regimen. It's designed to keep the house orderly and help us stay married. I'm cleaning bathrooms once a week and the kitchen each day and doing all sorts of bizarre s*** that I never knew needed doing, like vacuuming the garage (I swear to god) and reorganizing sporting equipment and airing out the luggage and sweeping the backyard tiles (the most Sisyphean of all my tasks) and running a Swiffer™ pad along the A/C intake vent the moment even a hint of gray lint accumulation begins to arrive.
And when I hear the dryer go off, I race to empty it, fold it and put it away. It's my favorite task because it's black and white. There is no gray area. Every item is supposed to be folded in a specific way and put into a specific place. It's the opposite of my real job, where there are no Yes or No decision trees; every single moment requires considered thought, every decision point accompanied with "Yes, but…" or "No, however…". I'm good at putting away the laundry. I enjoy the mindlessness of it. I can listen to a podcast or watch a TV show as I fold and shelve and nothing goes awry.
Until she washes the bedding and a fitted sheet comes out into my arms…
As in a cartoon daydream, the playful sun is swallowed up by thick black clouds, the sound of approaching thunder heralding the coming storm, frolicking woodland creatures, cherubs and baby winged horses scatter for safety. The nightmare is upon us. I grab one corner in my right hand, marrying it with the corner I've taken hold of in my left, and as I join the ends together the middle drops into a deflated hot air balloon-shaped shambles, presenting me with a slumping middle section that cannot be neatly dealt with regardless of from whence I gather it. Four sides of elastic, rounded corners. A tag located somewhere on this miserable, amorphous rag of indeterminate symmetry, denoting neither head nor foot, starboard nor port.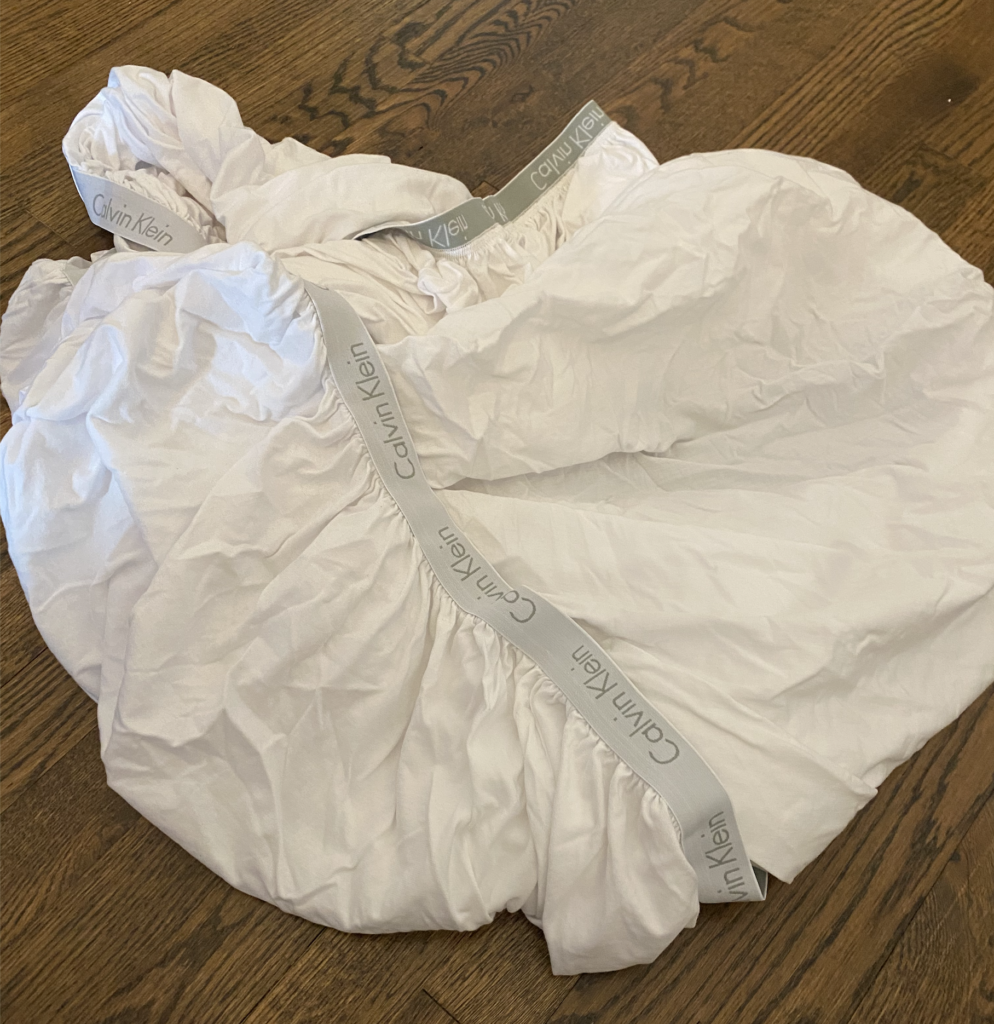 And so I do the only thing that any sane person would do when confronted with a fitted sheet for closeting – roll it up in a ball and hide it behind a comforter on the bottom shelf.
She finds it 20 minutes later. Almost as though she's got a closed-circuit TV camera following my misadventures with linen. She's in the parking lot watching remotely like Jon Taffer, awaiting the perfect moment to stride into the shot and "Shut. It. Down." before someone gets hurt or sickened by my slovenly ineptitude.
F*** fitted sheets. I'd rather sleep in the woods like a wild animal or Jared Leto.
Three: The third thing you cannot do is determine the end point of a secular bull market in real time. You can determine the short-term trend, the intermediate-term trend and the long-term trend, and weave together a narrative of what these intersecting lines might say about the moment we're in now. But the definitions themselves will not be made official until later. Much later. When we broke into a new secular bull market in 2013, I suspected that we were in a secular bull, but it was too soon to know for sure. Now that we appear to have violated the uptrend of that seven year secular bull, we're in a moment where we aren't sure what is happening. Did the secular bull die? Or, like 1987 and 1957, was this crash simply the reset in the midst of a secular bull that ends up being seen as "the higher low" by technicians looking back many years from now? It's worth noting, as Bank of America Merrill Lynch technician Stephen Suttmeier did over the weekend, that the '87 crash and '57 recession occurred in the seventh year of the two best secular bull markets – the ones that had begun in 1980 and 1950 respectively.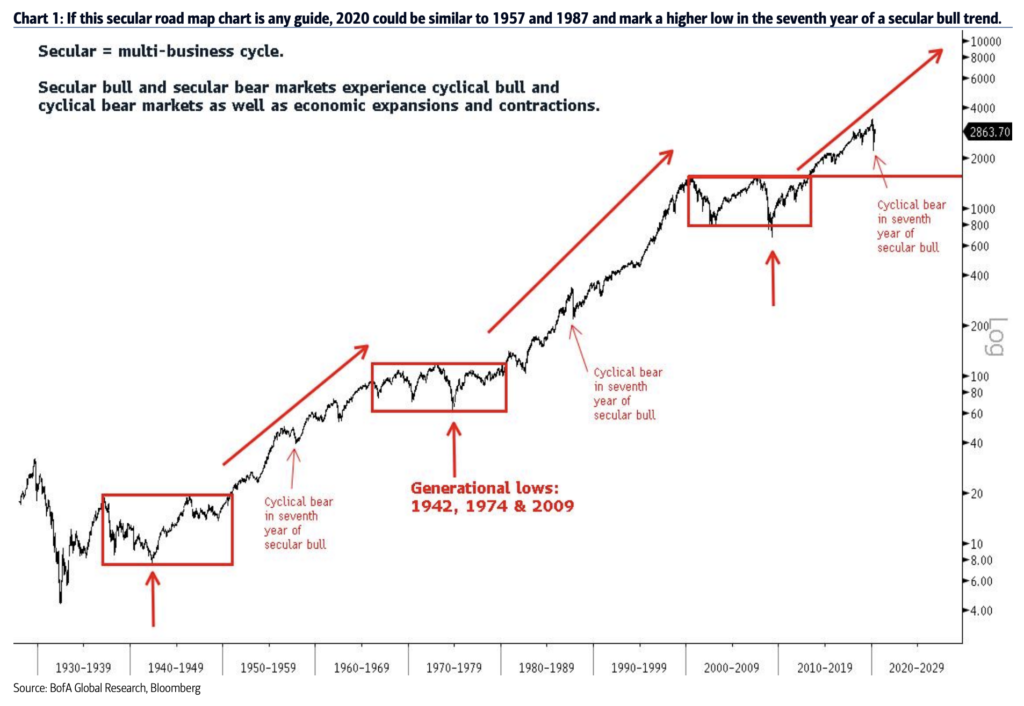 Says Stephen:
Prior secular bull markets had big higher lows in 7th year

The upside breakouts for the SPX from 1950, 1980 and 2013 each marked the start of the secular bull markets. All three for these bull markets (1950-1966, 1980-2000 and 2013-present) show interruptions from cyclical bear markets in the seventh year. Both 1957 and 1987 saw major higher lows from where the second half of these secular bull markets emerged. History often rhymes, and the good news is this does not a rule out a major higher low in 2020 or the seventh year after the 2013 breakout.
Unfortunately, we cannot be sure that the resolution of this seventh year slump will repeat what went on in the late 50's and late 80's. The February-March crash, a 34% drawdown in 23 days, happened twice as fast as the closest comparison in existence. The V-shaped recovery for stocks since the low looks more like the 1930's rebound that it does like any other we've seen from a sell-off of this magnitude. And, per Suttmeier, one of the hallmarks of a powerful, longer-term secular bull market is that the little cyclical bear markets encompassed within it rarely spend much time beneath the 200-week moving average. In March we pierced that 200-week like it wasn't even there, although, thankfully, the S&P 500 has spent a lot of time back above through April and May so far.
At our firm, we don't believe the official label of Bull or Bear is particularly necessary for asset allocation. There are strategies that will opportunistically rebalance during either without pausing or hesitation, regardless of what animal moniker the press is attaching to a given moment in time. And then there are strategies that utilize trend to either reduce or add risk, mathematically, systematically. We do not employ a groundhog coming out of his hole to sniff out 6 more weeks of bear or bull. We know the character of the market's trend now – the persistence of its direction, the steepness of its slope, its violation or adherence to a given trajectory. We won't know what to call it officially until later on. I'd rather have the shape nailed down than the name.
So, did the 2013 secular bull die in early 2020? Are we now in the early stages of a secular bear? Or, is what we're experiencing simply a lightning-fast cyclical bear within the context of a secular bull that still has a long way to run? No one can know for certain as we're living inside of it. Like teaching a 5th grader on the internet or folding a fitted sheet, it cannot be done. I can tell you definitively a few years from now, but that's not worth much to us today.
So what is the answer? Support what your children's teachers are trying to do in any way you can. Never empty a dryer that has a fitted sheet in it. Use trends to make determinations about what condition the markets are in for tactical strategies, without getting hung up on classical definitions in the moment.
Source:
Is the US equity secular bull market dead?
Bank of America Merrill Lynch – May 17th, 2020