I'm sick to my stomach worried for the people who are sitting in their cars on massive lines for boxes of food in states all over the country. Sometimes, when I see these segments on the news, it's hard for me to take my mind off of it for hours afterward. I'm trying to do my part, ordering from local restaurants and buying things from local businesses where possible. And I know so many others around the country are as well. There are lots of local fundraising efforts going on too, as I'm sure you're seeing in your own community.
This week, Ben Carlson and Barry Ritholtz organized an internal food bank donation drive among all of our employees. Because we're not a local firm, having offices nationally, we wanted to make a list of food banks that were local to each of the areas our employees live and work in. So Ben did some legwork and we found some worthy places to send the money. The firm matched each employee donation dollar for dollar, and then Barry personally matched those employee dollars to top us off. I thought this was a good idea for firms looking for a little inspiration in terms of something they could do as a team to help contribute.
Like all other small businesses, we are doing our best to survive, continue to serve clients and keep all of our employees busy and safe throughout whatever is to come in this recession. There are a lot of people working jobs that don't give them the luxury to sit behind a computer screen, which is something I keep reminding myself of whenever I get nervous or pessimistic. And because so many of our clients are involved in small businesses as well, it helps to share stories with them about what everyone is doing to adapt.
Anyway, it appears that the direct deposits being sent out from the government to individuals are starting to hit the economy. Michelle Meyer at Bank of America Merrill Lynch keeps a data series that looks at the firm's credit card customers in the aggregate and how they spend their money each week. BofA was able to separate the households between people who file taxes online (who have already gotten money directly into their deposit accounts) versus those who haven't yet gotten their money because they're waiting for paper checks in the mail.
The good news is that, even though it's temporary, at least this money is arriving and being put to good use by households that have been waiting for it. And there is evidence that it's happening:
Here's Michelle:
Some consumers began receiving support this past week from the distribution of the CARES stimulus payments. According to the Treasury, $150bn in stimulus was deposited to consumers on April 15th. The individuals who received the payment have direct deposits set up with the IRS; those without will receive a check in the mail in due time. Using BAC aggregated direct deposit data, we can isolate the cohort of households who received a stimulus payment. We can then track aggregated spending for this cohort versus the rest of the sample to gauge the impact of the stimulus.

The payments hit on April 15th and our data suggests that households immediately boosted spending. Aggregated total card spending for those that received stimulus payments increased by an average of +26% yoy between April 15th and 16th, compared to an average rate of -23% yoy between April 1st and 14th. Dividing the data by income level reveals that the lower income cohort (<$50K) increased spending the most (+49% yoy between April 15th and 16th) vs. a 3% yoy gain for the highest income cohort.
And here's her chart: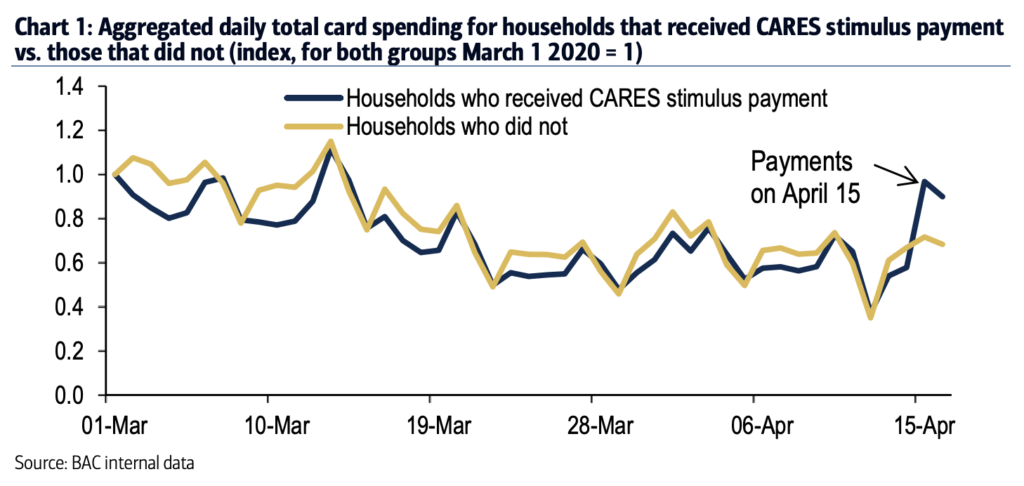 Source:
COVID-19 and the consumer: data through April 16
Bank of America Merrill Lynch – April 22nd, 2020