CNBC has been using the 7pm time slot for Markets in Turmoil specials since the end of February. They've done a great job bringing America all of each day's stories that are impacting the markets and the economy. They've done some specials during this time, notably one for small business led by The Profit's Marcus Lemonis and one for religious leaders. I asked them if we could do a special dedicated to financial advice – not what stock to buy or sell, but more along the lines of what should people be doing in their portfolios.
Well, it's game on. I'll be hosting this Financial Advice special for CNBC at 7:30pm this coming Monday night. And I have two great guests, extraordinary advisors with lots to say on a variety of topics.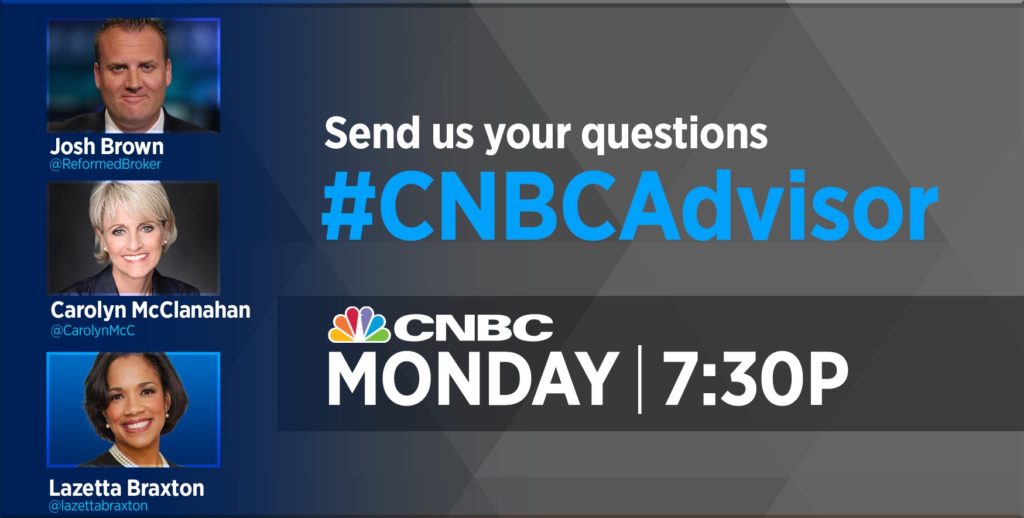 Lazetta Rainey Braxton is the co-founder of a financial planning firm called 2050 Wealth Partners. Carolyn McClanahan is the director of financial planning for Florida-based Life Partners, and one of the only financial advisors in America who is also a medical doctor. They both serve with me on CNBC's Financial Advisor Council.
We're going to get into the rules for retirement accounts, required minimum distributions and updated borrowing rules, along with many issues that financial advisors around the country are helping clients with.
It's going to be an awesome half hour so I really want you to tune in. Monday, April 20th, 7:30pm ET on CNBC!
Ping @CNBC on Twitter using the hashtag #CNBCAdvisor if you want to have your question asked and answered on the air.