Fast Times at Ridgemont High was not just a movie about sex, it was really about the economy. The bigger story of the film was about teens trying to get and maintain employment while somehow surviving their suburban California high school experience. The whole plot revolves around after school jobs. Judge Reinhold has to dress like a dopey pirate at the fast food joint he works at. The girls work concessions at the movie theater. There's a kid hawking concert tickets. The only lead without a job, Sean Penn's infamous Spicoli character, is conspicuous because of it – the original Hollywood slacker icon, a decade before the Ethan Hawke version from 93's Reality Bites.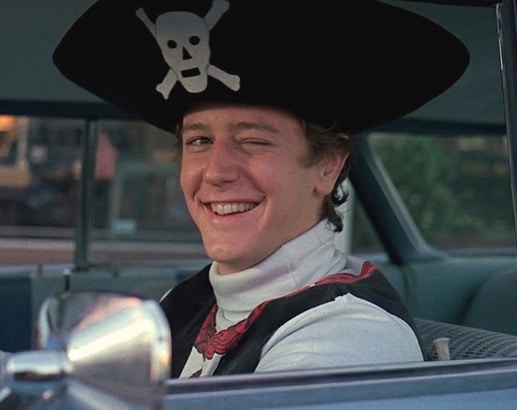 The Amy Heckerling-directed film debuted in late August of 1982, at the worst point of the Volcker Recession. Like this recession, Volcker's enforced economic slowdown was deliberately caused by policy. Inflation had to have its back broken to save the economy long-term, which meant that short-term it was necessary to throw America into a recession. The Fed Chair at the time, Paul Volcker, was absolutely convinced that taking short-term pain would be a necessary evil, and President Reagan, in his first term, went along with it.
I'm sure he wasn't thrilled with the idea at the time, but it worked, fueling one of the longest expansions and bull markets in American history. With the exception of the 1987 crash (which did not spill over into the real economy) and the mild 1991 recession, America enjoyed nearly uninterrupted prosperity and stocks rallied from 1982 through the beginning of 2000. Volcker's courage and foresight have since gone on to become legendary in the annals of Federal Reserve history.
In a new note this week, Goldman Sachs's economist Spencer Hill compares our present situation to the 1982 recession in that both have been caused deliberately by policy. In the early 80's, the purpose was to reverse stagflationary trends that had been harming the economy since the mid 1970's, Now, we need to endure a policy-driven recession in order to short-circuit a public health crisis – actively forcing the shutdown of millions of businesses in order to keep people home (and alive).
There's some good news in this. Hill reminds us that when layoffs are temporary and a recession is being caused deliberately, as opposed to simply arising, employment tends to bounce back faster. "Over the last 50 years, the three recessions with the highest share of temporary layoffs were followed by the fastest labor market recoveries (both absolutely and relative to consensus forecasts at the time). The labor market rebound was particularly robust after the 1981-82 recession (or "Volcker Recession"), in part because many of the 2½ million temporarily separated workers were rehired once the Fed reversed course. Indeed, nearly half of the 1983 labor market recovery reflected jobs returning to the same factories, retail stores, and homebuilders that lost them."
You can see both the steep rise in temporarily unemployed workers from the early 80's and the equally steep drop-off shortly thereafter in his chart below: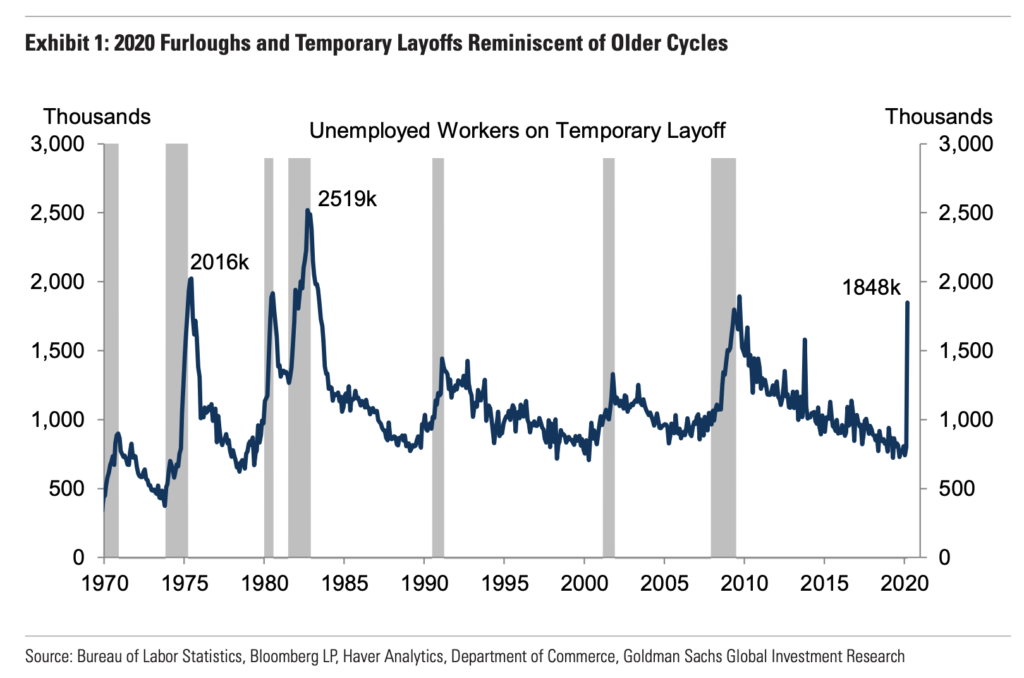 More from GS:
A related similarity with 2020 is that the Volcker recession was "man-made," in the sense that growth policy was subordinated to another societal goal. Responding to the 1970s stagflation, the Fed deliberately reduced economic activity for over a year in order to slow inflation and anchor inflation expectations, much like today's economic policymakers are discouraging some economic activities in pursuit of a public health priority (fewer coronavirus infections). When economic downturns are deliberately induced and negative growth policies are perceived as temporary, firms may be incentivized to minimize permanent layoffs (and the associated costs and revenue disruptions they produce).3 This may in turn lead to faster job growth early in the recovery, bolstering prospects for GDP to rebound as well—provided of course that these accelerators are not offset by new shocks or the second-round growth effects of business exit and banking-sector credit losses.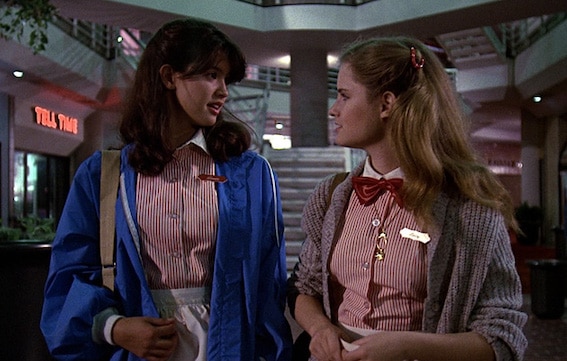 The Ridgemont High gang would most likely be forced into food delivery roles or stocking supermarket shelves if we were to transport their experience to 2020 from 1982. There are no movies to take tickets for and no concerts to sell tickets to. But we would hope that their work situation would only be temporary, in parallel with the 1982 experience that Hill lays out. I think at this point millions of layoffs are still considered to be temporary, by both the employers and the laid off or furloughed employees. Now we're going to need to make to the reopening as quickly and as safely as possible so that what began as temporary doesn't become permanent.
Source:
US Daily: Parallels with the Volcker Recession: Policy-Induced Downturns, Temporary Layoffs, and V-Shaped Recoveries (Hill)
Goldman Sachs Economics Research – April 8th, 2020
hat tip Joe Terranova