I think some things will go back to normal faster than others. I don't think that's a very profound statement.
Backyard barbecues are going to be more popular than attending a concert at the Meadowlands or Madison Square Garden. Obviously.
Many meetings that used to take place in person will now move over to Zoom, because we've all gotten accustomed to that. People will still want to meet in person and network, so I think conferences will come back, but not right away and there will be huge changes in attendance sizes, Purell protocol, etc.
I wouldn't be surprised to see new innovation around temperature taking for people walking into and out of public venues, shopping malls, etc. Maybe our Apple Watches will interact with sensors to let buildings know that we are not walking in while running a fever. Before 9/11, you could walk into any office building in midtown Manhattan, get on the elevator and go wherever you wanted. In the aftermath, every building lobby had a guard station, with cameras, ID cards and even bag scanners becoming standard.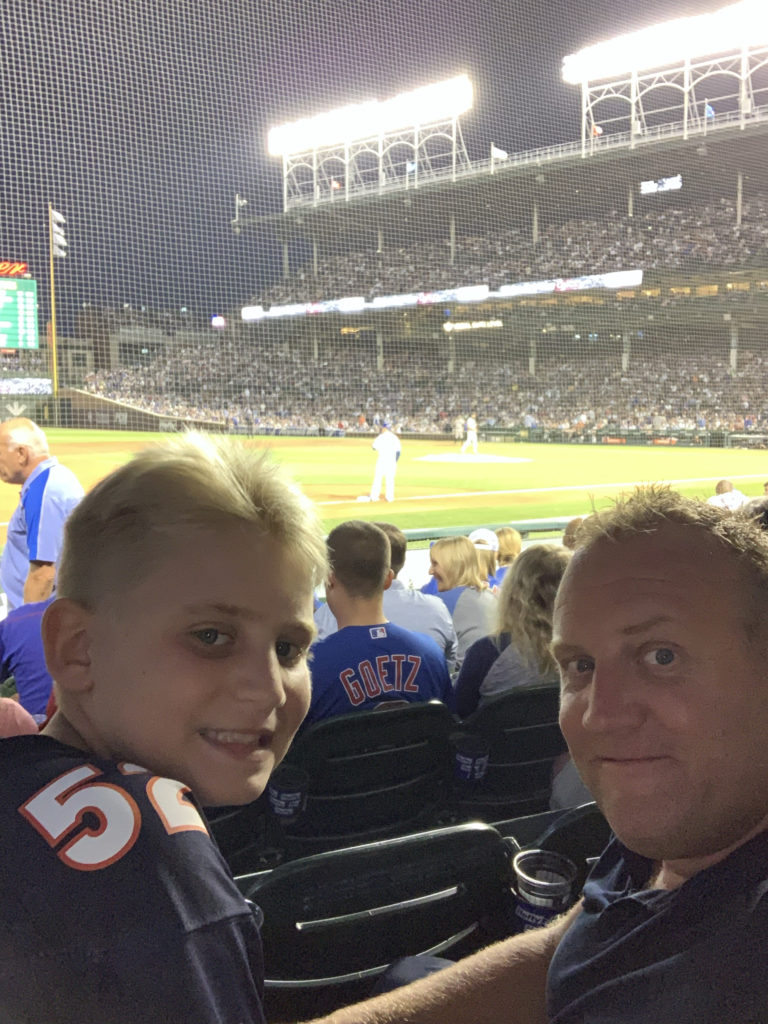 I don't know what this means for the future of live attendance at sporting events. I wouldn't want to own a baseball team right now – the game was already struggling to engage fans before all this happened, and it has always been a sport that's best experienced in person (vs football, which is way better on the couch). Here I am at Wrigley Field with my kid this past August – a live Cubs game being one of the great exemplars of a live sporting event in America. What will Wrigley look like when it opens this spring?
I think the cruise business is dead and buried. There's always been a casual casino crowd but I think the mass appetite for that sort of thing will not soon return – especially if we all end up betting on sports from our phones, which will scratch the itch with a lot less hassle.
I think the allure of the suburbs will occur to a whole generation that once thought living in a bustling downtown city area was the height of coolness. I always thought that my goal was to build a big house in South Florida someday, for when my wife and I are in our fifties and looking to spend time in the winters down there. I think I might move that timetable up now. The idea of being able to get out of New York to a secluded home in the sun, at a moment's notice, has been on my mind all month.
I think one bright spot in this crisis is that we've stopped taking our brick and mortar retailers for granted. Target, Walmart, Kroger, Costco, Walgreens and CVS sprang into action and were there for the communities they serve. Their numbers for March were off the charts as people stocked up on medicines, groceries, cleaning supplies and other essentials. We know that sales of these categories won't stay high forever as people get their lives back, but we will remember who was there for us, stocking shelves and keeping the doors open. In contrast, Amazon Fresh hasn't been able to give me a delivery date in four weeks. You can fill a whole cart online only to be informed that there are no delivery slots able to be scheduled, ever.
Additionally, many of us began to appreciate and support the local restaurants that feed us, and have gotten accustomed to curbside pickup in the absence of being able to dine out. Between that outpouring of support and the PPP provision being rolled out to help small businesses keep their staff on payroll, I really hope we don't end up with empty storefronts and shopping centers this summer.
And as far as consumption in general, would it surprise you to see people saving more and spending less for awhile, considering the white-hot spotlight this crisis has shone on everyone's personal finances? I understand that current interest rates on savings accounts are meant to discourage people from keeping larger amounts of money in cash, but the Europeans and Japanese certainly didn't care during the last decade and we may find that we aren't fazed either.
Here's a poll I took this morning with over 2,000 responses:
After the crisis, I am planning to (results in 15 minutes)

— Downtown Josh Brown (@ReformedBroker) April 1, 2020
Okay, so about half of my followers felt that this wouldn't change their behavior much. But we know that people are terrible predictors of their own behavior, as has been shown ad nauseam by Barry's annual dismantling of the holiday shopping season surveys.
So, will things go back to "normal" by the end of the year? I think we can get close, but with some huge caveats by industry and segment. Live Nation will not recover as fast as Apple does.
You may see a lot of people walking around with masks, at least until we have a vaccine next year or better treatments. You may see a "nesting" trend take root, as people invest more money into their own homes rather than travel and stay at hotels. You may see smaller gatherings take the place of big parties.
But life will go on.