Now this is just breathtaking – I have no skin in the game on this one but cannot stop watching it. I think what's happened with Tesla recently represents the greatest short squeeze of all time. A rally since around October when they surprised to the upside in an earnings report has just culminated in an explosive 100% year-to-date gain at this morning's open.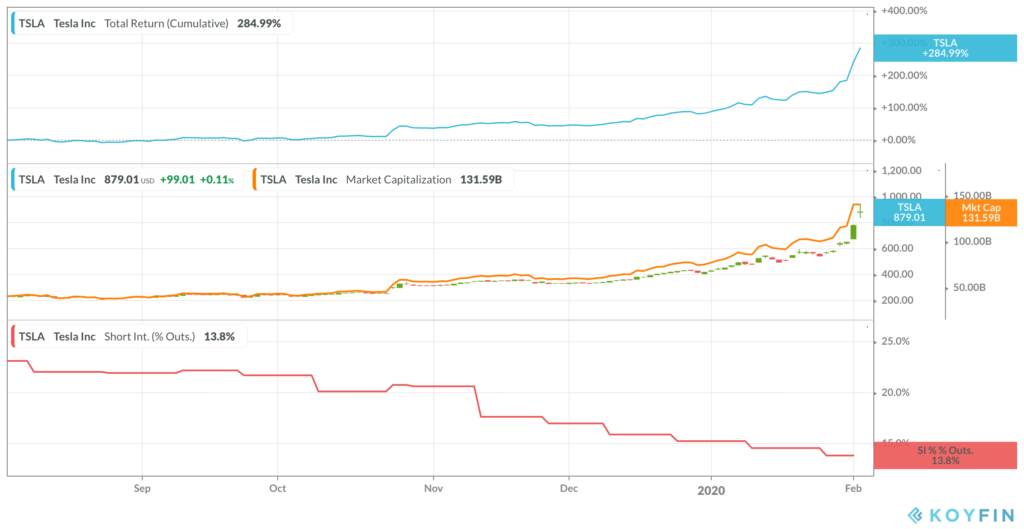 In the top pane (blue) I'm showing total return over the last 6 months of 285%!
In the middle pane I've got growth in market capitalization (orange), which soared alongside the stock price, going from $50 billion to over $130 billion, which it make it more valuable than Costco, Lockheed Martin, Goldman Sachs, Starbucks and 400 other components of the S&P 500!
Finally, you can see the short interest as a percentage of shares outstanding. Six months ago, roughly 25% of all the shares outstanding were being borrowed by short-sellers and sold. These shares must be replaced by the short-seller buying them back (or covering their short), which would be profitable if the stock had declined. Needless to say, covering your short in Tesla after the stock has tripled in value would produce the opposite effect – massive, ruinous losses, especially for the unsophisticated who were naked and hadn't hedged this losing bet in the options market.
I'm not sure we'll ever see a short squeeze this epic ever again in our lifetimes. In dollar terms it has to be the biggest for the United States. In Europe, during the financial crisis, there was an epic short squeeze in shares of Volkswagen, which was driven up to 1,000 euros per share for a brief moment, making it worth $420 billion, or the single largest company on earth. Its market cap, on paper had eclipsed the value of PetroChina, Microsoft and ExxonMobil, three of the largest in the world at that time, as desperate hedge funds caught leaning the wrong way were forced to cover and run. You can read more about that story here.
No matter what happens from here, this will certainly become one for the books! And it may not even be over yet.
UPDATED: Okay, we get into it here too: