Here's what happened in the markets during the 2010's decade…
No recessions. Not one. The 2010's were the first decade without a recession since record-keeping began in the 1850's.
Only one down year for the S&P 500 in ten years. On a total return basis, the only year stocks fell during the entirety of this decade was in 2018. That calendar year loss, of less than 5%, was sandwiched between two of the best years of all time.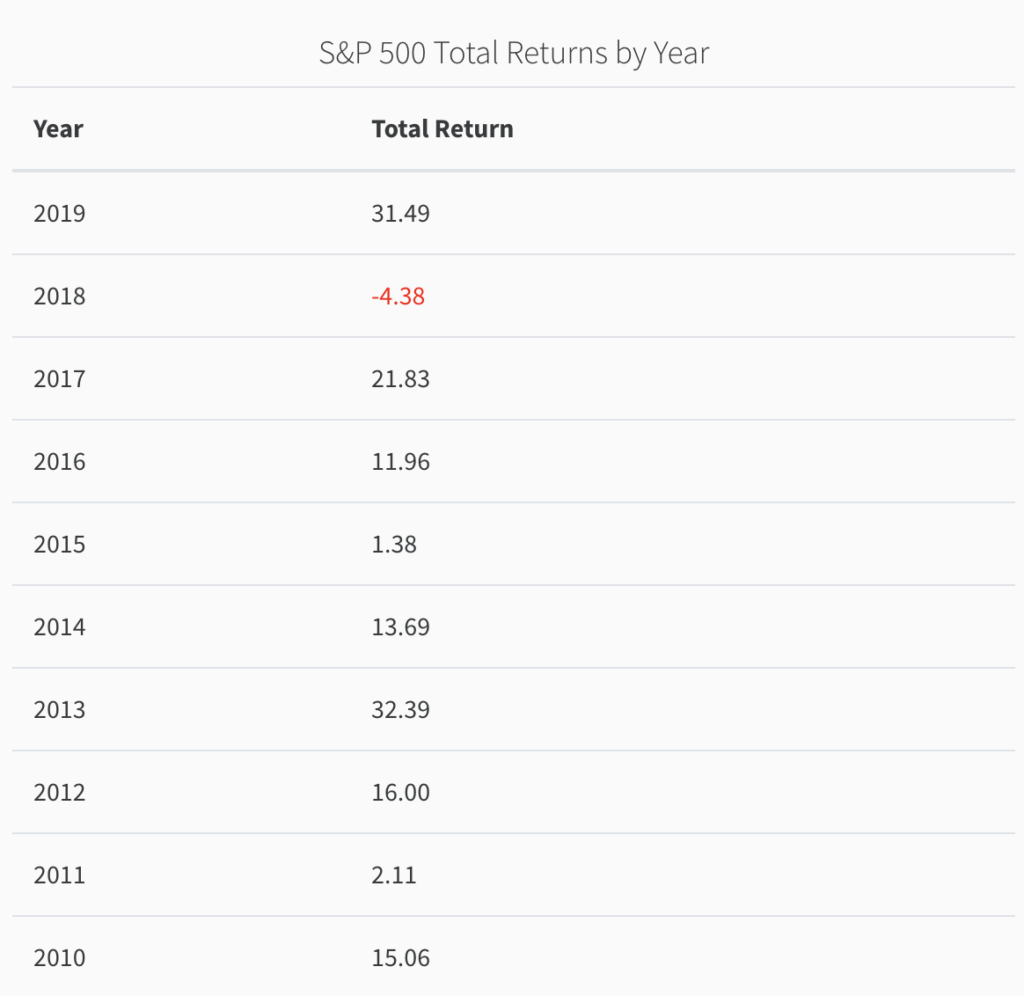 Every $10,000 invested in the S&P 500 throughout the entirety of this decade turned into $30,000. This happened. It's indisputable. Most people did not simply put 100% of their portfolio into the S&P 500 and just live through it during the entirety of the decade. Maybe no one did. Even so, you made money in REITs, in corporate bonds, in preferred stocks, in international stocks, in Treasury bonds, etc. You didn't have to take maximum risk to earn good returns. You just had to tune out the endless recitations of the policy bears, the bubble-istas, the think tank economists and the most brazenly reckless newsletter attention-seekers.
Pay zero attention to people telling you why this decade should not have been a good one for the investor class. They are the same people who are telling you the Lakers wouldn't be the best team in the NBA if they hadn't signed Anthony Davis and LeBron James.
There are no asterisks. This is the reality of what happened, for better or worse.
Tax cuts, the Fed, the deficit, the national debt, earnings, politics, the winning and losing stocks, the market cap weightings – they're all baked in. As Jeff Gundlach likes to say, this is the bloodless verdict of the market.
There is a cottage industry of commentators who start with an opinion of what should happen, and then tell you why they would have been right if it weren't for those meddling kids. They'll tell you the market was manipulated unfairly, invalidating all of the stuff that they ought to have been right about. No. They were wrong. That's okay. We're all wrong from time to time. If anyone had all the answers, and knew for sure at the beginning, they certainly wouldn't be sharing these answers ahead of time in public.
We should all expect to be wrong, all the time. It's healthy. And there are things in this game that are worse than being wrong. Like being bitter. Or feeling as though a market outcome is a deliberate affront to one's personal convictions. Or watching the tape do what it's done and saying "Yeah, but…". You can throw all the buts and asterisks out there you want, but they won't change the reality we all live in. They won't add the money back to one person's portfolio and subtract it from someone else's.
And for those who call themselves professionals, who spent the last decade yelling fire in a crowded theater, mocking long term investors and imploring the unsophisticated to go out and short stocks or swing to cash during every traumatic moment in the market, this might be a good time for a little self-reflection. Is the stuff you're saying to people constructive? Is it helping anyone? Can you remain skeptical and cautious and discuss risks responsibly without poisoning the minds of those unfortunate enough to have become your fans or followers?
I learned a lot about investing over the last decade. Many of the things I believed in 2010 are no longer a part of my belief system in 2020. Many of my previously held ideas have proven themselves to be less valid, totally incorrect or even completely irrelevant with the passage of time. I didn't need to be convinced by anyone – the market told me so.
This is how it should be. I can't wait to see how my thinking evolves between now and 2030.