True story…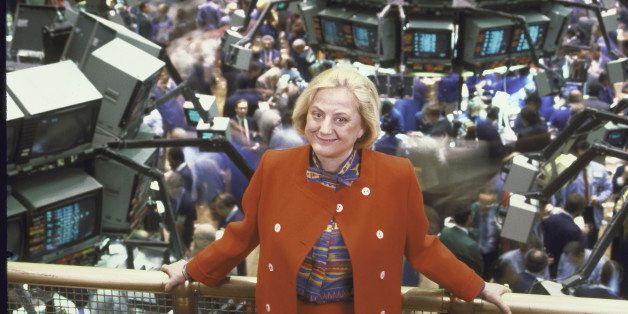 This is Muriel Siebert. Her friends called her Mickie. She was born in Cleveland, Ohio and made her first visit to the New York Stock Exchange in the early 1950's. According to her autobiography, the trading floor looked like a "sea of men in dark suits," but when she got home, she told all her friends that one day she would get a job there.
In 1954, Ms. Siebert got herself back to New York and managed to land her first job on The Street as a research analyst making sixty-five bucks a week. This was remarkable not only because she was a woman in a man's world, while all of the other women around at that time were secretaries and assistants. She also happened to have been a college dropout, having left school in Ohio when her father became terminally ill.
In 1967, after moving through a variety of positions and employers, she decided it was time to open her own brokerage and research firm. And to do it properly, in those days, a brokerage firm owner needed to own a seat on the New York Stock Exchange.
Easier said than done.
The price of membership was $445,000, which is still a lot of money now, but then it was the equivalent of $3.5 million in 2019 dollars. She needed a loan. But the banks back then were accustomed to force women to have a male co-signer on all loans. Unimaginable that this was just a few generations ago.
Siebert went to the banks and asked for a $300,000 loan to purchase her seat on the Exchange. There were 1365 male seatholders and not a single female member. The banks said no, they couldn't lend the money unless the New York Stock Exchange would admit her. But the New York Stock Exchange would not admit her if she didn't have the funding. It was a Catch-22 and she went back and forth, through nine different male authorities, before, finally, someone would help break the impasse.
Eventually, she got her seat and became the first woman member of the New York Stock Exchange. "Before I made a bid for that seat, I knew exactly how much volume I would have to generate to meet the cost of the interest and pay my expenses. I had meaningful obligations, including the support of an aging mother, and if I couldn't keep up my income, my mother would have been permanently camping out on a sofabed in my apartment."
And it would be twenty years before they would finally add a ladies restroom on the 7th floor, where the NYSE lunch club was located. She had to threaten to install a porta-potty to get them to add one. "Not since I was a baby had so many people been so interested in my bathroom habits."
Muriel Siebert is known for some quotations. She said "I fought like a son of a bitch to get ahead. I'm still fighting like a son of a bitch." There was no path for her to follow, so she had to create her own. At no step along the way did anyone make it easy for her.
The Exchange has since come to terms with its history of exclusion and has named a conference room at the facility in honor of Siebert. Today, the NYSE has its first-ever woman president, Stacey Cunningham.
In some ways, The Street has made great strides to promote equality in the financial services industry over the years. But in other respects, there is still a long way to go.
Which brings me to the subject of today's post. Let me not bury the lede any further:
From today forward, any woman working in finance who registers for Wealth/Stack this September is getting a discount on the price of the ticket.
I've been to a thousand financial advisor conferences and what they all have in common is an audience that is almost entirely male. It's off-putting and strange, to be honest. There are a lot of reasons for why women attend financial advisor conferences in smaller numbers than men. One reason is that there are just fewer of them in the industry. Another reason that's been cited is the dual role many women advisors play as both working parent and primary caregiver to young children. Historically, conferences have been dominated by male speakers and launched by male organizers, and while this is changing somewhat, there's still work to be done.
I was talking with Sonya Dreizler about what I could do to change the typical ratio of the attendees, given all the work we've been doing to make the speakers list more inclusive, and she came up with a great idea. My partners at Inside ETFs were willing to let me run with it. We're going to put some skin in the game.
According to research Sonya relayed, women are earning 78 cents on the dollar for doing the same jobs that men are doing. And, apparently, that hasn't changed in decades. The pay gap is real, and it's every bit as absurd as it's always been. If my teenage daughter were to ask me about it, I wouldn't know how to explain how this is still a thing in 2019.
And so, in response to this, Wealth/Stack will be offering women advisors a ticket to the event at 78 cents on the dollar. From now until the event sells out, any female advisor who registers and uses this link will pay 22% less than their male counterparts.
They can register here with the discount code already applied:
https://finance.knect365.com/wealth-stack/purchase/select-package?vip_code=EQUALITY
Or, they can visit the main registration page and add the VIP code: EQUALITY
https://finance.knect365.com/wealth-stack/
Last spring, when I referred to myself as part of the problem, I meant it. I referenced this stat from Cerulli, which I highly doubt has changed much in the last year:
Women represent 50.8% of the population according to the U.S. Census Bureau, but only 15.7% of the financial advisor headcount. Of the 310,504 total advisors across all channels, a mere 48,631 are women, according to Cerulli.

"Women remain outnumbered in financial advisor communities despite efforts to recruit more female advisors; only 16 in every 100 advisors are women," Marina Shtyrkov, analyst at Cerulli, said in a statement.
An amazing thing happened after I posted "I am failing" – my emails and DMs lit up with suggestions and advice about how I could do a better job attracting more female financial advisors to our growing firm. I struck up a new friendship with Nina O'Neal, an advisor and entrepreneur from North Carolina who has shot to fame within the industry over the last year. I heard from Nina and many other successful women in our business who had lots to say about the topic.
(Nina rocks!) 
And then, something truly special happened. My friend Blair duQuesnay, one of the most extraordinary people in our profession, reached out to say she wanted to talk about her career. Blair has since joined us as both an advisor and a member of our investment committee. It's been amazing for us to have her working with clients and hearing her voice in the room. Blair wrote up the list of accomplishments she's piled up during her first year at Ritholtz and it is formidable.
Blair is one of a kind and we got very lucky that she was looking for a change, and thinking of us. But I know that there are more women who would be fantastic additions to our advisor force. I hope this post encourages some of them to reach out to us and apply.

Wealth/Stack is an event that focuses on the future of the financial advisory profession. And in the future, the advisor base is going to look more like the demography of the United States. We want the conference attendees to look like the population of the United States too.
My friend Michael Kitces has been able to demonstrate that the next-generation advisor is much more likely to be female than the average that currently exists today of 1 in 16. His association of young planners and FAs, the XY Planning Group, looks much more like America in 2019 than my generation of advisors does. He's done an amazing job drawing attention to this issue over the years and doing something to address it at his annual events, including the launch of a code of conduct for the group's 2017 annual event.
I hope this offer gets traction and leads to increased female participation at the event. I need your help to get the word out.
If you are a woman working in finance and want to attend, please click over and register so we can see you there September 8th-10th. Or if you know of someone who might be interested, please give them the heads up.
Special thanks to Sonya, Nina, Blair, Kate Healy at TD Ameritrade Institutional and everyone else who's been us offering advice and helping to make this event as inclusive as possible.
Check out Wealth/Stack's incredible list of speakers and agenda events here.
More on some of the stuff we have planned here. 
Here are the details of the offer, and all the fine print. Thanks for reading for sharing our message. We'll see you in September!
***
VIP Discount Code: "EQUALITY"
-or-
Registration Link w/ Pre-Populated Discount : https://finance.knect365.com/wealth-stack/purchase/select-package?vip_code=EQUALITY
"Please note: you will first be taken to the standard booking page. From there, select your ticket type and add to cart and your discount will be applied automatically to your registration on the following page."
"Only one discount code can be applied at per registration. All discounts are taken off of the current attendance rate at the time of booking. The earlier you register, the lower the overall cost will be."
At the current rate, after the discount is applied women should expect to pay the following:
Advisors – $113.10
Non-Advisors – $1,010.10