Jon Krinsky, Managing Director and Chief Market Technician at Baycrest Partners, looks at a few of the technical red flags that exist for the US stock market as we head into the summer. He points out the awful action in materials stocks, energy stocks and the transportation index – all of which have been lagging the market on a relative basis over periods ranging from 3 years to 18 years.
One other warning sign for the secular bull market – stocks peaked in early 2018 after a raging rally in 2017, and then fell apart. In September 2018, the S&P 500 was briefly able to squeak above the old highs, but that rally gave way to a 21% bear market and, besides, credit spreads never confirmed those highs. Junk bond spreads vs Treasurys didn't make a new tight this fall when stocks made a new high, and have since begun to blow back out again. These spreads failed to get back to their record tights during the rally this Spring as well.
People would look at this divergence (usually in hindsight) and pronounce now how worrisome it is. I would just say it's good to be aware of.
Here's Jon:
BAA vs. 10-Year Spread

The BAA vs. 10-Year Treasury spread never confirmed the new SPX highs in September 2018, or April 2019. While it is still well off its December wides, this 'non-confirmation' suggests that the credit picture never fully believed the recent equity rally.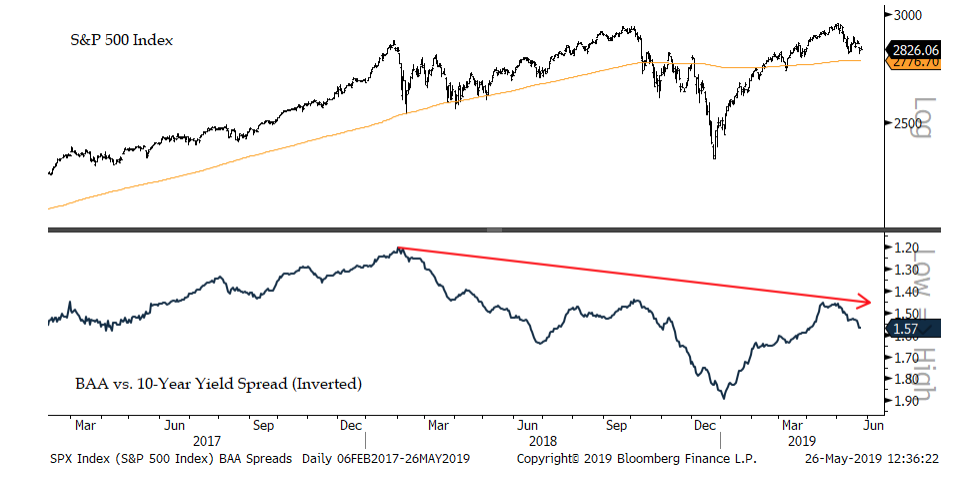 Josh here – as you can see in the lower pane, the bond market probably sees something more like an earnings recession if not an actual recession, with two "lower highs" in the credit spread occurring at the peak of both the September and March stock rallies.
As Jonathan and many technicians are pointing out, however, sentiment is back on the side of the bulls – put-to-call ratios are climbing and the AAII survey has gotten very negative. Bearish sentiment is a contrarian indicator and as bears and neutrals flip back to being bulls, their purchases are what fuel recoveries and rebounds.
Source:
A More Defensive Posture is Warranted
Baycrest Partners – May 27th, 2019