President Donald Trump, in his most brazen attack yet on the Federal Reserve, called for the central bank on Tuesday to cut interest rates by 1 percentage point and to implement more money-printing quantitative easing.

In a two-part tweet, the president unfavorably compared the Fed to its China counterpart and said if monetary policy in the U.S. was looser, the economy would "go up like a rocket."
You watch, they'll do what he says.
The next Fed action will be an easing of some sort – rate cut or maybe a cessation of quantitative tightening or maybe both. It won't be because of unemployment rates or inflation or GDP or anything in the Beige Book. It will be Jerome Powell crying "Uncle!" from the nonstop barrage of Presidential tweets happening now in early 2019 – wait til it's late 2019 or early 2020, closer to the election. He'll start demanding the guy's resignation.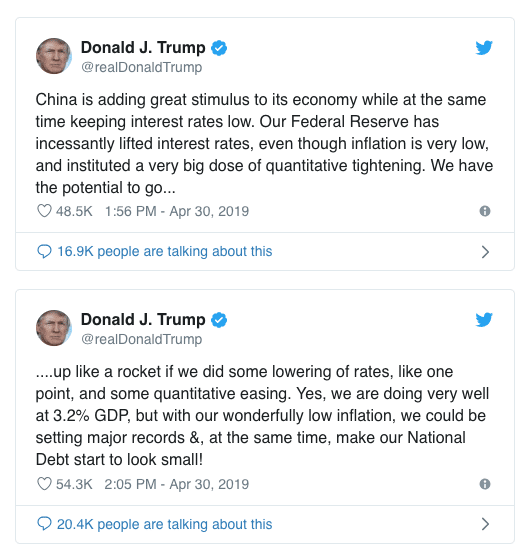 The line about "China's adding great stimulus" is hilarious if you know anything about the current condition of the Chinese economy. Google "Potemkin Village" and come back to us after…He thinks China is great and the US is the economy in need of emergency measures from the monetary authorities. Okay.
Every President wants low interest rates, Trump is not unique in wanting to see stimulus and rapid economic growth. Every President knows that this is the key to keeping the White House. LBJ literally tried to beat the s*** out of his Fed Chairman, William McChesney Martin, who did what he could to tamp down on the inflation that would end up dooming Richard Nixon a few years later in the early 1970's (yes, Nixon only resigned because the party asked told him to ahead of a midterm election slaughter, thanks to a crashing stock market and skyrocketing oil costs).
The difference now is that Trump talks directly to his supporters through Twitter and his supporters already despise anything that smacks of New York bankers and Washington DC-based Federal power and bureaucracy and entrenched interests. He can demonize the Federal Reserve unto the point that 30 million people believe it represents some sort of globalist conspiracy designed to keep them poor and their children ugly and their wives unfaithful and their lawns unmowed. If he tweeted right now that "THE FED HATES CHRISTMAS", it would be treated seriously tonight on a television broadcast seen in millions of homes across the country.
If LBJ had had Twitter, forget about it. Trump would have needed to come up with a whole new shtick. Now close your eyes and imagine Teddy Roosevelt tweeting. It would be the most aggressive, violent, hardcore nationalist, NSFW twitter feed of all time. @Jack would be launching himself into ashtangi contortions to justify keeping him on the platform.
Donald Trump is smarter than the Fed. Not about the economy or interest rates or any of that stuff. He's smarter about the only thing that matters anymore – public perception. That's why they'll bend the knee. Everyone bends the knee eventually. It's not like they're going to be able to fight back in his Twitter arena. You watch what happens.
Seeing the White House take control of the Justice Department and the Supreme Court and the Senate didn't much affect the sentiment of market participants, despite how utterly unprecedented all of this is. Maybe this one they'll react to. Maybe not.
Now, you're saying to yourself (or yelling at your screen) "But Josh! The Federal Reserve Chair cannot be removed by the President! That's not how it works." 
LOL, tell me more about the old rules. What was it like in olden times? I love your old stories about the way things used to be. So cute!