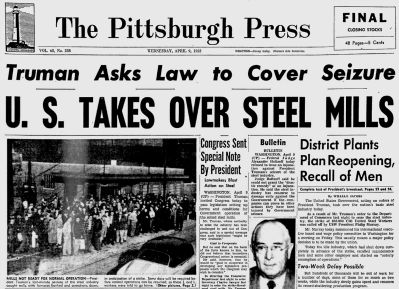 There's a lot of talk recently about what President Trump can or can't do with respect to tariffs and closing down the border with Mexico. He's citing national security in his calls to punish Chinese steel producers or stop the flow of cars made in Mexico.
Before losing our minds over this latest tempest in a teacup, yet again, it's helpful to remember that he's not the first President to say and do things of this nature. The major difference is that he's the first President to have a Twitter account and close to zero working knowledge of how our laws and system of government work. And the confidence to not care at all about these shortcomings.
On today's Market Moment, I relay the story of Harry Truman's attempt to nationalize the steel mills, today in 1952. You can listen to this every morning as part of your Amazon Alexa flash briefing. Today's episode I've embedded below in case you haven't set up your smart speaker yet. Get on that, it's the future.
Each weekday, the team at Ritholtz Wealth does a 90 second rundown of something that happened in history in order to remind investors that, well, we didn't start the fire. This is the kind of contextual information that enables intelligent, rational, calm decision making. On Mondays it's me telling the story, then it's Tadas, Jonathan Novy, Joey Fishman and Blair filling out the rest of the week. They do an amazing job.
Make sure to add our Alexa skill and make it a part of your morning listening routine: