I love to read. I have a nine-year-old son who can't stand reading.
He reads what the teacher assigns and not a single word more. Never reads for pleasure, it wouldn't even occur to him. But he's smart. He can name the starting five for almost every team in the NBA. He's encyclopedic with statistics, positions and narratives during football season, manages the fantasy teams we have like it's a full-time job.
But I can't get him to open a book. I can't find a book he'll voluntarily pick up. It's been bothering me for years. So I said, Okay, he loves sports, let's read about sports. I tried New York beat writers in the NY Post and the Daily News – they're talking about our Knicks, Yankees and Giants, so maybe that'll hold his attention. No dice. Every sentence is about some obscure front office executive or related to the luxury tax or a contract dispute.
I tried ESPN.com but "it's boring, dad, I can just watch SportsCenter." I tried the Bleacher Report but it's like 90% snark, 10% information. I tried Barstool but it was disgusting, LOL (I like those guys, just not for kids).
I listen to Bill Simmons on The Ringer podcasts, so we tried a few of the articles on their site. They're well-written, but the writing is the whole point of the endeavor. Simmons loves great writing and everyone writing for them is trying to do great writing to impress him. This means lots of description and allusion and alliteration and all these 90's movie references and the kid just doesn't get any of it.
But then we had a breakthrough. I sat with him as he read an article on the Players' Tribune. It was the first time he didn't want to stop reading halfway through something. We kept going.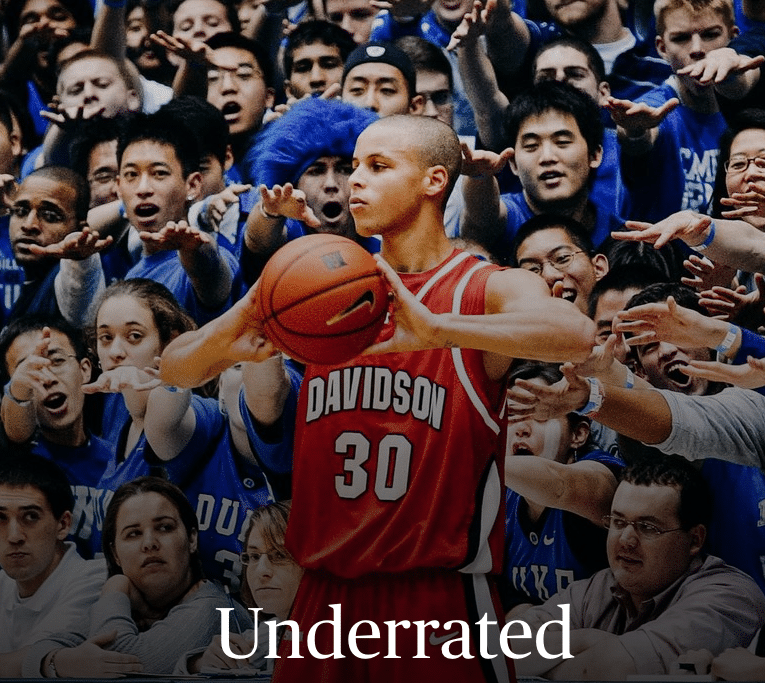 For the uninitiated, Players' Tribune was founded by Derek Jeter as a platform for athletes to say what they want to say, in their own words. My kid is a huge Steph Curry fan (what kid isn't?) so we came across this essay Steph wrote about his own difficulties as a 13 year old basketball player, and then a struggling high school player, and then a nobody college player at a nobody college. Steph is one of the greatest players alive, but in the piece, called "Underrated" he only wants to tell the stories of his failures and fumbles.
This really clicked with the kid. He's playing on a travel basketball team now, coming in off the bench as a backup center. He gets 10 minutes out of a 40 minute game and is trying his hardest to take that up to 20. Or maybe even a starting shot. The Curry failure stories hit him like a thunderclap.
The stories on Players' Tribune are written in plain english, by athletes, not professional writers. But they're well edited and beautifully told. They share the thrill of victory and the agony of defeat, as all sports stories do, and they leave the reader with a true appreciation for what it means to be on the court, in the field, at the game. I can't recommend the site enough, for all readers – but for young boys and girls who are at all interested in sports, it's an amazing resource to expose them to the joy of reading.
Check out The Players' Tribune here, and share it with the kids in your life.