My friend Jeremy Schwartz (WisdomTree) showed me this company Say.com and I think you guys should hear about it. Say was created by Zach Hascoe as a way to give retail investors an opportunity to speak directly to the management of companies they're invested in, which is something that's been lost over the last few decades given the institutionalization of the stock market.
According to Zach, "our mission at Say is to build meaningful connections between shareholders and companies.  When we launched for Tesla last time we got tremendous engagement from retail shareholders and around ~$62M worth of Tesla shareholders participated."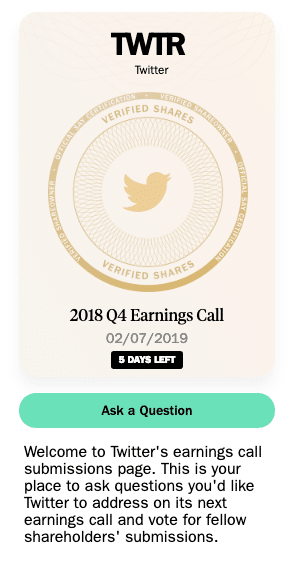 This week, at 8am ET, Thursday February 7th, Twitter will hold its 4th quarter earnings conference call. Say got itself in the mix, which means your question may make it on the air and get answered live! Zach tells me "we are fortunate that we were able to give shareholders a voice on the call and now we are excited to launch this ahead of the TWTR earnings call next week."
So, here's the deal: If you have something you want to ask Jack Dorsey & Co, log onto the platform and submit your query. And be sure to listen live that morning. I would love to see the majority of US corporations start to incorporate this service and to take seriously the concerns and questions raised by minority shareholders who have ever bit as much of a right to be heard. Bravo to Tesla and to Twitter to taking the baton first.
Go here:
https://say.com/earnings/twitter 
And make sure to give Zach and the folks at Say a shoutout on Twitter, the more people are aware of their platform, the more democratic the earnings call process can become!