Meb Faber and I had a little back and forth this past week about whether or not US stocks are "special" as compared to the rest of the world – he says no they're not special and I say yes they are.
By special, I don't mean they always outperform. I just think it's impossible to ignore the fact that US stocks have traded at a premium valuation to the rest of the world since 1990, the year the Cold War was won and we became the sole superpower on the planet. The dollar became the de facto reserve currency, the 401(k) supplanted the pension as the retirement vehicle of choice and the birth of the Internet and wireless communications helped to cement our technology sector as an unstoppable world-beating force of innovation, revenue growth and enormous profitability, with only small pockets of competition coming from anywhere else around the world.
In short, we've got a hundred million people adding money to their stock market accounts every two weeks, buying mostly more US company shares, we've got 20% of our markets composed of the most profitable high tech and consumer tech firms in history and we've got, structurally speaking, the deepest, widest, most liquid and dynamic market environment anywhere on earth. Nothing in London, Frankfurt, Hong Kong or Tokyo can touch it.
With these tailwinds in force, it makes perfect sense to adopt the narrative that US stocks are more highly regarded by global investors, generally speaking, than the equities of any other country – and therefore they are priced at a near-permanent premium multiple to earnings. And with the exception of Japan's epic, historic bubble in the late 1980's, there's no reason to think that the stocks of any other developed country will spend an appreciative period of time garnering higher average annual valuations.
I could be wrong, this is just my opinion. I'm sure there are scenarios in which the euro currency soars while the dollar tumbles and Euro Zone stocks outperform ours for years and years on end unto the point where there is a flip on relative valuation – I just can't picture it happening.
Maybe it could occur in a downtrend for both? In which case….hip hop hooray?
My friend Ari Wald is sticking with one of his big themes right now, US stocks over European stocks. He makes the case that it's a very low-probability bet to think that the US market could stumble while Europe makes you a lot of money to the upside. It has happened, but just not often.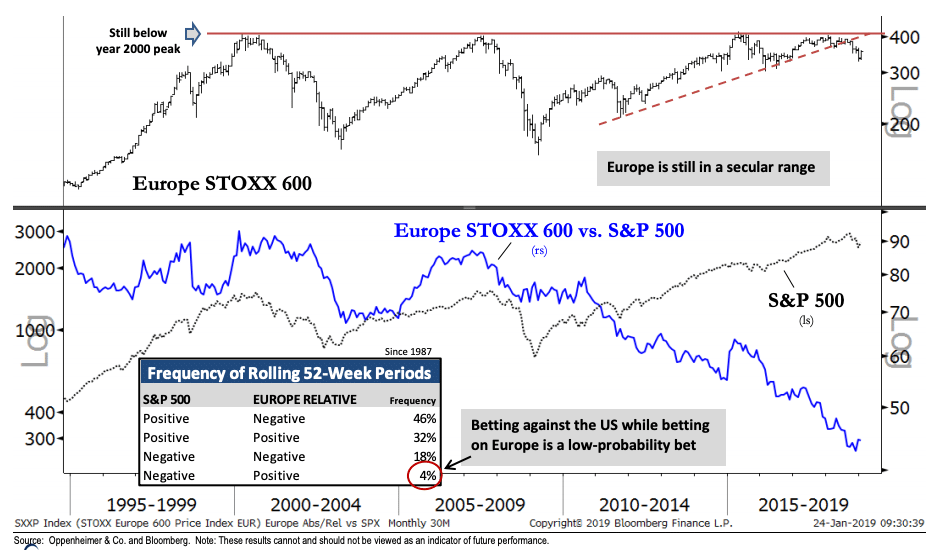 As you can see, over rolling 52-week periods, Europe almost never outperforms while the S&P 500 is negative. Ari calculates that this has happened just 4% of the time, back to 1987. What's been more frequent is Europe lagging or even being flat-out negative while the S&P is up. This is the case 78% of the time.
We build client portfolios that have exposure to the European stock market not because we expect it to massively outperform the US for any specific period, but precisely because the periods during which it will are hard to foresee in advance. Usually, there's something going on with the currency – think 2003-2007, when supermodel Giselle Brady was publicly insisting on being paid for her runway gigs with euros, not dollars. Even Jay-Z was flashing stacks of euros in his videos at the time.
During the Lost Decade for US stocks, between 2000-2009, all sorts of weird stuff was going on and international diversification paid off for investors coping with zero gains from the S&P 500.
Meb Faber took a look at the CAPE ratios of the United States, the global stock market ex-US and the cheapest 25% of all country markets. He notes a huge disparity that's been growing for years now…
Today marks one of widest valuation spreads in history, with foreign markets trading at much cheaper levels than that of the U.S.

This spread only intensifies if we zero in on the cheapest quartile of countries around the globe. They're trading at a CAPE ratio of about 11 – that's a whopping 62% lower than the U.S.!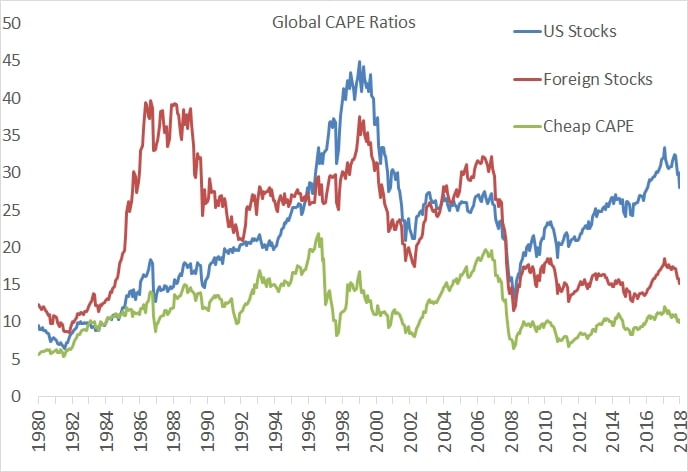 Josh here – going back to 1980, almost 40 years ago, this is the biggest valuation spread ever recorded (on this measure of cyclically adjusted price earnings ratios, which I have all sorts of issues with, but that's a story for another day.
So I'll close by saying that there is room for everyone to be right. I could be right that US stocks maintain their valuation premium to the rest of the developed world, but mean reversion could still offer massive gains to those who have the guts to underweight the S&P 500 while overweighting the MSCI EAFE. It's a hard trade to put on, for many reasons, but Ari's low probability calculation adds an additional wrinkle – if you believe the US bull market is wobbly, you have even less of a reason to want to add more Europe to your portfolio based on history.
Sources:
Emerging Markets for Overseas Exposure
Oppenheimer & Co – January 26th, 2019
The Biggest Valuation Spread in 40 Years? (Meb Faber Research)
Supermodel Gisele Bundchen: 'I won't get out of bed for US dollars' (Daily Mail)
Oh okay, here's that Jay-Z video I referenced – it's Blue Magic off the American Gangster soundtrack, and it's a banger: