Make sure you read the Financial Times's new piece today about what we're learning from corporate America during the current earnings season. Profits are strong, with the customary three-quarters of companies reporting being above expectations. But everyone knew profits would be strong…
The reactions to those "beats" are telling something about investor psychology right now. According to Factset research, the typical post-earnings beat reaction is that the stock in question rises 1% on average that day. During this quarter, the average reaction has been a drop of 1.5%.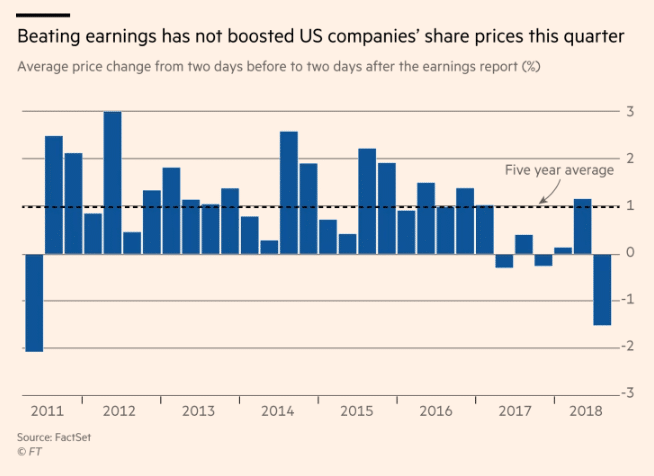 Stocks are anticipatory. It's nice to hear from a company about what's gone on during the previous 90-day reporting period, but what investors today are buying (or selling) is the outlook going forward.
And the current investor mindset when it comes to the outlook is troubled.
The FT piece gets into some of the reasons why – buyback announcements have ebbed this fall while labor costs have risen. The non-services side of the economy is not doing as well year-over-year as it had been in 2017. Tariff-related supply chain issues abound. Chinese economic issues are also sending industrial companies lower. CapEx growth is not quite materializing. Demand is slowing for cars and housing, driven by rising borrowing costs, hitting two of the most critical segments of the economy.
Read it here:
What we've learned about corporate America during earnings season (FT)
Elsewhere, check out Morgan Housel's behavioral piece on the craziness (or un-craziness) of last week's lottery extravaganza.
Tony Isola did this thing about how pensions are always at risk, even when guaranteed: "What could possibly go wrong with collecting a nice pension? Without an annual inflation adjustment, things are not as rosy as you think."
And this wild-ass piece from Teri Buhl about a massive pump-n-dump brokerage network being unraveled as the stocks collapse and the bids disappear (the dream of the 90's is alive and well, LOL).
Finally, Apple reports tonight and everyone's on the edge of their seats for the world's largest company's comments and numbers. The new $1,000 phones were only on sale for the last 10 days of the quarter, but that'll be front and center, along with the troubled China business and services revenues from the App Store, streaming, etc. The Wall Street Journal has the only preview you need.