Barron's commemorated the tenth anniversary of the scariest month from the Great Financial Crisis, September 2008, in their new issue this weekend. There's an important piece in there about how people were so traumatized by the losses they took and the jobs they lost that they will forever be changed as investors.
In fact, some people have been so damaged, they've stopped paying attention to Wall Street entirely – or, in the case of young people, they never even began to:
For many Americans, the market's gains simply haven't registered on an emotional level. Of the 2,000 people who recently took a survey commissioned by robo-advisory firm Betterment, 48% thought the stock market had not gone up at all in the past 10 years, while 18% actually said it had gone down.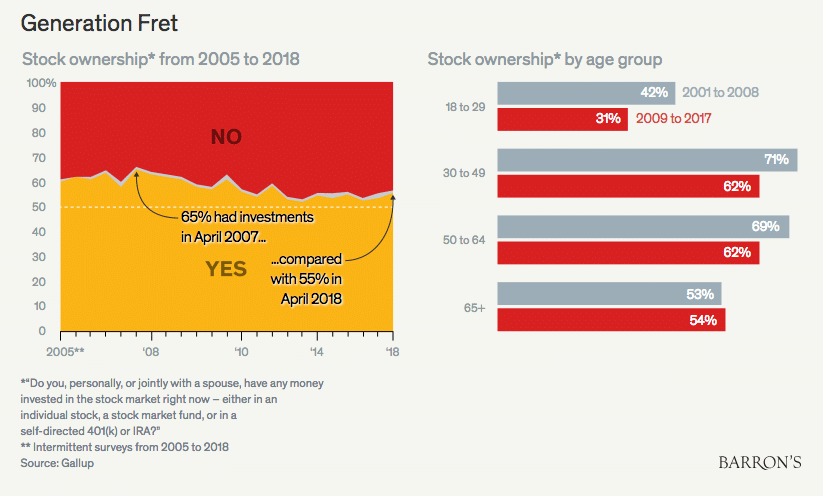 My friend Dan comments:
"People who aren't saving and investing don't know that they just missed out on 200% returns over the past decade," says Dan Egan, the director of behavioral finance at Betterment. "They're probably going to continue to not save and invest in the future."
Josh here – there might be something to that. As we've discussed on the blogs (mine, Michael's, etc), our experienced during formative years in the market can have a tendency to shape our attitudes, biases and prejudices forever. If your first ten years investing in the stock market ran from 2000 to 2009, then you watched two 50% crashes for the S&P 500, a lost decade in which the index gained 0% while the cost of living rose, a government bailout of the most culpable actors in the crisis, multiple economic meltdowns occurring around the world, a spike in gold prices and a war of choice in Iraq that cost taxpayers trillions of dollars to fight and then clean up after. Hard to have a sunny disposition about putting money at risk after an introduction like that. The experience of a Gen Xer beginning to invest in 1990 was quite a bit different.
Source:
How the Financial Crisis Still Affects Investors (Barron's)