A lot of people – including smart people – believe this to be the case about the current market advance, even though it's not true…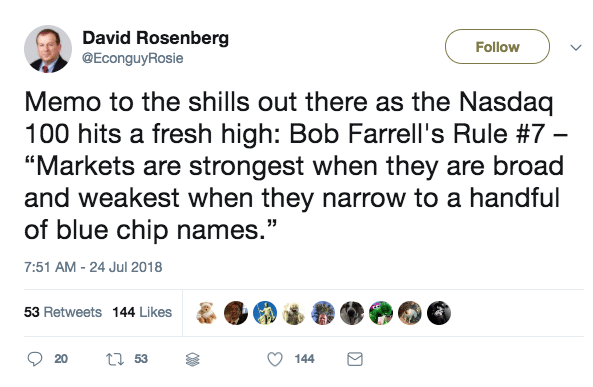 It's understandable that people might have this opinion if they're coming into contact with a lot of headlines about Microsoft, Facebook and Google and they see Apple becoming a trillion dollar market cap. A surface observation would be that if you're not long those giant tech stocks, you're not making money, therefore the rally is somehow illegitimate or about to end.
But a few more minutes of research would reveal the fact that both microcaps and small caps have been making fresh record highs alongside the tech giants. And that market breadth overall has been spectacular.
Markets are broad right now, not narrow, and it doesn't require any real effort to see that. Unless, of course, that's not what you want to see…there are plenty of people who don't want to, for various reasons, including reputation, political, etc.
My friend Ari Wald (Oppenheimer & Co) put this out the other day and I think it's helpful for people who want the facts, not the narrative. Here's a look at the advance-decline line, which is ripping to new highs for the cycle, indicating an extremely broad-based rally for thousands of stocks that aren't in the FAANG group…
The S&P 500 has consolidated above 2,800 support, and while seasonal headwinds keep our expectations in check from a trading basis, bullish internals should propel the index to a new high, in our view. One piece of positive evidence is that the NYSE Advance-Decline (A-D) line reached a new cycle high in July and is still pointed higher, by our analysis. We've found that 1) this internal breadth measure peaked before the S&P 500 in 12 of the 15 major tops since 1950, 2) that the median lead-time between the peak in breadth and the peak in price has been 5 months, and 3) that longer divergences were followed by larger declines, and vice versa—
Here's his chart: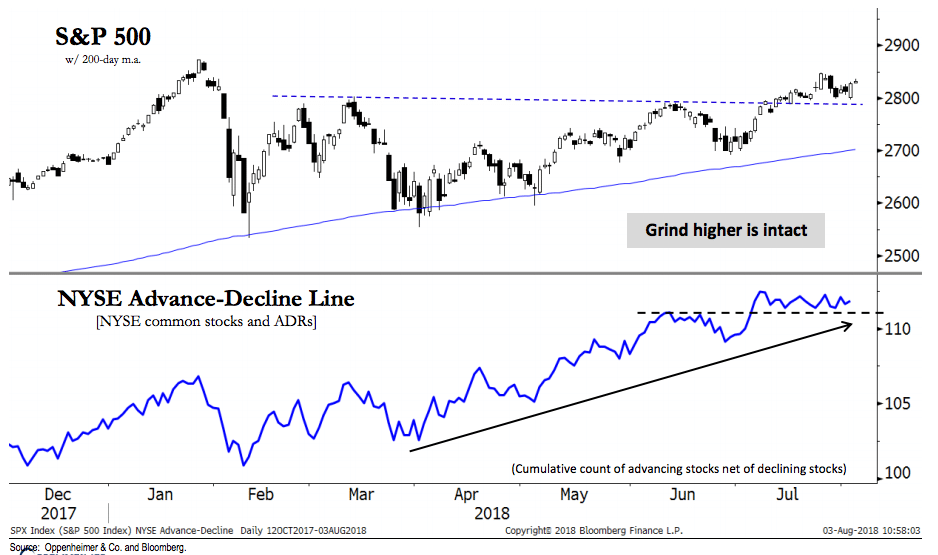 JC Parets has taken this "narrowing" nonsense out to the woodshed several times over the last few months. On July 14th, he blew it up by examining some equal-weight sector indices, which flatten the influence of the largest holdings and make every stock the same weighting…
You have two options as an investor: you could listen to the media or you could listen to the market. They've been pushing the notion lately that only a handful of Tech stocks are leading the way for the market, suggesting a weakening breadth environment. In the real world, however, we are participating in a united rally among Tech stocks as a group.

In fact, the Equally-Weighted Technology Index went out just 0.4% away from another all-time weekly closing high, just shy of it's record high set last month. This is the Equally-Weighted Index, not the Cap-weighted index that the bears are suggesting is pointing to weakening breadth because the big names are such a large portion. If it was true that only a handful of names are going up and market breadth is deteriorating, the Equally-weighted index, which takes the extra-large market capitalization stocks completely out of the equation, would not be behaving this way.
Josh here – someday, the market's leadership will narrow to just a handful of large cap stocks and there might be a reason to become concerned about the health of the secular bull. People who never believed in the bull to begin with will not be the best harbinger of this moment's coming, because they will see signs of it all the time, too far in advance, jumping and darting at every crunched twig in the darkness around the campfire. It's best not to listen to any of this and to remain focused on the trends themselves.
I'll give JC the last word…
So when someone tells you that breadth is weakening and only a handful of names are driving the market's gains, you know they haven't done the work themselves. They're just regurgitating what they read or overhead somewhere, which happens a lot.
Sources:
Bull Rotations Continue, ADRs Are the Final Drag
Oppenheimer & Co – August 4th, 2018
It's Not Just A Few Names Leading The Way For US Stocks! (All Star Charts)