"How do you start a life these days?" the old timer was saying at Bagel Plaza the other morning in my hometown of Merrick, New York. "You can't afford to live anywhere."
He's talking about his daughter and son-in-law, whom he's in the process of helping buy their first home. The houses are now turning over rapidly in my neighborhood. You have to show up with cash in a lot of cases (if the home has been newly remodeled). The sellers don't want contingencies and they don't have to wait for them. In other cases, it's a Boomer moving out who hasn't touched the place in decades, so you need to show up with an architect who's going to help you gut it. In either situation, people in their late 20's or early 30's are being put in a position where they literally can't do this on their own.
They don't want starter homes because that's a bad investment and moving twice costs a lot. They don't want to keep paying rent either, because they've already been doing that – and Manhattan rent will suck more money out of your bank account than a daily cocaine habit. But to start their families and, frankly, their lives, in the neighborhood they want to be in, it's very hard.
The story I hear over and over again is the parents helping out – with tons of cash for the down payment and whatever renovation has to happen. Which is great if they can do it. It's something we hear our clients wanting to be able to do also when we build their financial plans. It's become sort of a standard thing in my town and I imagine in towns all over Long Island and America.
It didn't used to be this way. Being a 25-34 year old is harder than it's been in generations. A new post at Axios this week took a look at all the ways in which this is undoubtedly true, despite the strong jobs market and reasonably low interest rates we've had for the last few years.
Below, a look at what's gone on with the cost of starting a life from 1977 through 2016 (the numbers here are inflation adjusted)…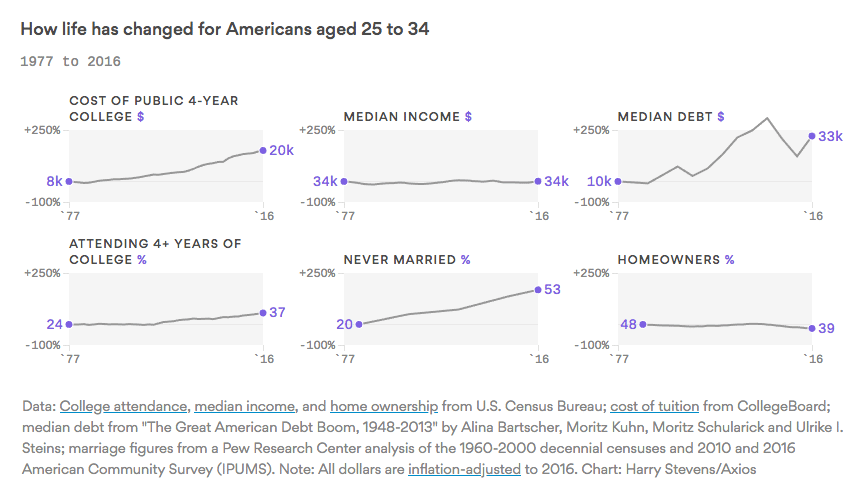 Here's Stef W. Kight:
In the mid-to-late-20th century, the American economy and culture were ripe for 30-year-old men, who — more than European and Japanese men — typically landed well-paid careers, bought homes, and supported large families. But since then, getting ahead has become much harder.

The background: Millennials now comprise almost a quarter of the population and are the largest generation participating in the workforce. But their median salaries are lower than the prior generation of 30-year-olds, and the financial burdens they carry are heavier, limiting how much their lifestyle can mirror that of their parents:

So far, the trends suggests a break with prior American rites of passage, including marriage and child-bearing. According to some demographers, this break could slow economic growth.
Men are more likely to earn less.In 1975, only a quarter of 25 to 34-year-old men made less than $30K per year, but that number rose to 41% in 2016.
Going deeper: As a measure of upward mobility, 92% of 30-year-olds in 1970 earned more than their parents at that age, according to a 2016 study led by Raj Chetty, a Stanford economist (h/t Roger Lowenstein). But of those who were 30 in 2014, just half earned more.
There's a lot more in the piece, which I highly recommend you read. And when you hear things like "Millennials aren't interested in owning a home" or "Millennials don't like investing" etc, it's important to take that kind of talk with a huge grain of salt.
Yes, there are some definitive differences between the Millennial generation and those that came before them – cord-cutting is real, a preference for fresh food versus canned or processed food is real, streaming music versus buying music is real, carbonated water vs soda is real.
But in many cases, where there seems to be a difference between 30 year olds today and the 30 year olds of a different era, it's really just a financial reality. It's harder to do the things your parents once did, at the age they once did it, with so many chips stacked against you before you even get started.
Source: