When I first started this site ten years ago, I had a handful of champions – people who started reading and sharing what I was doing, encouraging me along the way. But no one was more instrumental in helping me build an audience and earn credibility than my friend Tadas Viskanta, the best curator of financial news and opinions in the world.
Tadas gave almost every financial blogger you've ever read that early push, using his unparalleled influence as the author of each day's Abnormal Returns linkfest to get new perspectives out into the public eye. Tadas has been running the daily curation of every important article, blog post, podcast and white paper pretty much every single day for the last thirteen years. No one in America has read more than he has, no one has ever even attempted to cover as much ground, and no one has done more to educate serious investors, financial advisors, asset management professionals and traders on an ongoing basis.
Simply put, Abnormal Returns is the most consistently helpful, intelligently crafted resource for the investment community ever created.
In 2011, on the sixth blogiversary of Abnormal Returns, I paid tribute to the site (along with everyone else who offered me a quote) by saying the following:
One of the most remarkable things about the site is that Tadas is platform-agnostic and AR is a pure meritocracy – whether you write for the Wall Street Journal or have just thrown up your shingle on a blogspot page, if he thinks what you have to say is important and actionable, you're going to make the linkfest.  Seven days a week you know you can visit AR and find all of that day's most crucial articles and blog posts, rain or shine – there isn't a single other site on the web that you could say the same for.

It has become the utility of the financial blogosphere, If we financial writers and commentators didn't have an Abnormal Returns we'd have to invent one.
In addition, Tadas has become a friend and a mentor to me – and to so many others who've gotten their start as a result of being included in his daily posts. On the tenth anniversary of AR, I said, "I wouldn't be where I am today without Abnormal Returns and I certainly wouldn't be anywhere near as knowledgeable without the reliable curation work that Tadas does. It's an honor and a privilege to be his colleague and his pal."
Everything I said then, I still feel today, as do thousands of others who've become wiser and more knowledgable because of the work he does.
And so it is my honor to announce that Tadas has joined Ritholtz Wealth Management as our new Director of Investor Education. Tadas's new role will put him in charge of curating the content we're doing in such a way that we can continue to keep our clients educated and informed about markets, strategies and their portfolios. Tadas will be spearheading some new initiatives for us on the media side and working with our advisors and investment pros to deliver the best experience possible to all of the households we serve.
The smarter and more informed our clients (and advisors) are, and the more they understand what we're doing and why, the easier it will be to keep them focused on the long term.
I also want all the Abnormal Returns fans to rest assured that the site will continue in its current form without any changes to what's made it so special over the last thirteen years. In discussions with Tadas, I was absolutely insistent that nothing about his work should be any different – if it's good content, link to it, if it's worthy of a bigger discussion, write about it. Abnormal Returns will remain every bit as comprehensive and pure as it's always been.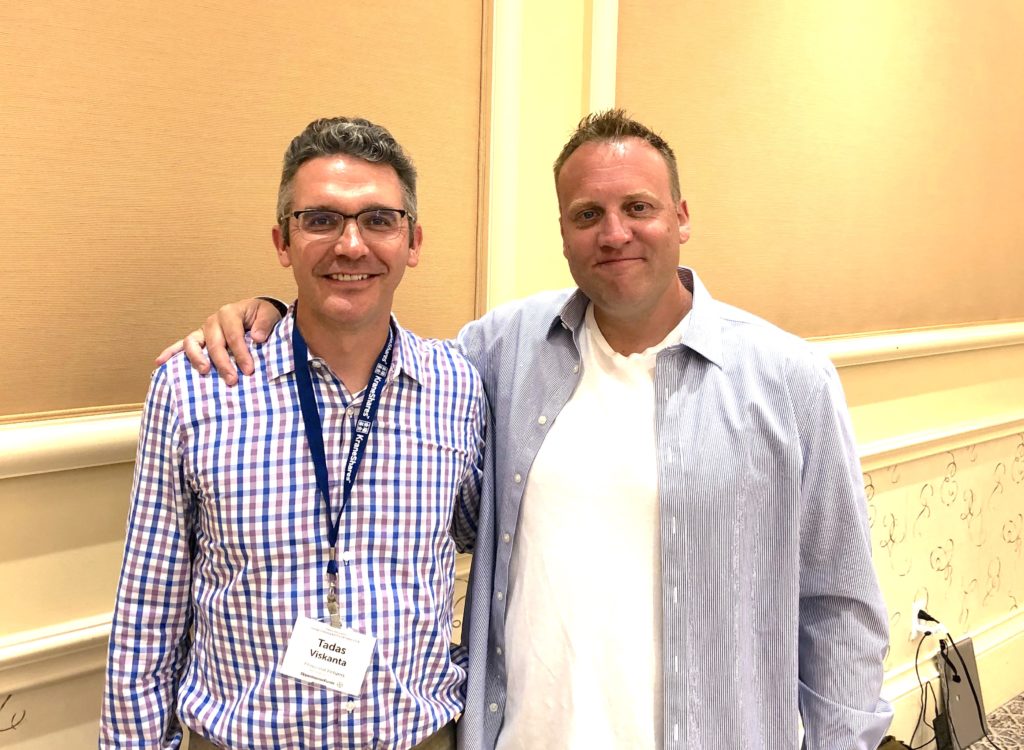 I'm really excited to be bringing Tadas onto the team and into the lives of our employees and clients. His knowledge and taste are second to none, and we can't wait to put these assets to work for everyone.
Welcome aboard, my friend! Here we go!