David Kostin's team put this out the other day for Goldman Sachs's US Weekly Kickstart and I think it makes for some interesting food for thought. In the table below, you'll see the firm's expectations for where the S&P 500 companies will spend their wealth this year in pursuit of shareholder returns.
Corporate tax reform and strong EPS growth will drive a 15% increase in total S&P 500 cash spending to $2.5 trillion in 2018. Firms will invest $1.4 trillion (54% of the total) for growth and return $1.2 trillion (46%) to shareholders. Capex will grow by 11% and remain the single largest use of cash, fueled by strong revenue growth and CEO optimism. Share repurchases will increase by 23% to $650 billion.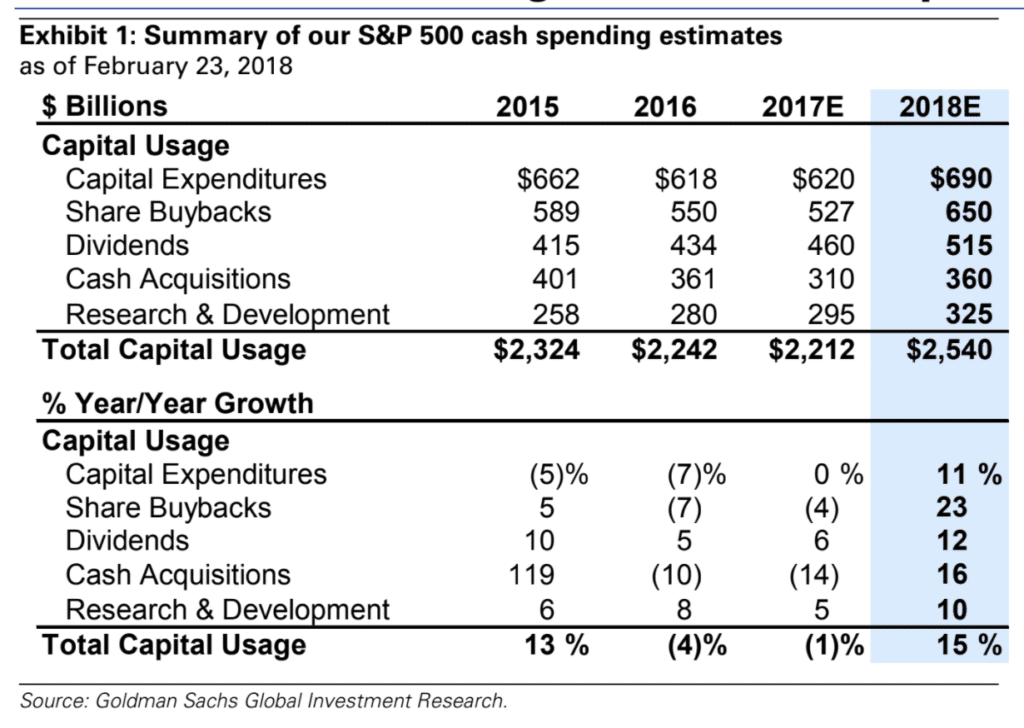 Josh here – as you can see, the strategists believe the biggest percentage jump will occur in stock buybacks, which probably makes the most sense from a tax standpoint (dividends are double-taxed, first the corporation and then you) and a relatively big jump in cash spent for M&A. As for the CapEx / R&D expansion – notable, but doesn't get us very materially higher than where we were in 2015, just a few years ago.
But of course, these are estimates based on corporate management discussions during Q4 earnings conference calls. Plenty of room to be surprised in either direction, as always.
Soundtrack:
Links: