How about this, party people – Listerine was originally invented 135 years ago to cure gonorrhea. And then forty years later it became a mouthwash. True story.
I'll do you one better – Viagra was originally expected to be a treatment for hypertension, angina, and other symptoms of heart disease. It failed to treat these problems in Phase I, but there was a delightful side effect reported by male patients in the study…
Brandy was invented 900 years ago by merchants who had boiled all the water out of their wine in order to transport it more cheaply. Then they tried the distillate and discovered they now had two drinkable potions rather than one.
Play-Doh was invented to be a wallpaper cleaner. Coca-Cola was originally sold to cure morphine addiction, etc. I could go on and on.
One of the biggest misunderstandings about the ETF and indexing revolution is in the usage of the funds. The popularity of these products should not be looked at as some sort of dramatic sea change in the underlying fear-and-greed driven behavior of investors. Just because people are using ETFs, doesn't mean they're using them well or that they've somehow all become disciplined investors.
Passive products, ironically, have become well established as ubiquitous trading vehicles over the last two decades. Tallying up ETF assets and concluding that there's been a behavioral revolution would be a major mistake. Everyone's calmly passive until their experience their first 10% loss.
The net flow figures out of SPY last week are bonkers. And I think they go a long way to illustrate how foolish it is to use the terms passive and index funds interchangeably.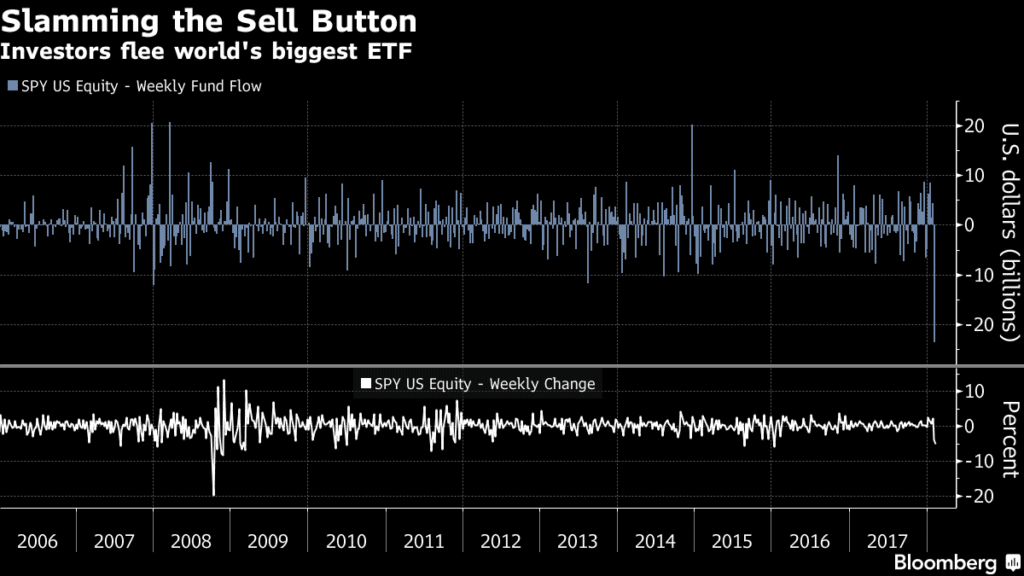 Outflows amounted to 8 percent of the fund's total assets at the start of the week, a rate of withdrawals not seen since August 2010.

The five-session stampede for the exits erased the previous nine weeks of inflows into the fund, which is issued by State Street. The combination of price declines and withdrawals erased $38.6 billion in SPY's assets. That's nearly double the second-worst showing of $19.4 billion in asset shrinkage during the week ending Aug. 21, 2015.
Josh here – 8% of the ETF's total assets came out in five days! LOL, passive my a**.