Last year international stocks got their groove back, both in absolute terms and relative to the S&P 500. Our own work suggests that the interplay between US and international stocks tends to be streaky and play out over multiple years, and that the strength or weakness of the dollar tends to lend strength or weakness to US vs international equity markets.
US stocks have so substantially outperformed international markets since the economic recovery began that it would take years of relative outperformance for international to catch up with the S&P 500. A well-diversified, global portfolio is positioned for this, and a US-biased portfolio is not.
Bank of America Merrill Lynch technician Stephen Suttmeier has my Chart o' the Day – a weekly look at international stocks vs US stocks in an index ratio chart, with moving averages…
2018 watch: US equities at risk to lose leadership vs the rest of the world

MSCI ACWI ex-US shows signs of a 2-year relative bottom vs the S&P 500. This suggests that the US equity market is at risk to lose leadership status relative to the rest of the world. A decisive breakout above the 2017-2016 relative highs is required to confirm this bottom and the potential for a loss of leadership for the S&P 500. ACWI ex-US has lagged the S&P 500 for a decade or since the 2007/2008 relative highs and a 2-year+ bottom could shift the relative trend back in favor of non-US equity markets. However, until a bottom is confirmed, the US is still leadership.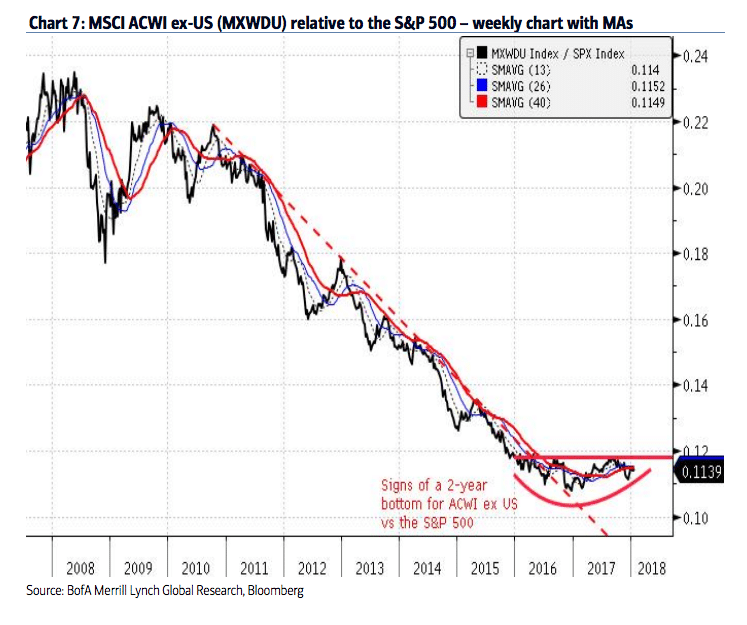 So far, we have a bottoming process for international vs US – a turn higher would be the big one. Streetz is watching.
Source:
SPX goes parabolic but big equity market bases & solid breadth are global
Bank of America Merrill Lynch – January 29th 2018