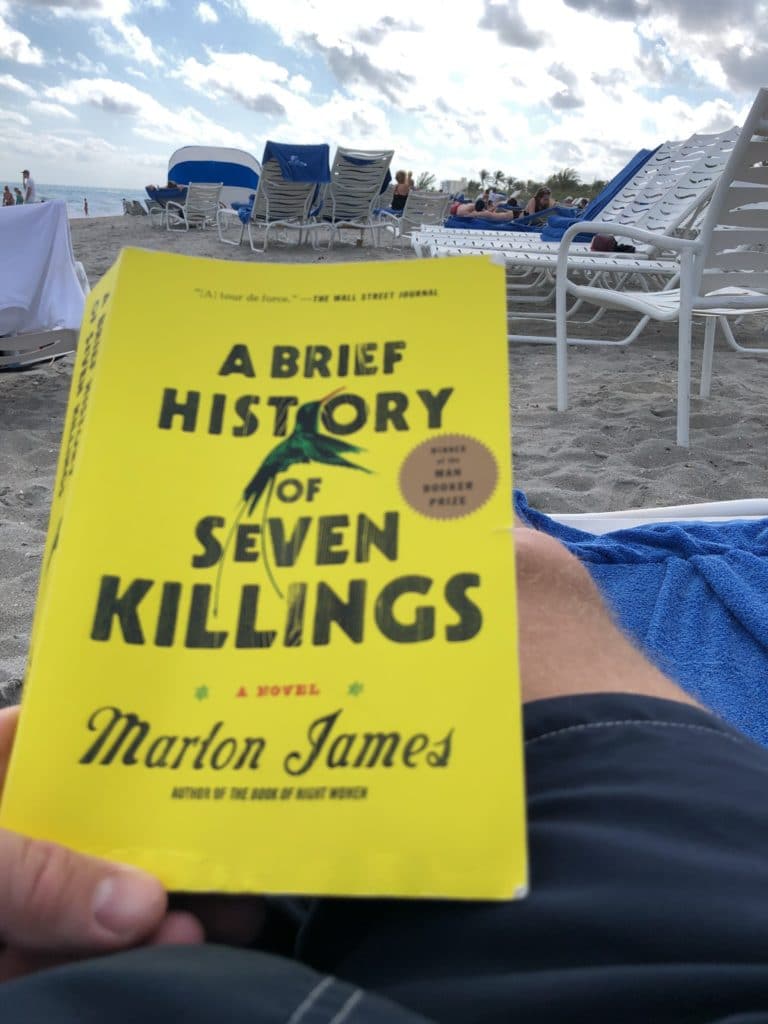 The year is 1976 and Bob Marley is at the height of his fame and powers.
He is a symbol, globally, of the struggle for freedom and an escape from colonialism and poverty. He is, simultaneously, a prisoner in his own home as Kingston becomes a war zone, with bullets spraying across every section of the city. There are blood-spilling factions spreading mayhem all around him. Drug dealers and ghetto enforcers working for the two rival political parties. Communist agitators facing off against CIA operatives, who were sent from the USA to make sure Jamaica is not the next Cuba. Children are handed machine guns (and narcotics) to carry out missions for any or all of these groups. Shots ring out day and night. The police and soldiers (or, colloquially, the Babylon beast) are actually worse than the criminals.
1970's Jamaica is a boiling pot of violence and Marley's upcoming peace concert, which he has returned to the country to perform, could be the moment it all bubbles over – and that is if the assassination attempt on the singer somehow manages to fail.
In the novel that won the 2015 Man Booker Prize, 'A Brief History of Seven Killings', author Marlon James takes us into this world through the eyes of two dozen characters, our intermittent narrators who advance the plot, chapter by chapter. The scope of the book is enormous, spanning the 1960's through the early 1990's, and locales as far-flung as Trench Town and Montego Bay, the Bronx and Brooklyn, Miami y Medellín. The story is both epic and personal, steeped in historical events as well as apocryphal legend. And there's plenty in here for everyone – whether you like spy stuff, or drug cartel stuff, true crime, mystery, reggae music, the worst Rolling Stones album ever recorded, tales of the West Indies diaspora, the South Florida cocaine boom, it's just so…full.
People ask me all the time about my work here on the blog and in the industry, my daily attempt to learn as much as I can to become a better investor and to pass this knowledge along. They ask about building an audience and communicating and writing and researching and the like. I tell them that to write well, you have to read well. And by this, I don't mean consuming 20 investing books every year that all the say the same thing in different words. I mean you've got to read good writers.
James is an incredible writer. 'Seven Killings' is told through so many authentic voices (and dialects!), it's impressive that he's been able to keep them all straight in his head. For the reader, it's much easier, which is a testament to the novel's construction. When you catch up to the book's narrative riddim, as it were, it becomes a sort of game to figure out who is going to say what about which event, and which character will be the next to reveal a major plot point. By the end of 700 pages you'll wish it hadn't ended at all.
To me, the book's main theme is an open question – can we ever truly escape the past? By telling such an expansive story, James gives us the background, foreground and peripheral view so we can watch how things happen to the characters that had been set in motion years, and even decades, earlier. Which is precisely how real life works, whether we are aware of the seeds we're planting or not. And as these things unfold, we are reminded that not all escapes from the past are permanent ones.
If you're looking for a truly beautiful book to get you through the winter and open your eyes to a fascinating period of history that hasn't gotten as much attention as it should, this is the book for you. I hope you love it and would be glad to chat about it with anyone who takes the trip.
A Brief History of Seven Killings by Marlon James (Amazon)