Lots of chatter about how this weekend's Barron's cover features Apple's gleaming new Lifesavers-shaped headquarters on the cover with a feature story about why it's destined to be the first $1 trillion company.
All the usual smartasses are offering commentary about how this is "the kiss of death" or "marks the top" or whatever. Barron's, like every other investor, sometimes gets it right and sometimes gets it wrong. They've made huge, important calls, like the top of the Dot Com Bubble and they've had some notable whiffs, like the infamous "Facebook is worth $15" cover from September 2012.
They're no more likely or unlikely to get everything right all the time than anyone else is. It takes a certain child-like sort of mindset to expect otherwise.
There are no serious professionals who change their portfolio allocations based on magazine cover indicators.
People who were already predisposed to agreeing with the premise of a Barron's cover story will enjoy the confirmation it offers. Those who were already predisposed to have the opposite opinion will hold it up as evidence that the current trend has reached the end of the line.
If you hated Apple stock (or, more realistically, hated yourself for missing its run), then you get to parade around on social media offering this cover up as proof that you're about to be right. Unfortunately, there is no signal here. If you end up being right, it won't be because an editor assigned a story to a financial journalist.
Let's go back a few years to a Barron's cover that generated all manner of hate, dismissal, schadenfreude, snark, sarcasm and sardonicism: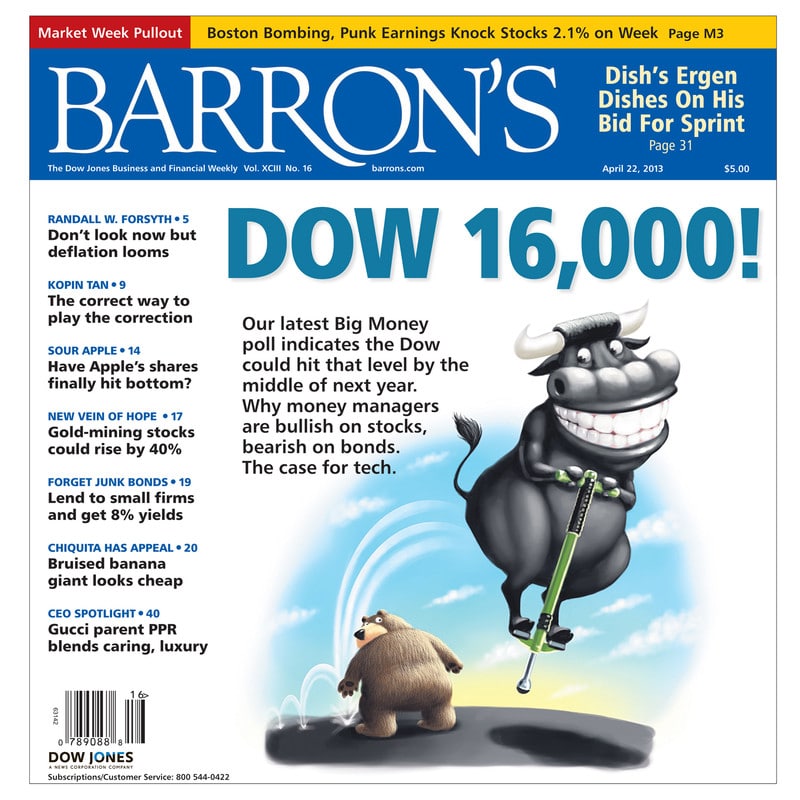 Yes, it's a bull on a goddamn pogo stick, vaulting over a bear. Talk about tempting fate…
But so what. If fading this cover is your idea of "managing money", maybe retire. If mocking it is your idea of cleverness, delete your account. It's an old joke that hasn't been funny in a decade.
Here's a sample of some of the commentary that accompanied the cover:
HUSSMAN: The Cover Of The Latest Barron's Is A Screaming Sign Of A Stock Market Top (Business Insider)
Why Barron's Prediction of Dow 16,000 Favors the Bears (Minyanville)
Dow 16,000! Headline Indicator Sways Into Bearish Territory (iSPYETF)
Does Barron's bull-on-a-pogo-stick cover mean it's time to sell? (MarketWatch)
Dow Jones Industrial Average: Dow 16,000, or A Major Stock Market Crash? (ETF Daily News)
The End of the Cartoon Bull (Daily Reckoning)
I could post 50 more, but you get the idea.
The Dow 16,000 cover, which came out with the Dow at 15,600, was no more ridiculous than any other "target price" for the average, all of which are based on a mix of math and feelings and guesses and unicorn nipples. The fact that the Dow Jones has advanced by nearly 10,000 almost-uninterrupted points over the ensuing four and half years is merely the icing on cake.
I've been guilty of thinking too much about what this or that magazine cover might indicate. It's impossible not to have an opinion when you see a trend go mainstream – either you see it as supporting something you were early to or as evidence that the end is nigh for something you missed out on. What you say about magazine covers is more indicative of what you want to be true than anything else. It's not a magazine, it's f***ing mirror.
But it's a useless, facile observation that maybe we shouldn't waste too much time with. Maybe we should just shut up already.