When I wrote "Just own the damn robots." I was primarily discussing a US phenomenon – American investors plowing into technology stocks out of fear, as a means of surviving a future in which their jobs were displaced.
The story, however, is not confined to the US. As the Wall Street Journal explains, the incredible outperformance in technology stocks has been occurring around the world, with the indices being remade in the rally's wake…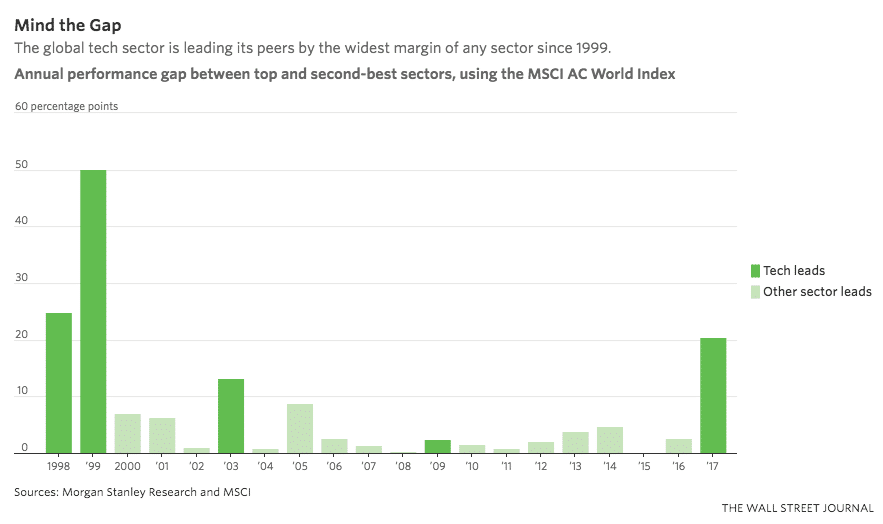 Shares in technology companies are outpacing other sectors this year by the widest margin since the height of the dot-com era, with a handful of key players dictating how markets are performing around the world…

As the tech sector has become bigger and more influential within global stock indexes, its ascent has helped take U.S. and Asian emerging stock markets to record highs—but left behind the less tech-heavy bourses of Europe, Canada and Australia.
"There's no doubt the markets that have high tech components will have been the best performers this year…The narrow nature of this rally has to be seen as something of a concern…but these are cash-generative companies who are being seen as the bedrock of the new economy."
Josh here – One interesting aspect of international investing that is now dawning on investors is the fact that emerging market indices have become dominated by technology stocks. This ain't your daddy's EM. The stigma of developing market stocks being dominated by a handful of commodity producers, banks and telecom giants has been falsified by the new reality, which is that tech giants are entering every vertical, respecting no boundaries and infiltrating every aspect of all societies.
As such, it makes sense that their weighting in the indices is reflecting this.
Source:
Tech Boom Creates New Order for World Markets (Wall Street Journal)
Read also: