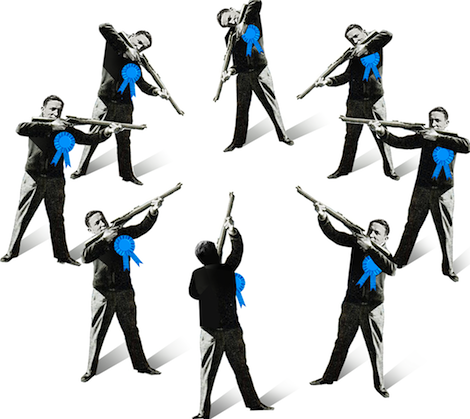 Bloomberg today:
For computerized strategies that are supposed to be making people obsolete, quants are looking decidedly human in 2017.

Program-driven hedge funds are stumbling, a promising startup has closed, and once-reliable styles are showing weakening returns. A handful of investment factors, the wiring of smart-beta funds, have gone dormant.

This isn't just normal volatility confined to a single month, according to Neal Berger, the founder and chief investment officer of Eagle's View Asset Management, a $500 million fund-of-funds that invests with 30 managers, half of them quants. Returns have been decaying for a year, suggesting the rest of the market has figured out what the robots are doing and started taking evasive action, Berger said.
Here's me almost one year earlier to the f***ing day. I'm not any smarter than anyone else, it's just that I've read too much market history to miss the repeating patterns…
The Paradox of Quant is going to come into play eventually. The more firms (and dollars) there are seeking to emulate the success of Two Sigma and Renaissance Technologies, the less gains there will be to go around. There aren't going to be ten or twenty RenTechs (although there could be, but all of them with lower returns).

Today's arms race into quantitative and algorithmically driven strategies will be no different than all other Wall Street arms races of the past: The getting is good at first, until it works. Then it becomes a circular firing squad, as thousands of people and institutions pick each other's profits off while engaging in similar strategies.
Yo, straight up that was August 3rd 2016. Read the rest here: The Paradox of Quant (TRB)
Maybe it's good to be obsessed. Maybe it saves you a lot of money and aggravation when everyone else loses the plot. Anytime you see something that's worked really well all of a sudden explode in popularity, you can turn over the hourglass and just wait 'em out. Because it won't be long…
Re-upping this gem of an anecdote while I'm at it:
My friend and colleague Dan McConlogue tells a great story about The Merger Fund, an arbitrage mutual fund meant to profit from the distance between an acquirer's offer and a target's price in the narrow window of time between the announcement of a takeover and the closing of the deal. It was a great fund and the profits were both non-correlated and steady.

"And then in February 2001, in comes Mario Gabelli to the space with a gajillion dollars to invest. Game over, I sold out of the fund that month."

The Merger Fund has compounded at just 2.62% a year in the 15 years since. You'd have made double that return in the Barclays Aggregate Bond Index (annualized 4.97%), paying practically nothing for your troubles.

Game over, indeed.
Listen – quant-driven strategies will be no different than all strategies: A few outlying hyperperformers and then tons of mediocrity and me-toos. But because people don't give up quickly after launching a fund and everyone thinks they're special, the mediocre funds will stick around, ruining the available outperformance for everyone in the end. Rinse, repeat.
Sources:
The Quant Fund Robot Takeover Has Been Postponed (Bloomberg)