When I read bearish commentary about the stock market these days, I say to myself "What are you even looking at? Where the hell did these people learn to invest or trade?" There is no doubt that the bull market in the S&P 500 could stop at any time, but how could you possibly look at it now and say it's imminent? Do you know how to read a chart? Do you understand how trends form, why they persist? Can you legitimately manage money without even that most basic of understandings?
I get rooting for a bear market – lots of people run strategies where their ability to earn a living depends on bear markets. Value people too, they want to buy stocks lower, not higher and broad-based advances can obscure their value (no pun intended) as managers. I know it's frustrating, but should that color our perspective of what's going on?
This is and has been the most obvious bull market we may have ever seen. Nothing about price action could possibly lead anyone to conclude otherwise, unless they have no idea what they're talking about. It will end when it ends, maybe later today and maybe six months from now or six years from now – but until then, this is as clear as a bell. You can't see the end in advance, nor can I, nor can Druck.
Sorry.
And don't even get me started on Europe and Developed Asia and Emerging Markets. Blue line below – that's the whole world ex-US breaking out into new ground. What else do you need to see to understand that a global breakout has occurred? It's happening right before your eyes, month after month. Even Tyler sees it: "The MSCI World index had its 8th monthly rise in a row, its best run since 2003 and the fourth-longest monthly winning run on record"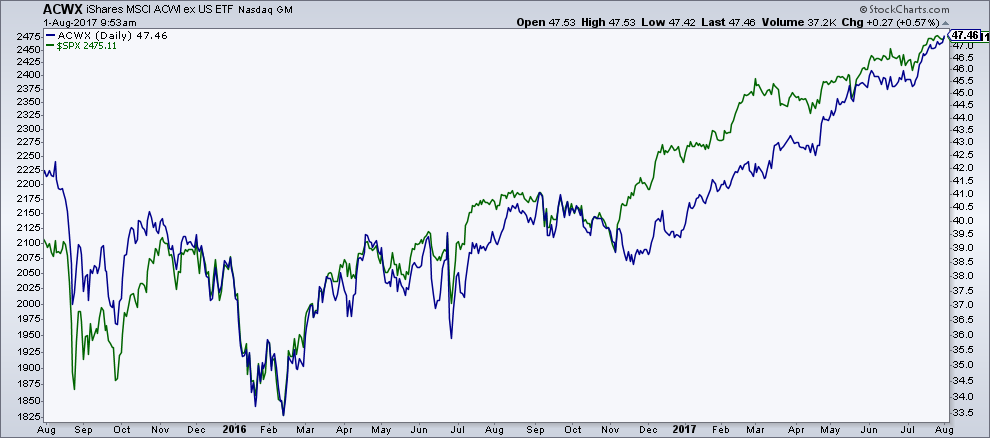 If you've been fighting on the other side of this all year, you might want to stop reading your current information sources and find some new ones.
I'd recommend starting with Edwards & Magee.